Why the long-playing record still holds sway in our world of streaming
Tuesday, July 23, 2019
Stuart Nicholson examines this enduring appeal and why the recent chart success of John Coltrane and Kamasi Washington is a wake-up call for jazz artists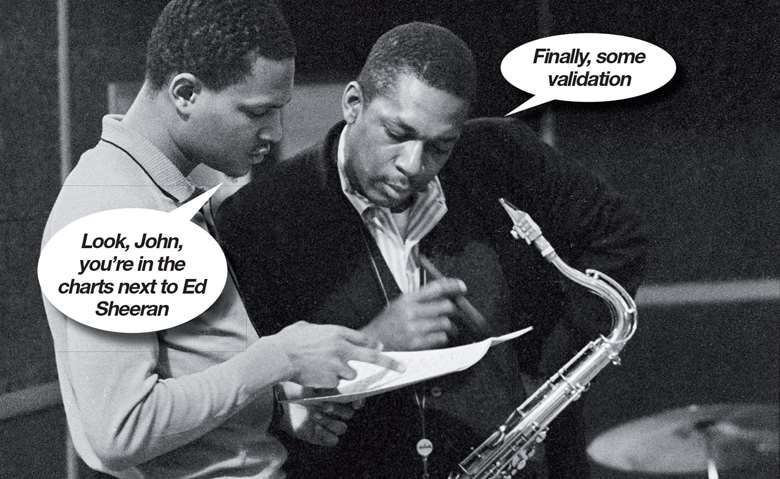 On 29 June John Coltrane's Both Directions at Once: The Lost Album became Amazon's top selling jazz release. The following Friday it charted at 15 on the UK's Official Album Chart and during the week of 14 July, it became Coltrane's first Top 40 album ever when it charted at 21 on the all-genre Billboard 200 chart as well as going to Number One on their jazz chart. So how do you explain that kind of success for a jazz album? Ravi Coltrane, John Coltrane's saxophonist son, puts it this way: "Jazz is something that's way out there on the fringes, until there's a gateway performer or band," he told Billboard. "My cousin Steven Ellison, Flying Lotus, has been incorporating a lot of music inspired by people like Pharoah Sanders and my mother [Alice Coltrane], as have Kamasi [Washington] and Kendrick [Lamar]. That helps jazz get into the zeitgeist, into the ears of younger audiences." That's one view, and it has a lot of merit. Another might be to ponder for a moment on why a meaningful number of music fans have shown they want something more substantive than the Top 40 chart pop fodder culture has been serving-up over the past few years.
It goes without saying that claims that pop and rock is being dumbed down in order to maximise potential sales are both highly subjective and contentious. The reason is simple. Successive generations of young teenagers used pop music as a means of adolescent coping at a time in their lives when they were constructing a conception of self and establishing an adult identity. This deep emotional entanglement with pop music during a formative time in their lives tends to make any discussion about whether or not popular music has declined in quality a very fraught area of debate because of the affection in which any given era of pop music is held in by any given generation of fans who resist any suggestion that the pop music of their generation somehow represents any kind of qualitative decline.
"
"Jazz is out there on the fringes, until there's a gateway performer or band"
Ravi Coltrane
However, if today you feel unable to trust the evidence of your own ears, a number of empirical studies have been conducted in recent years that indicate that pop music has indeed been in musical decline. As the Artifice website has pointed out: "In numerous studies, people are finding that pop music is homogenising, both harmonically, stylistically, and even in vocal variety (i.e. very similar sounding artists being appreciated)." Of course, claims like these have been hung around pop music's neck since the 1950s when Elvis undulated his pelvis and Little Richard let rip with "A-Wop-bop-a-loo-bop-a-lop-bam-boom!" But this is the so-called 'digital age', and things are a little different.
Since 2013, music streaming has turned the traditional music business model on its head, including the way artists were remunerated. For a music stream to qualify as a sale, it has to play for at least 90 seconds (known as a 'completion' and used for the purpose of paying royalties). But with listeners quick to skip anything on their iPads or smartphones that doesn't instantly chime with their taste preferences, record companies quickly realised they had to grab the listener's attention from the very first note and 'hook' them for long enough to qualify for a completion and that all important sale. To achieve this, they began favouring a small pool of bankable writers and producers with a proven track record in devising successful formats to overcome the 'skip factor'. Today, the majority of hit singles are written by the same people; the same few people in fact. Thus homogeneity is almost inevitable – both Meghan Trainor and Taylor Swift have each had two songs that have featured on the Billboard Top 10 that sounded remarkably similar, while Beyoncé's 'Halo' and Kelly Clarkson's 'Already Gone' were actually the same song. The list goes on, the controversial lawsuits that claimed the song 'Blurred Lines' by Pharrell and Robin Thicke was copied from Marvin Gaye's 1977 'Got To Give It Up' and 'Uptown Funk' that was deemed similar to the 1979 hit 'Oops Up Side Your Head' and so on (and on).
In their study Instrumental Complexity of Music Genres and Why Simplicity Sells, Gamaliel Percino and his colleagues have pointed out that: "Album sales of a given style typically increase with decreasing complexity." Their findings, when read alongside Joan Serrà and his colleagues' study, Measuring the Evolution of Contemporary Western Popular Music, provide empirically based correlation of the subjective auditory perception held by many that today's pop music has indeed become less complex in both melodic and harmonic content. As Serrà's co-author Martín Haro has pointed out: "The complexity of the pitch transition – chords and melodies – [has] simplified over the years… Right now, music is full of these simple transitions."
Pop music is now in its post-modern phase following punk and rap's sceptical deconstruction of its potential. The tenants of relativism have meant it has become strikingly devoid of any critical concepts since any attempt to suggest something might be considered 'better' than the common denominator of popular taste is considered elitist, even forcing governments to tread carefully, such as Chris Smith, the former Secretary of State for Culture in Tony Blair's government, who declared the classical composer George Benjamin (who had studied with Olivier Messiaen at the Paris Conservatoire and read music at King's College, Cambridge, under Alexander Goehr) and Oasis guitarist Noel Gallagher "were both musicians of the first rank". The outcome of this populist turn of events has become the celebration of the ordinary and the banal, promoted in terms of a democratic, anti-elitist affirmation of the people – exemplified by television talent shows such as Britain's Got Talent, The Voice UK, or The X-Factor, where the only acceptable indication of value is viewers' votes, so legitimising the process of dumbing down. It suggests there's a challenge here for jazz – to fill this creative void. Coltrane has just succeeded from beyond the grave, and musicians like Kamasi Washington and Robert Glasper are doing so in the here and now. Hats-off to them, jazz needs more to follow their lead.