Filomena Campus' spellbinding Monk homage at Theatralia Jazz Fest
Friday, November 27, 2015
Curated by the award winning jazz vocalist, lyricist, lecturer and theatre director, Filomena Campus, the final night of the third annual Theatralia Jazz Festival saw an adapted jazz version of the theatre production Misterioso, A Journey into the Silence of Thelonious Monk, featuring a script by the renowned Italian writer, poet and journalist, Stefano Benni.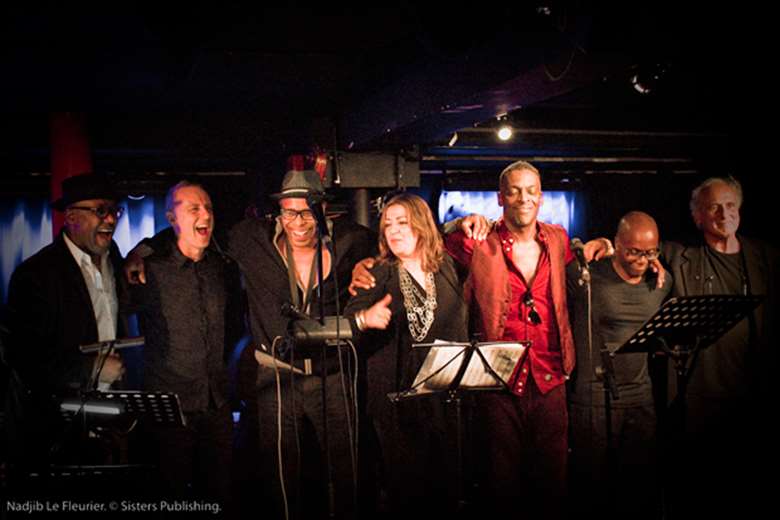 Produced by Campus, and previously staged in both London and Edinburgh with support from Arts Council England, Benni's text movingly explores Monk's extraordinary seven-year creative and personal silence in response to McCarthyism at the end of his life.
In addition to Benni's mellifluous readings (in Italian and English), the superb, All Star Misterioso band, which filled the stage at Soho's Pizza Express Jazz Club, featured Cleveland Watkiss (Monk's spoken voice, vocals), Robert Mitchell (piano), Orphy Robinson (vibes), Dudley Phillips (double bass), Jean Toussaint (sax), and Campus herself (vocals).
Over Mitchell's scene-setting, preludial opening ('Monk's Music'), Campus, somewhat in the manner of a Brechtian theatre director, delivered a thumbnail outline of the spectacle we were about to witness, including a brief portrait of Monk, hailing especially his "courage to be unique", and introducing the band.
A captivating opening set included a towering Mitchell solo in 'Well You Needn't', hammering out repeated notes in huge, crunching dissonances, a reading of 'My Name is Monk' ("Every silence is different from any other silence"), a dazzling 'Green Chimneys' with Herculean scatting and beatboxing from Watkiss and wondrous torrents of notes from Toussaint and Robinson, Benni reciting his evocative 'Piano forte bianco e nero' and Campus, with Mitchell's understated accompaniment, talking about Monk's uniqueness and why his music "can neither be classified nor assimilated … There is no affiliation, no august and venerable school, no heirs, no spiritual fathers, disciples or students. Mother and father unknown. No descendants."
Bringing the first set to a hugely powerful close, the production also included a short tribute to the music of Billie Holliday, celebrating the centenary of her birth. To the accompaniment of a blues played by Mitchell, Benni's 'Lady Sings the Blues' documented Holiday's response to racist abuse hurled at her by an audience member when she was singing in a Southern club, with the singer concluding:
I'm the queen of the kingdom of rags  
I'm the voice of the sun on the cotton field  
I'm the black voice full of light    
I'm the Lady who sings the blues  
Watkiss then gave one of the most stunning a cappella accounts of 'Strange Fruits' you'll ever hear, seamlessly creating a hair-raising polyphony of whimpering sounds and sudden inhalations of breath which looped terrifyingly, over which he delivered the haunting verses.
Opening with a striking Robinson solo, the second set saw the full band take 'Round Midnight' on a fascinating journey which culminated in the most beautiful moment of the evening, a hushed, dream-like ending suspended in time. A rollicking amalgam of scat, beatboxing, and tumultuous soloing from Robinson and Mitchell, 'I Mean You' was a standout, as was the Cageian multiplicity of event at the end of 'Ugly Beauty' ("In my fight I've struggled like a hundred warriors"). Recited by Benni and Watkiss, the alliteration of the final text couldn't fail to conjur up the intoning of saints' names during mass:
Saint Billie, Saint Bud, Saint Bird, what's the point of talking?
When you can play like that.
It brought an exceptional, heartfelt homage to a poignant close.
Of her Theatralia Jazz Festival, Campus has said: "In a moment where everyone seems to draw up walls, I aim to build a bridge between our two countries. A bridge made of jazz notes, theatre and masks, musical encounters enriched by the magic words of great poetry." Long may it continue.
– Peter Quinn
– Photo by Nadjib Le Fleurier