Jazz breaking news: Bowie and The Stones inspire Cleveland Watkiss at St James Studio
Monday, June 24, 2013
The Jazz And Roots night at St James Studio was the perfect opportunity for vocalist Cleveland Watkiss – along with Jonathan Gee (piano), Ernesto Simpson (drums) and Larry Bartley (bass) – to indulge themselves playing as the singer put it "songs I've loved from my youth, I call them my Songs Diaspora.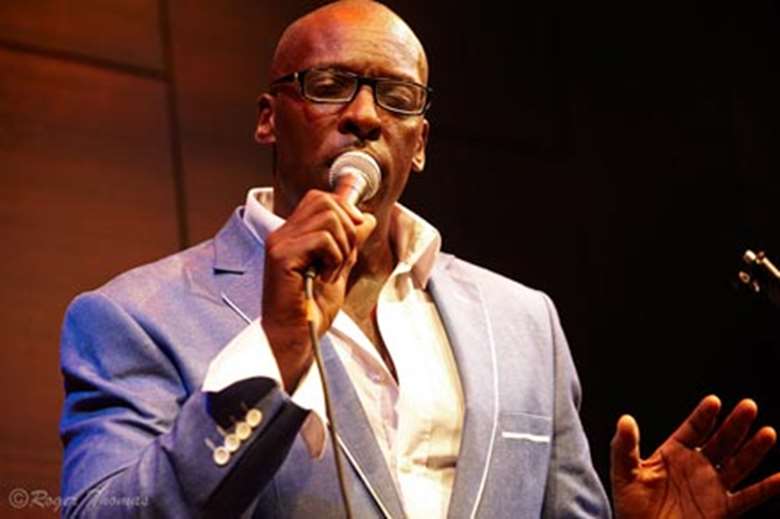 "
When Seu Jorge released the Life Aquatic album featuring songs by David Bowie, Bowie was amazed with "the new level of beauty which he (Jorge) has imbued them with." Thus he should be equally pleased by the reworking of 'Space Oddity' that this band opened with.
Cleveland's elongated phrasing and perfect diction evoked a contemplative mood that drew you closer to the song's lyrical content. The vocal contours he layered over Gee's soulful piano and Simpson's wistful brushwork, and the delicate punctuations from Bartley's bass signaled an auspicious start to the evening.
The Rolling Stones might also have something to say about the treatment that 'Angie' received, with Ernesto's strong backbeat and funky stabs, gospel flavoured figures from the piano, and the bass adding bounce. If Mick was in the house he too might have a pleasing comment as Watkiss delivered the refrain with depth and pleading while still maintaining a suave composure. He might have got thumbs-up too for his daring attire of pastel hues from opposite ends of the colour-wheel.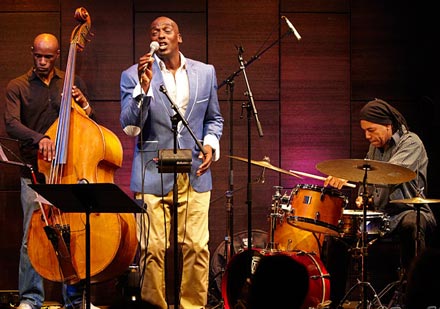 Watkiss also showed his roots are as broad as they are deep with his choice of classical composer Gabriel Fauré's 'Sicillienne' to which he added poignant lyrics by Elizabeth Shepherd. A melancholy bass intro set the mood for Cleveland, who, in an equally melancholy tone and emotion, portrayed the true pathos of the love-forlorn lyrics. The song choices certainly worked for the audience who were unreserved in engaging in Gee's original 'Silver', with Cleveland coaching them through a progression of chants which formed the basis of the song, before the band went off on a rhythmic and vocal excursion incorporating Watkiss' harmonising loop-pedal gadgetry before ending with more audience participation.
Other songwriters from this personal 'Diaspora' that received a visitation included Gilbero Gil, Pete Townsend, Bob Marley, The Real Thing and Stevie Wonder. Cleveland and the band seem to have hit a good balance both in terms of concept, song choice, arrangement and delivery which was not only great to experience in the close setting of St James Studio but also leaves the impression that it could also make a good album. So lets hope they have such a project in the pipeline.
– Roger Thomas (review and pictures)