Jazz breaking news: Kenny Garrett Quartet goes down a storm at Pizza Express
Monday, March 26, 2012
Sold out since January Kenny Garrett made a welcome return to the UK jazz club circuit at the Pizza Express Jazz Club in London with a run of three nights at the weekend following an appearance in Manchester at Band on the Wall earlier in the month.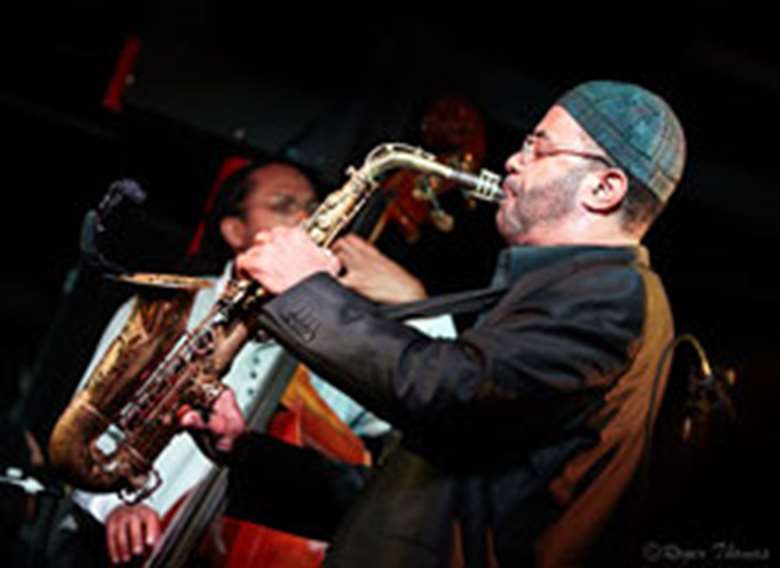 Performing with his quartet of pianist Vernell Brown Jr., bassist Corcoran Holt, and drummer McClenty Hunter Jr., Garrett has just released one of his most memorably melodic albums, Seeds From The Underground, and Friday's show took 'underground' as its watchword, with its loose, spontaneous feel built around long complex solos punctuated by the fearsome Tony Williams-type attack of Hunter who spurred Garrett ever upwards and brought the audience to its feet on 'Happy People' at the end.
With the trademark skull cap, still youthful demeanour and playing style head-bobbing up and down, alto saxophone in the air, or down low to the ground, Garrett unleashed run after run of beautifully fluid improvising episodes. As the set wore on Brown came more into his own and it was almost as if it were Mali-meets-McCoy Tyner at one memorable staging point with the adoption of wonderfully conceived brittle pentatonic scale sections morphing into big statement melody-based runs, or on 'Boogety Boogety' with Garrett building on the "going fourth" quartile harmony of Brown on the Pizza's superbly maintained Steinway. Around the harmonic undertow Garrett could layer cycle after cycle of intricate improv, his tone with a very communicative way about it, his saxophone definitely 'talking' to you, maybe one of the attributes that attracted Miles Davis to him in the late-1980s and early-1990s when Garrett became such a crucial figure in Miles' last years.
With intimations of funk, free form Ornettian figures as well, and much more besides, the audience got a lot out of this performance, and at more than two-and-a-half hours in duration spread over two sets stayed en masse long into the night as the band dug deep into new seams of improvisation with the Detroit man going head-to-head with Hunter in a climactic part of the set. An utterly convincing performance, and an excellent counterpart to what is easily Garrett's best album in years.
– Stephen Graham
Photos: Roger Thomas