John Coltrane Quartet – The Complete November 19, 1962 Stockholm Concerts ★★★★★
Friday, October 9, 2015
Domino Records John Coltrane (ts; ss), McCoy Tyner (p), Jimmy Garrison (b), and Elvin Jones (d).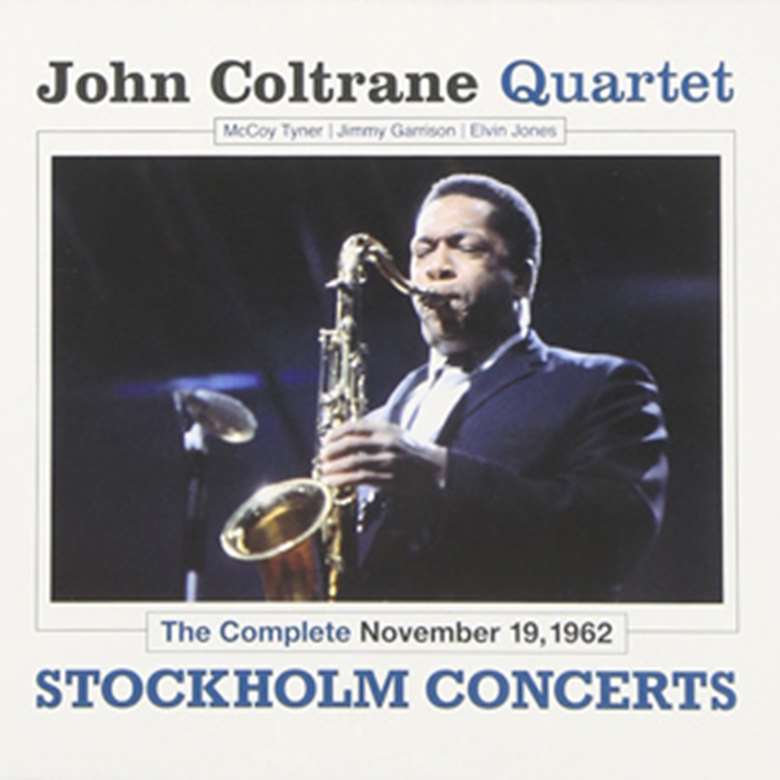 Rec. 1962
Jazz history in general has been constructed around a finite number of iconic recordings and in the case of John Coltrane in particular, through his work for the Impulse label. Academics and students alike pour over these recordings as if they were Grail itself. This close scrutiny, in the hope that it will unlock the secrets of his improvisatory process, is, by its very nature, selective since these recordings reflect no more than a snapshot of the artist at a given moment of his career. Thus our impressions of Coltrane at the peak in1962-3 are shaped by our perception of just a handful of Impulse! recordings. Yet as this four CD set of two concerts in Stockholm from 1962 show, Coltrane was perhaps more expansive, more creative and more dynamic than was revealed by the Impulse albums of the period.
Recorded during his mid-November 1962 European tour, bootlegs of variable quality – mostly poor – have surfaced from time to time, taken from local radio stations from concerts at Helsinki, Copenhagen, Graz and Milan. However, on 19 November Coltrane gave two concerts at the Stockholm Konserthuset, which are released in their entirety for the first time ever and in good quality audio. They do add considerably to our knowledge of Coltrane, even though his repertoire reflected what Coltrane was performing during this period with originals such as 'Mr. P.C.' and 'Impressions' and standards such as 'Inchworm" (which he never commercially recorded), 'Every Time We Say Goodbye', 'My Favourite Things' and 'I Want to Talk About You'. Of interest is his performance of 'Bye Bye Blackbird', which he played with the Miles Davis Quintet, but revisited for this European tour and would only remain in his repertoire for four months.
Throughout these albums it is Coltrane's daring and his probing intensity that makes each of his solos appear on the edge. With the exception of Michael Brecker, no other saxophonist came close to achieving his creative intensity, although rather too many have tried. It remains a fact that what was good for John Coltrane is not necessarily the universal balm that is good for every saxophonist.
– Stuart Nicholson