Top 20 Jazz Albums of 2018
Wednesday, July 17, 2019
The democratisation of jazz and its presence in the mainstream has been the talking point of the year in music, with a new generation of musicians kicking out the jams in fiercely life-affirming ways.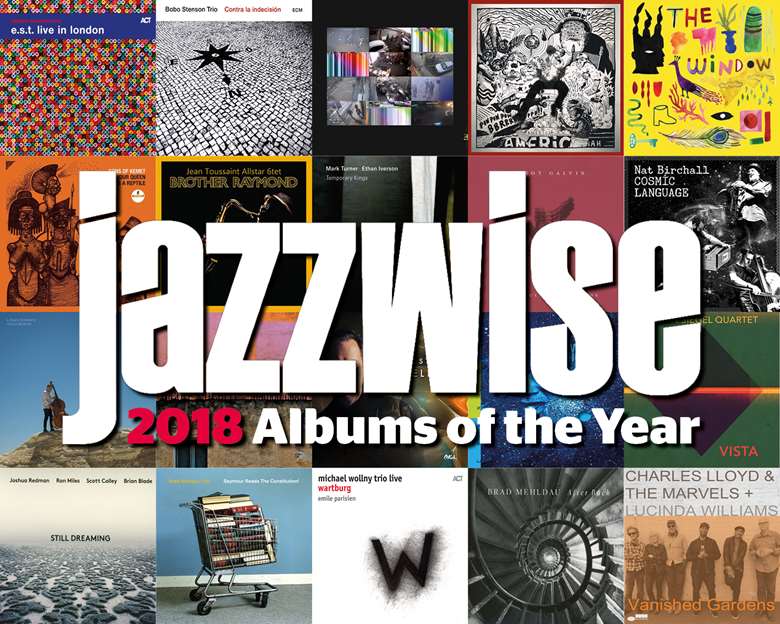 The rise of grass-roots nights like Steam Down are now being talked about in the New York Times as UK artists lead the way towards a new, far more open, future for jazz. But it's perhaps telling that this new generation have yet to build a significant recorded legacy, as this year's Albums of the Year Critics Polls sees elder giants of the music top this chart. Two living legends, Charles Lloyd and Wayne Shorter, both produced new albums of great depth and passion; Lloyd in his latterday lyrical prime on Vanished Gardens, his panoramic Americana odyssey; Shorter dazzling with his immense Emanon triple-album and graphic novel, with only one point between them. Meanwhile, Afro-futurist firebrands Sons of Kemet, take No.3 for their electrifyingly provocative Your Queen Is A Reptile, planting the flag for the forward-looking current generation. Mike Flynn
Subscribe now to see all of our writers' Top 10s as well as the full Reissues/Archive Top 20 and all of our seasonal subscription offers by visiting www.magsubscriptions.com
1 Charles Lloyd & The Marvels + Lucinda Williams
Vanished Gardens
Blue Note
This is an album that is probably closer to Americana since it draws on, and is informed by, a host of vernacular American musical genres – jazz, blues, gospel, country, folk, and rock – without pledging sole allegiance to any. What emerges is a glorious musical hybrid that owes its authenticity and integrity to Lloyd's saxophone improvisations. The introduction of vocalist Lucinda Williams only adds to the stylistic ambiguity – a poet, she has sung in jazz, blues, country, folk and rock settings – and lends a tough, keening edge to this music, which includes versions of her own 'Dust', 'Ventura', and 'Unsuffer Me'. In addition, there are five instrumentals that include three new Lloyd originals plus 'Monk's Mood', and Fran Landesman's 'Ballad of the Sad Young Men'. This is music that creates its own space, is in no hurry to make its point and is what it is – music of great integrity. Frisell and Leisz are central to its meaning, neither seeking to impose a stylistic point of view, but content to be a part of an overall whole that is gently shaped and given direction by Lloyd's saxophone. Stuart Nicholson
2 Wayne Shorter
Emanon
Blue Note
On 25 August, Wayne Shorter celebrated his 85th birthday making Emanon an impressive birthday present from his record company, Blue Note – a 3CD (and 3LP) set, plus graphic novel. So impressive, in fact, that a little voice from within wonders if it is a valedictory statement. Hopefully not, since he continues to compose and arrange, albeit telling Billboard magazine in 2015 that he was "operating on 50 per cent lung capacity" and that he had to walk carefully "and make everything count". Shorter has long harboured a love for strings and has occasionally performed with them, such as at the 2002 North Sea Jazz Festival with the Belgian Prima La Musica, a chamber orchestra comprising 45 musicians that played orchestral versions of 'Orbits' and 'Midnight in Carlotta's Hair' that appeared on his North Sea Legendary Concerts. Even so, Emanon represents the culmination of a lifetime ambition and the first time a strings project of his has been released by a major recording company.
His four orchestral compositions – 'Prometheus Unbound', 'Pegasus', 'Lotus' and 'The Three Marias' – fill the first CD and were recorded with the Orpheus Chamber Orchestra, plus his quartet. The graphic novel that accompanies these pieces is a nice touch, but an after the fact rationalisation devised by Shorter and Monica Sly, since the music was originally written without programmatic intent and stands on its own as a fine series of contemporary compositions that do justice to his enormous talent. The second and third CDs comprise some compelling live quartet performances recorded, according to Shorter, at the Barbican at the end of 2016. It is here that the main interest centres – it is, after all, the finest ensemble in jazz today – and the heights they attain with their time-no changes forays into the outer limits of improvisational imagination are nothing short of compelling. Stuart Nicholson
3 Sons of Kemet
Your Queen Is A Reptile
Impulse!
An increasingly visible representative of British jazz for international audiences, Shabaka Hutchings has never been afraid to voice his opinion on matters social and political. Signed to iconic US label Impulse! the saxophonist-clarinetist and leader of Sons Of Kemet delivers his most thought-provoking statement to date with Your Queen Is A Reptile. To call it an anti-monarchy polemic would be to slightly miss the point though, for Hutchings' mission statement is to reflect on who, and for what reason, an individual may qualify for such a reverential status as queen, other than by accident of birth. The compositions are thus in honour of African, Caribbean, African-American and black British women who have distinguished themselves primarily as freedom fighters and campaigners for justice – Harriet Tubman, Nanny Of The Maroons and Doreen Lawrence, to name but some. That conceptual premise is matched by a musical creativity that builds on previous releases Burn and Lest We Forget, with the presence of new band members Theon Cross and Eddie Hick leading to pleasing shifts in the ensemble sound. Rhythmically SOK draws on a wide range of sources that reflect Hutchings' deep interest in West Indian and African music as well as jazz, and it is precisely when the band hits upon a sound that falls somewhere in between recognised idioms that they excel. Hick's intricate cowbell patterns, a strident soca mutation, are notable in this respect but the appearance of poet Josh Idehen on the Lawrence track also deserves a mention for the way his illuminating text places her struggle within a wider framework of social injustice. SOK may well go on to record albums with the same sense of musical and political purpose, but this feels like a highpoint of their output to date. Kevin Le Gendre
4 Brad Mehldau Trio
Seymour Reads The Constitution!
Nonesuch
Brad Mehldau's teasing talent for setting a mood of fascinating expectation and then unhurriedly revealing its multiple implications has been a marvel of contemporary jazz since the 1990s, and rarely more so than on this riveting seventh album featuring his longterm trio with bassist Larry Grenadier and drummer Jeff Ballard. Mehldau plays that game from the first moments of the standout opener, 'Spiral' – at first alone and almost absent-mindedly spinning a descending eight-note ostinato, then floating a spacious treble melody over it, quickly joined by a bass pulse and discreet latin snare-tick to unwrap a long piano improv of asymmetrical lines, playful delays, and fresh melodies as that hypnotic left-hand mantra murmurs on. The title-track, a deceptively languid waltz with a central role for the imaginative Grenadier, similarly kindles a stream of intensifying variations in which Mehldau never raises his pianistic voice. 'Almost Like Being In Love' (one of five covers) is playful and springy, Elmo Hope's 'De-Dah' is rhythmically jagged and then euphorically-swinging bebop, Brian Wilson's 'Friends' is massaged by slinky long lines and hints of blues, Sam Rivers' 'Beatrice' is a tender melody soon stirred into a Bill Evans-reminiscent trio sprint that propels the leader into some of his most freewheeling doubletime flights. The ever-empathic Mehldau trio might offer a familiar brew, but it never stops fizzing with life. John Fordham
5 = Joshua Redman/Ron Miles/Scott Colley/Brian Blade
Still Dreaming
Nonesuch
To my great chagrin I missed the band's much-lauded performance at Gateshead last year, but this is one of Joshua Redman's most interesting projects thus far in his career. He was actually in his father Dewey's group for a while when he was younger and his affinity to the music of Old and New Dreams, the beloved band Redman senior co-led with Don Cherry, Charlie Haden and Ed Blackwell, is clear throughout this tribute (and extension thereof). Perhaps the most difficult thing to capture in any interpretation of somebody else's music is the spirit, and in this case that translates as a melodic zest, a rhythmic bounce and singing character in warm, visceral themes that then fan out into more complex, extremely conversational narratives. Of the six originals on offer 'Unanimity' is a fine example of agitated, nervy yet controlled playing that retains an ageless funkiness and populist immediacy amid its contemporary sophistry. Indeed, the whole album is the 'old bottle, new wine' theory put into good practice. Kevin Le Gendre
5 = Cécile McLorin Salvant
The Window
Mack Avenue
A mix of studio and live tracks, the latter recorded at the Village Vanguard, the 17 songs of The Window, an album of duets with the brilliant Sullivan Fortner, offer yet more astonishing examples of McLorin Salvant's captivating art. She possesses not only one of the most original imaginations in modern jazz, but also succeeds in reaching emotional depths that few other vocalists reach, whether breathing new life into Buddy Johnson's 'Ever Since the One I Love's Been Gone', delivering an enchanting original ('À Clef'), or dusting down a hidden gem (Cole Porter's 'Were Thine That Special Face'). Running through the album like an idée fixe is a lyrical undercurrent of wishing to be someplace else, from the singer's striking re-imaginings of Stevie Wonder's 'Visions' and Dori Caymmi's 'Obsession' to the Bernstein/Sondheim classic 'Somewhere'. Bolstered throughout by Fortner's bold, exciting pianism, few recordings this year have been as unfailingly engaging, uplifting and accomplished as The Window. Peter Quinn
7 = Brad Mehldau
After Bach
Nonesuch
"As a professional organist, much of Bach's work took the form of improvisation, and during his lifetime it was the virtuosity and complexity of these improvisations for which he was most admired," writes Timo Andres in his liner note. "Some three centuries after the fact, Brad Mehldau takes up this tradition and applies it to a frustratingly unknowable aspect of Bach's art." As we all know, however, J.S. Bach invented modern jazz – where would Bird have been without him? – and the likes of Jacques Loussier have regularly jazzed up the great German keyboard improviser's back catalogue, to stirring and popular effect. Mehldau doesn't take the easy route, you wouldn't expect him to – and though some passages of 'Before Bach: Benediction' may have you squeezing your eyes as you try to follow his musical thoughts, you wouldn't want him to either. Here he pairs straight recitals of four preludes and one fugue from Bach's The Well-Tempered Clavier with compositions and improvisations inspired by them: 'After Bachs'. Is the result jazz? The densely – and, given its title, appropriately – dreamy 'After Bach: Dream' probably owes more to Debussy than any later jazzy interpreter of Herr B. But who cares? After Bach probably won't become your favourite Mehldau release, but you'll find it hard to resist all the same. Robert Shore
7 = Kurt Elling
The Questions
OKeh
With an eclectic song-list that ranges from Bob Dylan and Paul Simon to standards and originals, The Questions presents Kurt Elling's musical response to our troubled times. His take on Dylan's end of days epic, album opener 'A Hard Rain's A-Gonna Fall', is a coup de theatre, the singer declaiming the apocalyptic verses with the potency of an Old Testament prophet. Previously recorded on 1619 Broadway: The Brill Building Project, Elling revisits Simon's 'American Tune' as a sorrowing chorale, with lines such as "Still when I think of the road we're travelling on, I wonder what's gone wrong?" reverberating especially strongly. In beautiful arrangements of Peter Gabriel's 'Washing of the Water', Carla Bley's 'Lawns' (which here becomes 'Endless Lawns'), 'Lonely Town' and 'Skylark', the sense of zoning in on the emotional essence of the song is paramount, with Elling's immaculate legato squeezing the emotion out of every note. There are some familiar touchstones – Elling's lyrics to the Jaco Pastorius tune 'Three Views of a Secret' are inspired by the 13th century mystic, Rumi – and some new inspirations such as the singer's lyrics to pianist Joey Calderazzo's 'The Enchantress', which adapt parts of a Wallace Stevens poem ('The Idea of Order at Key West'). Whether reinventing classic protest songs or appending new lyrical flights of fancy to existing compositions, this is a collection that resonates powerfully in the memory. Peter Quinn
7 = Nicole Mitchell
Maroon Cloud
FPE Records
Flautist-composer Mitchell's substantial quantity of releases has been matched by quality, and this is no exception to the rule. Again in a drummer-less setting she proves that her breadth of artistic vision, as well as command of her instrument and ability to harness strong personalities without constraining them, can produce outstanding results. With its dual reference to a meditative state that can be achieved by extreme focus as well as runaway slaves who fought colonial masters in the Caribbean [Jamaican maroons] the music is marked by a tender contemplativeness as well as muscular momentum which makes the absence of a percussion instrument anything but a problem. One of Mitchell's great sources of inspiration, James Newton, made excellent recordings with cellist Abdul Wadud and pianist Anthony Davis, and there are passing echoes of that vocabulary, yet the additional element that Mitchell has in her line-up, New York-based Trinidad-descended vocalist Fay Victor, is decisive, to say the least. Her distinctive, commanding tone, stealthy phrasing and seamless transitions from singing to spoken word contribute to the overall sense of fluidity in the music, where strong melody can open out into thrilling collective improvisation. The solos that come in and out of the spotlight, none more so than Mitchell's flute on the epic 'A Sound', are integral to the character and conviction of the work, which is a quite compelling statement, culturally, politically and musically. Kevin Le Gendre
10 = Liran Donin's 1000 Boats
8 Songs
Cavalo
Led Bib's lyricism can be lost in their reputation for attack. Their bassist Liran Donin, though, is all melody and emotion on this debut for his own music. Steeped in his complex Israeli background, it's a cultural and musical statement of fierce beauty. Words were written then removed for what are very much songs, addressing the personal and political in a world in which the band's strong name, 1000 Boats, brings to mind drowned refugees. There's no despair, though, as the sustained poignancy of Donin's duet with pianist Maria Chiara Argirò on 'The Story of Annette and Morris' gains a surge of new life from the quintet. The pair's bright intuition is reinforced by drummer Ben Brown in a supple rhythm section which goes far beyond that role. The saxes lay in wait as reinforcements, as when they add a whirlwind, driving swirl to 'Noam, Sand and Sea'. 'Tel Aviv to Ramallah' introduces more shadowy hustle and flow to a journey down that troubled road, Donin's bass sticking and sinking as cymbals softly hiss, and the saxes sustain hope on what the fadeout suggests is an ongoing journey. There's a fragment of Afro-Cuban drums during the loving intensity of 'Alma Sophia', and a bent Donin note at the start of the most joyously Jewish tune, 'Gal and Osh', marked by his melodic statement, the alto's scream, and burning energy. The brittle, anxious bass of 'New Beginnings' becomes a Radiohead-recalling epic, and a bonus ninth song, the feminist-minded 'Free', finishes in harmonious, chanted prayer. The virtues of melody and direct emotion are their own rewards on a purging, uplifting record. Nick Hasted
10 = Nat Birchall
Cosmic Language
Jazzman
The eloquent and dedicated Manchester saxophonist Nat Birchall's music has long focused on the textures and nuances of John Coltrane's saxophone sound rather than its famously torrential virtuosity. He's joined here by familiar partners on the latest leg of that journey, including Adam Fairhall whose exploration of the resonating hum of the harmonium throughout this session signals Birchall's intention to visit the crossing-points of jazz and India's raga traditions. Andy Hay's rustling shakers and Michael Bardon's slow-bowed bass open the tranquil 'Man From Varanasi' (a tribute to Indian shehnai master Bismillah Khan), and Birchall's tenor solo builds from shapely lyricism to dramatic multiphonics over Hay's brushes groove. 'Humility' is a poignantly prayer-like tenor elegy with a percussion-centred core, much of 'A Prayer For' is a gentle ascent of crisscrossing harmonium lines underpinned by a quiet bass vamp into which Birchall sonorously drifts, and 'Dervish' is an exultant high tenor motif that climactically spurs the saxophonist to his most impassioned flights. Cosmic Language is another haunting corner of the big picture that the unique Nat Birchall is devoting his life to painting. John Fordham
10 = Ambrose Akinmusire
Origami Harvest
Blue Note
'My Name Is Oscar', Akinmusire's lament for the tragically slain Oscar Grant (a watershed moment for Black Lives Matter) on his 2014 album When The Heart Emerges Glistening was his most powerful musical and political statement to date. This album offers further investigation of the subject of the perilous nature of life for young African-Americans on the other side of the Atlantic, cast against the wider backdrop of social divides. In keeping with that premise the trumpeter-composer also pits contrasting vocabularies against one another, so that scored arrangement, free improvisation, contemporary classical, funk and hip-hop are woven into the canvas of the music. Drawing a coherent line through such disparate elements is Akinmusire's greatest challenge, and there are moments when the songs become overly protracted. Furthermore, rapper Kool AD is inconsistent, veering from moments of great lyrical inspiration to stagnation. In a nutshell this is a work whose duration could have been cut to some advantage. Yet the overriding impression created by Origami Harvest remains a compelling one insofar as the music has a sharp urgency that stands in opposition to the 'illusory democracy', one of the pithiest and potent of the rhymes on offer, that is a notable summary of America's current administration. Sam Harris and Marcus Gilmore, who brilliantly combines hip-hop's metronomic austerity with astute flights of metric fancy, ensure that the core of the music is in safe hands. But the star turn of the entire set is taken by the little known vocal talent LmbrJck_T, whose absolutely memorable performance on 'Particle. Spectra' has a shimmering Bilal-esque beauty to it. Akinmusire's accompanying statements, executed with a lustrous tone and melodic concision, are excellent, and the soulful vision of 'baby steps with love for everyone' becomes a strong emblem for a work that, flaws or not, has a degree of both creative ambition and socio-political depth that demands attention. Kevin Le Gendre
13 = Mark Turner/Ethan Iverson
Temporary Kings
ECM
Both are members of the splendid Billy Hart Quartet; Mark Turner, an influential contemporary jazz saxophonist originally from LA, has his roots in the much maligned cool-school, while duo partner Ethan Iverson, formerly the pianist from The Bad Plus, is someone who has a passion for the marginal, more underappreciated elements of the post-bop lineage and new music repertoire. Temporary Kings partly pays tribute to the seriously underrated Lenny Tristano-school saxophonist Warne Marsh (Turner is one of his few prominent disciples on the horn) but crosses over into the chamber-improv modern classical music field – note, the two are in no way mutually exclusive. Aside from originals, the pair explore the Marsh legacy with his 1956 'Dixie's Dilemma' (based on 'All the Things You Are'), with Iverson 'Thingin'' on a walking bass, and Turner taking a zigzagging bopfired route into remote tonalities before finally establishing the tune's theme. The saxophonist's 'Chamber of Unlikely Delights' is an airy pastoral jazz duet with Turner closer to early Lee Konitz, his lithe, bittersweet tenor peppered with enigmatic twists and turns. As is Iverson's piano on his stealthily Monk-ish piece 'Unclaimed Freight', contrasting with the piano's sparse hypnotic chime on 'Seven Points'. 'Myron's World', from Turner's influential 2001 recording Dharma Days, might be warm, even lush in comparison, but is no less intriguing. Selwyn Harris
13 = Jean Toussaint
Brother Raymond
Lyte
The three generations of pianists featured on this album are a useful symbol of the longevity of leader-saxophonist's Jean Toussaint's career, not to mention the great influence he has exerted as an educator since arriving in Britain in the early 1980s. Forever vocal about his own priceless apprenticeship as a Jazz Messenger, Toussaint assumes the senior Blakey-esque mantle well, and the prevalence of smartly constructed pieces for a well-drilled ensemble which celebrates the classic three-pronged reed and brass frontline is very appealing. Toussaint draws on blues and African-Caribbean vocabularies to inject vigour into the tunes, as can be heard on the ricochet percussion on the opener 'Amabo', and infuses further modernity into tradition by way of some inventive changes and multiple breakdowns. As much as the uptempo pieces, with their bustling dance implications, are impressive, the more reflective ballads, of which 'Interlude For Idris' is the pick, also show how well Toussaint creates strong moods in a more stealthy fashion. Writing aside, the quality of the improvising is consistently high, with the horns and rhythm section, particularly Rebello, on cracking form. Toussaint, whose solos are very astutely paced, has never made a secret of his West Indian roots and his debt to Blakey. This is the moment those two strands of his identity entwine to create something quite special. Kevin Le Gendre
15 Michael Wollny Trio
Wartburg
ACT
The Leipzig-based pianist Michael Wollny has been the main attraction of the ACT label's stable of emerging German jazz musicians for over a decade now. His superb contemporary piano trio [em]'s releases since 2005 are of particular relevance, as are his duets with veteran saxophonist Heinz Sauer. Here are two simultaneously released albums by his current trio, featuring drummer Eric Schaefer from [em] and the bassist Christian Weber. Recorded within just a week of each other, Oslo and Wartburg are nevertheless not-so-close musically speaking. Oslo is a studio album and features the Norwegian Wind Ensemble led by Geir Lysne, who's also released some very notable ACT recordings of his own with his Listening Ensemble. Wollny's compositions and arrangements range from contemporary chamber classical to Jarrett-like grooving and Schaefer and Lysne pitch in among the rearrangements of classical pieces by Debussy and Hindemith. But it's a more controlled context than Wartburg which is a 'live' recording, celebrating ACT's 25th anniversary last year, in which the trio really stretch out. Recorded in the eponymous church of the title, Wartburg focuses on the organic collective interaction and close chemistry of Wollny's trio on tracks that shift from a classical-percussive way out-ness on 'Antonym' through to Schaefer's low-slung hip hop beats on the trio's rearrangement of Paul Hindemith's 'Interludium'. The enigmatic art-pop artist Scott Walker is underrepresented in the jazz canon, so it's good to hear Wollny tackle the ballad 'Big Louise' with his own impressionistic take on Walker's resigned introspection. The guest French saxophonist Emile Parisien, who Wollny partnered in ACT's young wacky Euro-jazz supergroup Out of Land, climaxes with a Coltrane-ish soprano on Schaefer's 'Tektonik'. Wartburg is definitely the pick of the two, but this is a release bundle that convincingly contrasts Wollny's diverse talents. Selwyn Harris
16 = Julian Siegel Quartet
Vista
Whirlwind Recordings
Vista is the much anticipated follow-up to 2011's Urban Theme Park. It might be said that it is the culmination of six years shared band-stand experiences, where according to Siegel: "After playing together as a band for such a long time, you really start to get into something." That something, according to music psychologists, derives mainly from a mix of anticipation and intuitive and learned responses to each others playing – the more you play together the more attenuated the sense of anticipation becomes, which in turn governs both intuitive and learned responses. It all sounds quite simple in theory, but in practise it's another story. How attenuated is attenuated, for example? Well quite a bit in the case of Siegel's quartet. Their reinterpretation of Bud Powell's 'Un Poco Loco', for example, an album highlight, effortlessly unfurls despite the unexpected twists and turns in the arrangement. From track one, 'The Opener', Siegel's playing, a mixture of aphoristic asides that almost function as an oblique counterpoint to the internal logic of his lines, and the shrewd development of the ideas and motifs that seem to flow through lines, is sharply defined and commands attention. He has the ability to play with and against the rhythm to create tension, in addition to using a rising line that gives his solos a sense of structural coherence that knits well with Liam Noble's accompaniment. In solo, Noble can be inspiring – indeed there are moments on 'The Claw' and 'Billion Years' where he and Siegel work off one another to create something special. Stuart Nicholson
16 = Roller Trio
New Devices
Edition
With the current buzz around a new Brit-jazz generation, it's easy to forget there was similar headlines being made only a decade ago about an irreverent bunch of young jazzers whacking out contemporary beats, skronky horns and punk attitude. Chief among the second wave was Leeds' Roller Trio. They won a coveted Mercury Prize nomination for their eponymous debut in 2012, prematurely as it was practically a demo recording. After a period of bedding in they produced a follow-up in 2016, the razor-sharp riffing Fracture. The new release, New Devices, sees the arrival of a new member, the inimitable Geordie guitar innovator Chris Sharkey, and it proves to be a game changer. Sharkey is from the much-missed Zorn-ish, spiky metal-free improv speed merchants TrioVD, also from Leeds and more recently Shiver, and the sonic sauce has been thickened up with otherworldly tonalities and spacey freak-out atmospherics. Sharkey's bass/ guitar multi-effects and hooky loops alongside widescreen synths run the show, yet Luke Reddin-Williams' thundering beats, veering from drum'n'bass, dub to backbeats, and James Mainwaring's stabbing horn riffs are still present. With the feral saxophonist upping the ante and at times echoing Pharoah Sanders, the out-there sonic experiments on the new recording suits Roller trio. Doesn't New Devices sound much more like the future of so-called 'Cosmic Jazz' than the trendier, audience-accommodating retro bands currently making waves? Selwyn Harris
16 = Elliot Galvin
The Influencing Machine
Edition
Elliot Galvin is the most conceptual and intellectual of the Chaos Collective, the former student friends whose most public platform is Laura Jurd's Dinosaur (their drummer Corrie Dick joins Galvin here). This third solo album was inspired by 18th century double-agent and paranoid schizophrenic James Tilly-Matthews, and his intricate, prescient delusions. 'Monster Mind', with its smashed hi-hat, and piano which alternates between nervous investigatory creeps and confident sallying forth, most obviously describes a divided soul, falling at last into a misty dreamtime. The pensive, mostly solo piano of 'Society' seems a pre-emptive elegy before some looming apocalypse, its American classical and blues touches suggesting the American Civil War. 'Bees Dogs and Flies' then borrows a Renaissance folk tune which is the album's best, rooting it in common soil absent elsewhere, and ending in another inconsolable refrain. This is jazz in its open mind, and post-modern in mode of thought. Knottier and cooler than its predecessor, Punch, its labyrinth repays repeated exploration, revealing heartfelt sadness amidst the twisting ideas. Nick Hasted
19 = Bobo Stenson
Contra La Indecision
ECM
The partnership between Stenson and Jormin goes back to the 1980s, in both the trio format and also in rhythm sections with Charles Lloyd and Tomasz Stańko. The younger Swedish drummer Jon Fält is a more recent addition to the line-up, but as a trio they've had a decade or so working together on and off, and it shows in the cohesion and flair included here. Stenson has an extraordinary stylistic range from the free jazz anger of his early 1970s Garbarek sides to the almost baroque control of his work with Stańko, and much of that range is included in this set that stretches from the Cuban title-track to neo-classical forays into interpretations of Bartók, Mompou and Satie via originals by himself and Jormin. The bassist is almost two musical personalities, both on show in his own 'Doubt Thou The Stars', which has lyrical arco passages and the kind of free-flowing melodic pizzicato improvisation that only the finest Scandinavian bassists seem to be able to create. Satie's 'Élégie' has the leisurely pace of the average Tord Gustavsen track, but it builds with a depth and intensity the Norwegian seldom manages. The crystal clear right-hand piano lines cunningly suggest choices not taken as well as the course that is finally charted, as Stenson somehow hints at what he might have played as well as what he does. This is a recording that demands serious listening and attention, not least because that is what we can hear happening in the studio as the tracks are being put down. The interplay is complex, yet relaxed. The collectively improvised 'Kalimba Impressions' built out of a simple ostinato pattern is proof of this – not least when Stenson takes a sudden harmonic turn away from the prevailing single mode, and is adeptly followed by Jormin and nudged back into line. Fält plays a lamellophone-like set of tones mirroring the pattern, but then picks this up rhythmically on the kit, before returning to the woody, clicking patterns of the opening. The whole piece is magical, and original, and that applies to the bulk of the album. Alyn Shipton
19 = Esbjörn Svensson Trio
e.s.t. live in London
ACT
It is now 10 years since the tragic and untimely death of Esbjörn Svensson: a decade in which a new generation of fans and students will have engaged with his music, yet to whom Svensson's significance will have been diminished by the passage of time. So this excellent album is a timely reminder of the emotional and aesthetic appeal of a group whose music crossed barriers of age, ethnicity and genre to reach beyond jazz, not just in Europe, but the US itself. The complete Barbican concert is included in this 2CD set, but one small cavil – the opportunity to use cover art to provide an aesthetic entry point into the music has been missed, along with liner notes to fulfil a similar function. Maybe a contemporaneous press review of the concert could have been used to set the scene? Stuart Nicholson