The Bauhaus school of design, despite its explicit aspirations to foster Gesamtkunstwerk (a "total synthesis of the arts"), never taught music directly. But, according to critic Joshua Barone, "musical thinking permeated the lives of its students and faculty". Walter Gropius, the movement's principal founder, married Gustav Mahler's widow Alma in 1915, and Alban Berg's seminal Violin Concerto was written in memory of their daughter Manon, who died of polio aged 18.
Heinrich Neugeboren envisioned sculptures based on the interlocking layers of Bach's Eb Minor Fugue, and Wassily Kandinsky, who taught at the school in the 1920s, spoke of his paintings as "compositions" with "rhythm" and "melody". Oskar Schlemmer choreographed a bizarre Bauhaus ballet, and the movement's social gatherings often featured ad hoc musical groups armed with saxophones, banjos, and whatever sonorous objects (musical or otherwise) they could lay their hands on.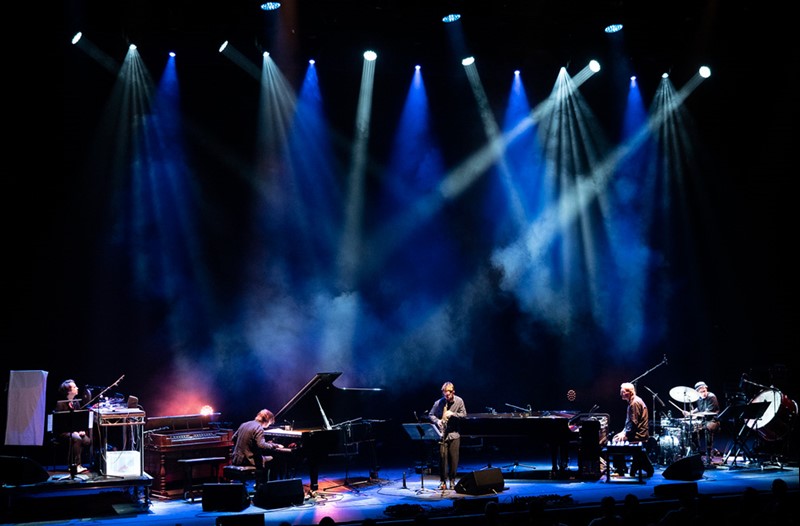 So then, the Barbican's Bauhaus 100 evening had plenty of conceptual ground to mine. The first of the three performances saw Michael Wollny's snaking jazz piano lines dive between Max Stadtfeld's drum cadenzas and Émile Parisien's soprano sax outbursts, along with interludes from an umbrella-like contraption operated by Leafcutter John that caught the ear as well as the eye. Wollny's improvisations also fed into a 'pianola' – an intriguing mechanical device from the 1920s programmed by Wolfgang Heisig that allowed him to trigger harmonic lines on a second grand piano. The group's jarring sonic transitions were expertly marshalled and immediately affecting, moving in an instant from Philip Glass-like arpeggios and powerful, schizoid riffs to moments of laughter and collective release. (Are we laughing at the umbrella's squeals or with them? Or is it laughing at us?). 
Drummer Daniel Brandt's superb Eternal Something suite began in somewhat chaotic fashion, with no clear boundary between the sound and lighting checks and the start of the music. But far from detracting from things, the lack of formalised order seemed perfectly in keeping with the Bauhaus' aesthetic of collective, technological problem-solving. His drums/guitar/trombone trio saw ostinato fragments revolve around a techno-like kick, aided by a bewildering array of pedals and evoking Steve Reich's City Life as well as Jaga Jazzist's heavy electronics.
Brooklyn-based Dawn of Midi revisited music from their groundbreaking 2013 Dysnomia album, building a coherent, human-flavoured narrative despite a complete absence of melody. Pianist Amino Belyamani, bassist Aakaash Israni, and stickman Qasim Naqvi's unbroken, 45-min set was danceable rather than singable, with layered rhythms that drew from Belyamani's Moroccan upbringing as well as his stint of study with Ghanaian master drummer A.K. Ladzekpo. His muted piano strings sent floating overtones throughout the hall, colouring two-note bass figures and 'deceptive' kit rhythms (in their words, "all three of us are essentially playing drums"). Though borne of jazz improvisation, their sparse, hypnotic loops were precisely, obsessively scripted, creating ambiguity through empty space while leaving each member of the trio almost painfully exposed. Rarely has such obvious virtuosity arrived so free of flamboyance, and rarely has a group (wittingly or otherwise) better embodied the core aesthetic philosophies of the Bauhaus – humanised geometry, forward-facing technological experimentation, and a bold re-imagination of the simple and familiar.