Belgrade Jazz Festival bounces back with stellar line-up
Wednesday, November 17, 2021
Tim Dickeson reports back from this top European festival with highlights such as Nordic stars Rymden, top US saxophonist Joe Lovano and revered composer Maria Schneider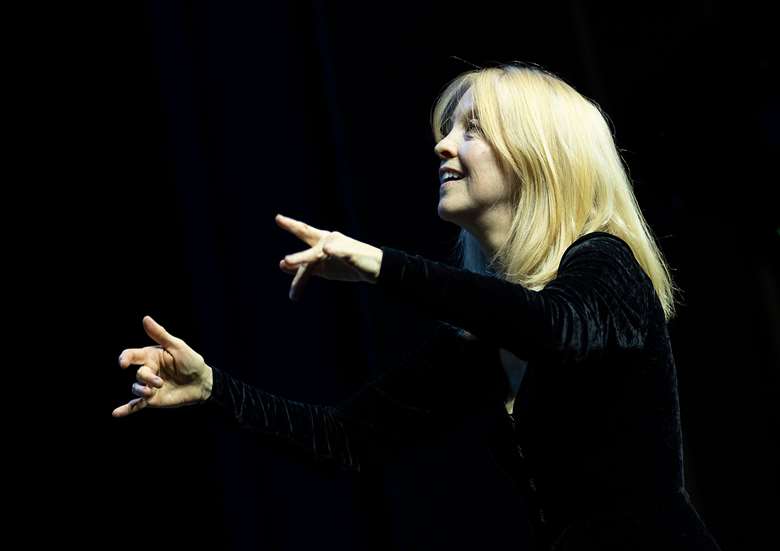 In 1971 the first Belgrade Jazz Festival was held – a tie-in with George Wein's Newport Jazz Festival where the same artists played both festivals – Monk, Miles, Dizzy, Ornette, Sonny Stitt, Duke Ellington, Gary Burton & Art Blakey – what a line-up that was!
50 years and 37 Festivals later the spirit of that incredible first festival is very much alive and burning bright – the 2021 Festival emblem being the 'Jazz Flame'.
This year the festival ran over seven nights and featured 25 concerts and I was honoured to be asked to officially open the festival with fellow journalist Milan Popov.
There was a big emphasis on the piano at the festival – from the opening concert featuring the excellent Maja Alvanović to ­Brad Mehldau who closed the festival.
Rymden (Bugge Wesseltoft, Dan Berglund & Magnus Öström) have gelled wonderfully into a vehicle for Wesseltoft's more lyrical piano playing. Berglund & Öström are relishing this new trio and the delight and enthusiasm they are enjoying while playing was obvious.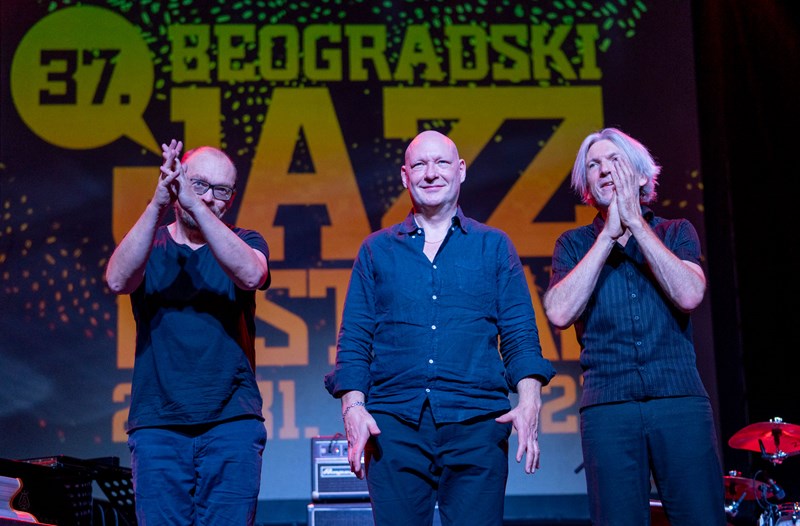 Rymden (photo: Tim Dickeson)

A Polish night featured three very different bands. The Martin Wasilewski Trio was joined by sax giant Joe Lovano – an interesting collaboration but one that possibly sidelined Wasilewski's own contribution. Trumpeter Piotr Damasiewicz's 'Into the Roots' trio offered a different take on trio playing. Weaving seamlessly African/Folk & Scandinavian themes with free playing – it made for a very interesting listen.
The last band and arguably the most impressive was violinist Mateusz Smoczyński Trio. Featuring Hammond Organ and drums the concert started quite slowly but once Smoczyński got into the groove he showed what a virtuoso he is – Coltrane's 'Naima' and a version of '26-2' played at breakneck speed, both brilliant and innovative.
Maria Schneider conducted the Subway Jazz Orchestra in what was to be one of the festival highlights. Festival artistic director Voja Pantic has been a long-time fan of Schneider's music and his ambition has been to put on a show featuring a 'best of' setlist. Pantic called Schneider and invited her to produce such a concert for the 50th anniversary and the jointly discussed the pieces to be played. The concert started modestly with 'Potter's Song' and gradually built to a crescendo with the fiery 'Data Lords'. Schneider and the Subway Orchestra working perfectly together – it was a wonderful concert with excellent soloists for whom this was a once in a lifetime chance to work with Schneider. The beautiful 'Hang Gliding' and encore of 'Sky Blue' were the perfect end to the show.
The late night stage at the Dom Omladine features more edgy/avant garde/left field music. It is always a joy to discover new music and this year there was a host of bands who impressed me on this stage. Israeli trumpeter Itamar Borochov, a prodigious talent mixes middle eastern influences with modal jazz in complex anthemic pieces. Spiniflex a six -piece band that mix free jazz/punk/garage/rock in a cacophony of sound that somehow all seems to make perfect sense. Serbian saxophonist Jasna Jovićević is an excellent avant garde player and with her trio was the stand out performance on the Serbian night.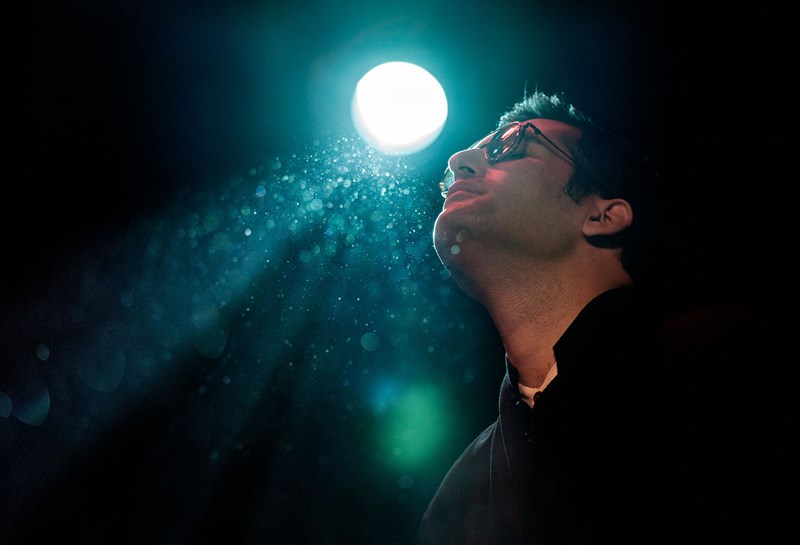 Itamar Borochov (photo: Tim Dickeson)

The most inspired moment of programming came with the double bill featuring Debussy Now! and Ghost Horse.
Debussy Now! features harpist Anastasia Razvalyaeva, who has reworked Debussy's piano parts for harp and Veronika Harcsa who sings the libretto plus Márton Fenyvesi on live loops and guitar.
Razvalyaeva is a classical musician who now improvises and Harcsa a jazz singer who sings here classically in French. The concert was mesmerising for both Harcsas' singing and the music which at times was minimalist. There was absolute silence during the songs such was the concentration of the audience least they miss a note. If Sirens ever existed Harcsa would definitely be one.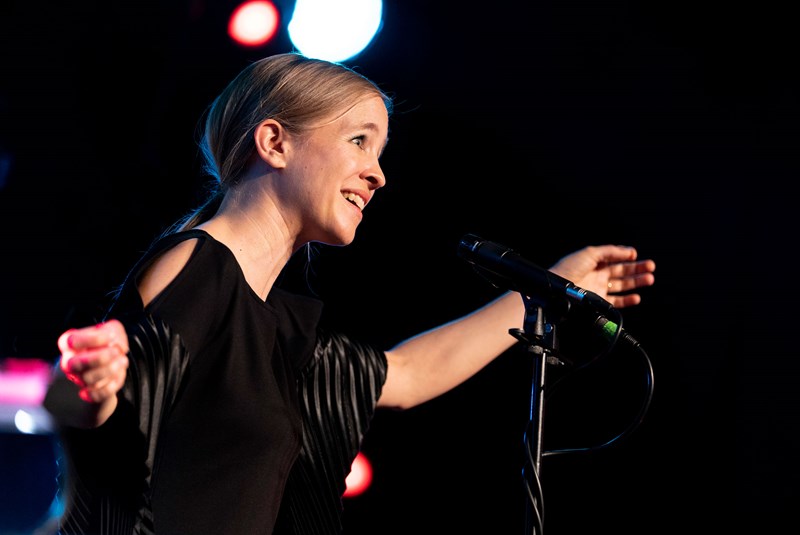 Veronika Harcsa with Debussy Now! (photo: Tim Dickeson)

Harcasa's rocks and the audiences shipwreck came in the form of Dan Kinzelman's Ghost Horse – snarling, spitting and aggressive – the band with a heavy emphasis on the lower register -trombone, tuba, baritone guitar, bass and drums. Kinzelman leads from the front on bass clarinet & tenor sax with the band relentlessly creating wave after wave of sound. Trombonist Philippo Vignato and Gabrio Baldacci (guitar) frequently take the lead from Kinzelman, but this is definitely ensemble playing at its best.
The mix of free-jazz, hip hop and in the quieter moments almost blues, combined to create a wall of sound that was fascinating, addictive and compelling. The song titles explain all – "Trojan, Pyre, Killing the Sword & Squirrels are not your Friends"! This was festival programming at its best.
The closing concert featured the Brad Mehldau Trio. I saw Mehldau play almost the same set at Umbria Jazz in the summer. On that occasion in a big arena barely half full due to social distancing, it was a soulless experience with Mehldau not connecting with the audience who slowly lost interest.
Here in a smaller venue (but again with social distancing in place) the atmosphere was completely different – Mehldau was relaxed, in touch with the audience and his playing was exquisite. 'Moe Honk', 'All the Things You Are', Nick Drake's 'Riverman' and a wonderful 'In The Still Of The Night'. The notes flowed from Mehldau's fingers like a river and the audience immersed itself in the flow. A real case of artist and audience in tune with each other just enjoying the moment.
This was a great festival to celebrate the 50th anniversary which was held in very difficult times – it was planned and executed faultlessly. The festival and audience were very happy and George Wein would be proud, I'm sure.