Running for almost a month across January and February each year, the Sons d'hiver festival brings an uncompromising programme of challenging music to a handful of provincial theatres and arts centres in the suburbs of Paris – with an emphasis on presenting leftfield jazz and improv (the festival's name is a Francophone pun denoting both 'winter sounds' and 'diverse sounds'). Unless you live in Paris or are in a position to decamp there for a few weeks, it's unlikely you'll be able to see every show – but the quality is so high that even just selecting a couple of nights at random pays dividends.
I rock up on a Thursday night for a double-bill beginning with a solo set from keyboardist John Medeski (sans Martin and Wood). It doesn't get off to a particularly promising start, with Medeski (pictured below) engaging in a silly pantomime of silently pretending to strike the piano keys (presumably with some kind of comedic intent) before slotting into so-so Cecil Taylor-isms. But a couple of well-judged standards save the set: a tender interpretation of 'You'd Be So Nice To Come Home To' followed by a deep reading of the spiritual 'Sometimes I Feel Like A Motherless Child'. For the second half of the session, he switches to Hammond organ, rinsing the filters to generate endlessly morphing textures and timbres. It's progger than prog – and highly entertaining.
Next up is trumpeter/vocalist Jaimie Branch leading her quartet through a set based (more or less) on her second album Fly or Die II, which she's been touring now for over a year. If she's experiencing any performance fatigue from belting out these songs, it doesn't really show: she enters fully into the obstreperous spirit of tunes like 'Love Song (For Assholes and Clowns)', with a delivery somewhere between sneer and scream – while her tone on the horn remains as biting and precise as ever. Away from the songs, some of the set's most thrilling moments come in the improvised transitions from piece to piece – but even at her most proscribed, Branch still emanates danger: a performer at home on the edge, and one who really means it.
The following night opens with something pleasingly old fashioned. 'Free Jazz For The People!' is a suite written by French pianist/vibraphonist Paul Wacrenier and performed by his 11-piece Healing Orchestra, with a guest appearance from veteran clarinettist Sylvain Kassap. The piece fuses together convincing pastiches of elements of George Russell, Don Cherry, Albert Ayler and Charles Mingus, ranging in tone from cacophonous free-for-all to deep spiritual swing. Aside from the delicate, nested tones of Sarah Colomb's violin and Fanny Menegoz's flute, there are few surprises – but when something's done with such energy and respect, why get hung up on novelty?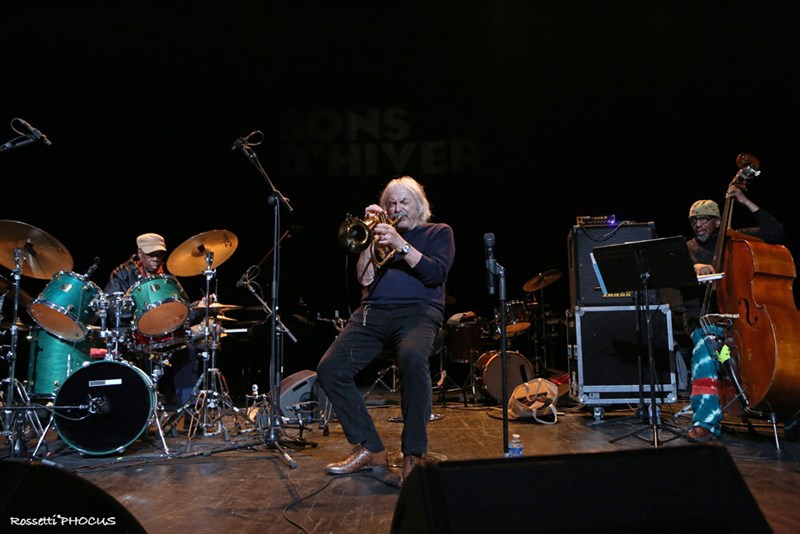 The evening's main event is billed as a 'Tribute to Cecil Taylor' and features three improvisers (pictured above) who played with the late pianist at various times: drummer Andrew Cyrille, bassist William Parker and Italian trumpeter Enrico Rava. At 68 years old, Parker is the baby of the group – and the engine too, tirelessly pumping out endless grooves – while Cyrille and Rava, both aged 80, bring deep wisdom to the performance. Rava's energy is infectious as he maintains a valiant melodicism, unearthing spontaneous licks to latch onto Parker's obsidian vamps. But it's Cyrille who most captivates, sketching a fleeting, diaphanous rhythmic phantom that only ever seems to hint at the agreed mood. It may not be as obviously breathtaking in its daring physicality as the furious pulse-time throb he pioneered with Taylor in the 1960s, but it's still a captivating display of abstract wit and invention.