Brussels boogies on with jazz gigs galore
Martin Longley
Monday, October 12, 2020
Our intrepid reporter crosses European borders to track down some Continental jazz action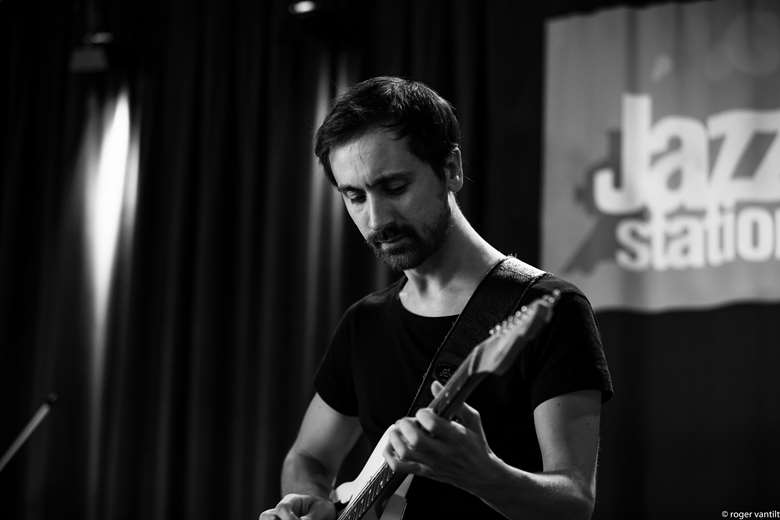 The leading Brussels venue Jazz Station is celebrating its 15th anniversary in 2020, even if under difficult conditions. It's further out of the city centre than many joints, in the Saint-Josse-ten-Noode district. Although not too close to a metro station, any perceived effort reaps great rewards in this attractive club space, which was converted from an old 1885 train station, originally abandoned in 1918.
The Lorenzo Di Maio Trio is led by the Belgian guitarist/composer, featuring Sam Gerstmans (bass) and Antoine Pierre (drums). Di Maio records for the distinguished Igloo label, releasing his debut solo album Black Rainbow in 2016. For this sold out gig, the trio were joined by the string quartet Ensemble UFO, with electricity flickering across the spaced-out seating, masks on, but spirits unquelled, and the club's warm atmospherics preserved. The set was part of Jazz Station's regular Saturday series at 6pm, but its audience members were already geared up with an attentive enthusiasm.
The leader's liquid purity was slightly subverted by Pierre's rationed interjections, making isolated hits and shimmers. Pink Floyd's David Gilmour could be a strong influence on Di Maio's keening explorations, rather than the more expected Stateside jazz guitaring of David Gilmore. There's a lush sensitivity, and a singing vocal vibrato to his string-sound. Meanwhile, Pierre was stoking up the density and intensity, when all went silent to frame a Gerstmans bass solo. An Arvo Pärt-oid faintness ensued, with a soft, downy fuzz covering the guitar, arcing with a taming touch, rock dynamics swooped down to softness, but still threatening a nasty bite. Di Maio took turns to inflect with bluesy or countrified qualities, sometimes setting up a very subtle drone underneath, akin to a purring Hammond organ.
The UFO strings were employed in a subtle fashion, at the service of the trio, and quite possibly eager for an expanded role. They circulated the atmospherics, and skated around the edges of the core themes, but could have used stronger amplification, and more of an attacking stance. This was exactly what happened during the encore, when all of the players were firing tough, in a truly climactic release.
Three days later, at another major Brussels venue, another trio appeared, adopting a more old school approach on the more traditional theatre-style stage of Les Riches-Claires, not far from the Grand Place. L'Âme Des Poètes (The Soul Of The Poets) represented an older generation, together since the 1990s. This gig had a completely different aura, with dimmed lights and an audience sitting in formal rows. The instrumentation was enticing: Pierre Vaiana (soprano saxophone), Fabien Degryse (guitar) and Jean-Louis Rassinfosse (bass). Although their repertoire emerged from a Francophone popular songbook not so familiar outside the region, your scribe had the impression that this material was subject to dynamic alteration, with soprano and guitar often pitched at an appealingly direct and aggressive level.
Vaiana played less than his two partners, but when he soloed, it was with a bright, molten-spitting purity, from the Sidney Bechet side of the avenue. Likewise, Degryse preferred a steely cutting attack for his acoustic guitar, with its direct input hiked to a strafing degree. Rassinfosse sounded like he was the wry comedian of the band, explaining each song, along with accompanying anecdotal elaborations. At one brief point they had a short burst of impersonating Evan Parker, Derek Bailey and Barry Guy, quite possibly taking the piss, but in reality, sounding very convincingly free.