Bzhezhinska's Hip Harp Project Captivates At Camberwell's Crypt
George Howlett
Friday, November 29, 2019
Sheer harp attack courtesy of Alina Bzehezhinska and company at EFG London Jazz Fest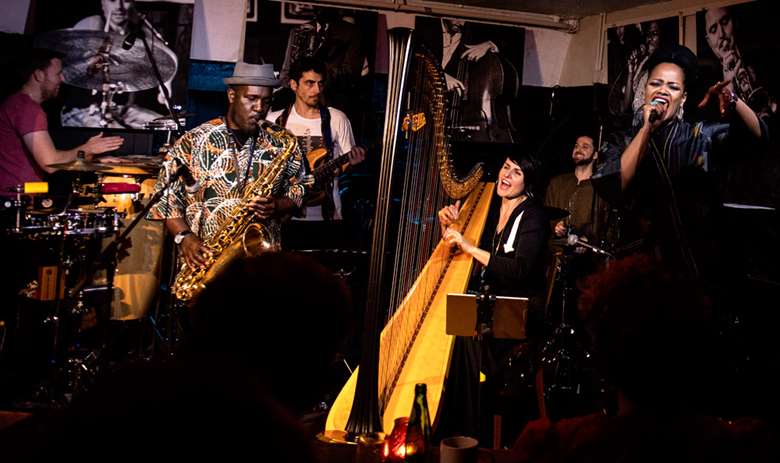 The harp is among the world's oldest musical instruments. All civilisations seem to have independently devised their own variants – they feature in some of the earliest literature of India, China and Korea, and examples have been unearthed in the royal tombs of ancient Egypt and Sumer. In fact, harp history stretches back to prehistory, with depictions of them turning up in Mesolithic-era rock paintings from well before the dawn of writing. 
But despite its cultural ubiquity, the instrument's role in the 21st-century jazz world is still something of a paradox. While most open-eared listeners are warmly familiar with the work of Dorothy Ashby and Alice Coltrane, few of them seem to have ever seen a jazz harpist in the flesh. Real-world supply has somehow never seemed to match demand.
This state of affairs adds an extra buzz of anticipation to any jazz harp concert – something that was palpable in the sold-out Crypt of Camberwell's St. Giles Church as Alina Bzhezhinska gathered a formidable group around her six-foot, 40kg instrument for an engrossing evening that spanned Ashby and Coltrane classics to Afro-beat, soul and ambient-infused electronica.
An eclectic setlist was no surprise given Bzhezhinska's winding musical path – classical training at the Chopin Academy in Warsaw, further study in Arizona, and a performance career that has seen her play for the Queen of England and King of Thailand as well as countless jazz experiments, including work with Shabaka Hutchings and Miguel Atwood-Ferguson. Her assured emotional command was immediately apparent, with flowing improvisations that retained a distinctly personal character across a remarkable diversity of genres. 
The low-ceilinged resonance of the Crypt brought an even overall tone to proceedings, allowing the supporting cast to be heard clearly throughout. Mikele Montolli's basslines were effective yet unobtrusive, and Adam Teixeira's drums anchored proceedings with authority. Extended cameos from saxophonist Tony Kofi and vocalist Vimala Rowe caught the ear, complementing the harp's limber melodic excursions without overpowering them.
Bzhezhinska's own compositions didn't just hold their own against the established classics of half-a-century ago – they built on them seamlessly, with tracks such as the finely-poised (and fantastically-named) 'Annoying Semitones' garnering some of the biggest cheers of the night. And even the classics were heavily reworked, with the group's impressive intuition for when not to play bringing new life to well-worn standards such as 'Afro Blue'.
Jazz harp may already have a special place in the hearts of modern listeners, but the rapturous reception for innovative concerts like this points to just how much more there is to be explored. I can think of few fellow jazzers who wouldn't jump at the chance to hear more of it.