"This is dream come true stuff for me". The delight trumpeter Charlotte Keeffe shared introducing her quartet threaded through the weekend. Lancaster's jazz festival is a modest affair, nicely proportioned for a small city. This year's ninth edition reaffirmed its commitment to young bands, and emerging talent – and they appreciate it. Keeffe duly delivered an impressively poised set, her delicate path between composition and free improvisation delineated with help from Ashley John Long on bass, Ben Handyside on drums, and new recruit Moss Freed on guitar.
Lancaster's broad-minded audience had already heard a bonus afternoon and evening of new sounds, as Friday saw Jazz North's Northern Line showcase in the snug confines of Sun Square, the festival's outdoor stage. There were vocals floating over synth sounds from Rafe's Dilemma (below), Jamil Sheriff and Eleanor Begley reprising a drama-inspired commission from Bolton Worktown Festival, dreamy trip-hop from keyboard player Jemma Freese's trio, and mostly brisk, bluesy post-bop from bassist John Pope's accomplished all-acoustic quintet.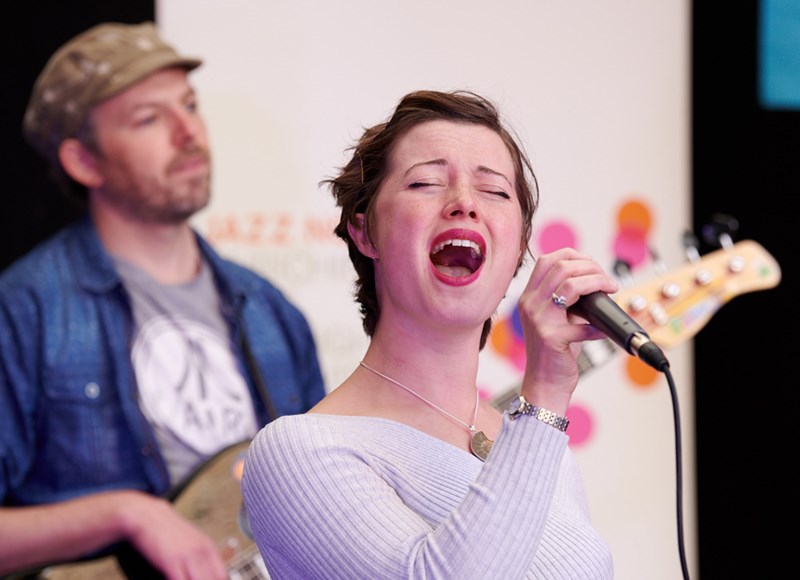 More new sounds abounded. Keeffe's outfit was followed by young string virtuoso Polly Virr, using loops and electronics to enrich her set of evocative solo pieces. Fellow-cellist Maja Bugge explored similar territory with sound designer Hervé Perez's field recordings in her engaging place-based project Northern. And those who made an early start on Sunday heard the debut of a commissioned suite from pianist Jacky Naylor's specially assembled sextet ­– the Northern-inspiration behind the music now being industrial spaces and places. Some outstanding writing brought out the best in a band of real quality, Alex Hitchcock on sax standing out even in such talented company.
Evening sets featured more already-established talents, but still highlighted some of the freshest music around. Camilla George's quartet, who headlined the Friday night, benefited handsomely from Shirley Tetteh's incandescent guitar. Vula Viel, with the superb Dave Smith taking over Jim Hart's drum chair, were exuberantly absorbing on Saturday. A Sunday premiere for Led Bib's new music – and new, retro-art-rock, direction – was less appealing for me. The show features an hour of determinedly enigmatic film scenes and a scattering of lyrically murky songs, and proved hard to get a purchase on.
No such problem for the other stand-out from Sunday, though: Arthur O'Hara's rhythmically charged trio. The leader's electric bass has a real hook-up with new drummer Harry Pope, and there's a constantly-shifting relation with Chelsea Carmichael's Shabaka-Like tenor sax figures. A gripping hour from a band I want to hear again soon. There are many flavours of jazz festival in the UK these days, but this one's focus on new players, and new ensembles, gives it real spice, with its sights set on the future.