With Pančevo's well-programmed mix of young and old, traditional and modern jazz, it was Dave Holland's Crosscurrants Trio who were the undoubted highlight of this year's line-up. Featuring Chris Potter on saxes and Zakir Hussain on tabla and percussion, this is a trio of the highest quality. Playing material from their recent CD Good Hope, each member of the band has written material specifically for the project and the strength of the compositions was very evident during the concert. Holland's 'Lucky Seven' and Potter's 'Ziandi', were mini movements allowing each of the players room for soloing and improvisation. Hussain, while a great accompanist, also had his moments to shine – throwing in a line from the 'Pink Panther' in his solo spot before launching the band into his own composition 'Suvarna'. Their set finished with the Potter-composed title track, concluding a truly brilliant show from three world-class musicians.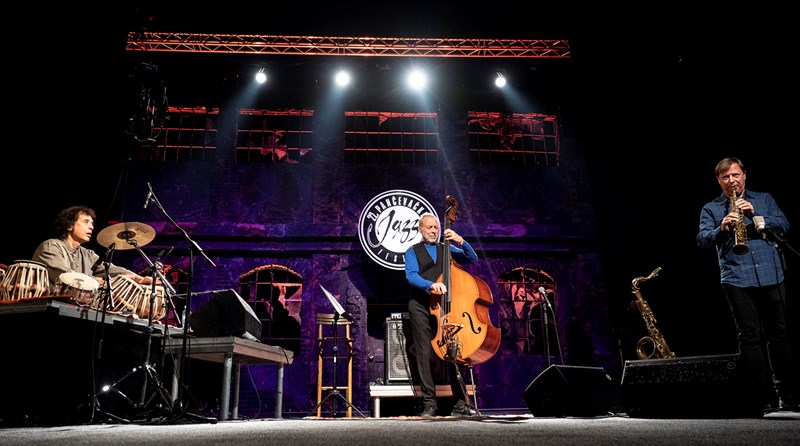 The second evening started with a short foyer set from Shay Hazan and his band who had arrived too late to play the previous day. It was just enough to realise that we had missed an opportunity to properly hear yet another excellent Israeli band – the quality of the musicians coming from Israel at the moment is phenomenal – I look forward to seeing the band again soon.
The opening concert in the main auditorium was Austrian band Little Rosie's Kindergarten, a young group of musicians who have played together for around three years, having met and started playing together at music college. The 12-piece band is somewhat unusual featuring two violins and two vocalists, while the band's compositions are carefully crafted to hook the audience in and then carry them along, sharing the different mood and intensities they create.
One of many highlights was drummer Judith Schwarz's 'conduction' of the band directing them from the front of the stage, pushing and pulling the volume of the performance, choosing who should play and who should not. It all amounted to what's clearly to a young band with wise heads.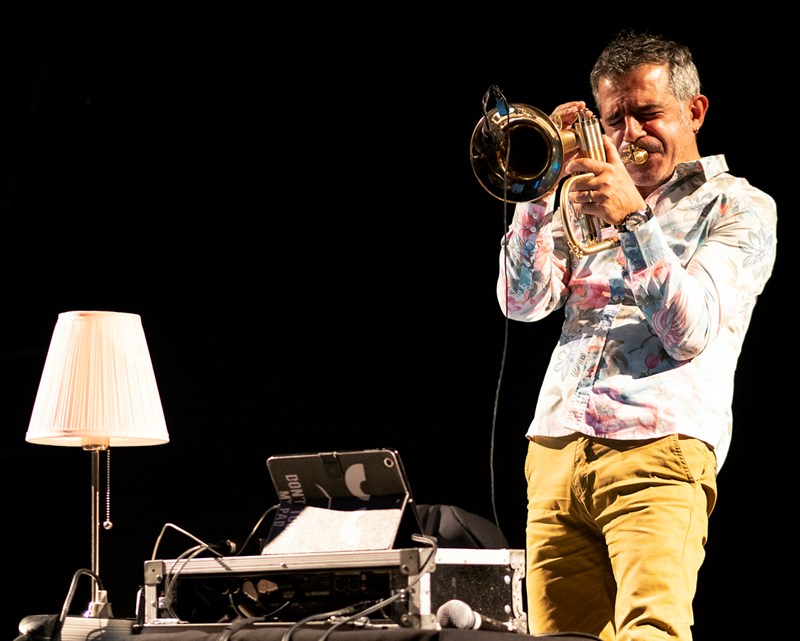 The final night of the festival featured two great trumpeters from different ends of the jazz spectrum. Firstly, Charles Tolliver with his all-star band featuring legends Buster Williams on (bass) and Lenny White (drums) with Keith Brown (piano) and Jesse Davis (Sax). Tolliver is usually a dominating player but in this show he took a bit of a back seat. His solos were short and sweet but actually such was the quality of the band it didn't detract from the energy and fire of the material. An almost upbeat version of ''Round Midnight' was a cool way to end the set.
By contrast Paolo Fresu (above) is not about volume and power – the Sardinian trumpeter with a much more laid back approach. For this concert he brought his Chet Baker show 'Tempo di Chet', featuring Fresu originals and songs Baker made his own, this concert was a joy from start to finish. The trio featured Dino Rubino on piano and Marco Bardoscia on bass but it was Fresu who was the shining light – he even had a table lamp to illuminate his solos – not that he needed it. 'My Funny Valentine', 'Basin Street Blues', 'Chat with Chet' and even vocals by Baker himself on 'Blue Room', it was a wonderful concert to end a brilliant festival.
Pančevo 2019 was a great festival in all respects. Mixing legends with newcomers, straightahead jazz and more edgy improve, with musicians from both sides of the world, in three nights and nine main concerts it gave as good a picture of where jazz is today as you could get.