Electro-Balkan Jazz Fusion Jolts the See Festival of South-Eastern European Sonics
Martin Longley
Monday, February 13, 2023
Prime arts venue Bozar in Brussels hosted its second edition of See. Martin Longley was back in the city…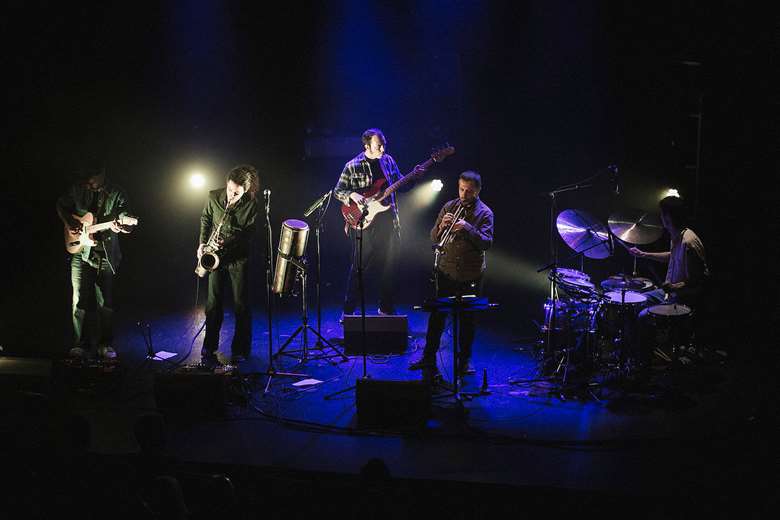 This was the second edition of the See Festival, which is dedicated to the musics of South-Eastern Europe. Its diverse programme featured updated folk from North Macedonia, tranquil tradition from Crete and the pulsating sound of electro-trance fusion from Istanbul. There was also a jazz night, presenting Brussels outfit Echoes Of Zoo, with guesting Greek trumpeter Pantelis Stoikos. The second half of this double bill united players from Moldova, Bulgaria, Italy and Belgium itself, forming the Arcus Quartet.
Even without their guest, the core sound of Zoo includes a significant dose of Balkan complexity, amalgamating those riff parts with the serrated guitar outbursts of Bart Vervaeck. Nathan Daems is chiefly known as the founder of the ethio-jazz orientated Black Flower, but in Echoes he restricts himself to tenor saxophone and a single drum. Daems coats his horn with a large degree of effects, bizarrely making himself at times sound more like a phased trumpet. With Stoikos in the ranks, it's almost as though there are twinned trumpets on the attack. Echoes Of Zoo are way more aggressive than Black Flower, jagging into the avant Balkan zone, both gutsy and complex, applying friction to the involved thematic criss-crosses. The entire band is coiled with a sublime tension, as bassist Lieven Van Pée and drummer Falk Schrauwen assist in the frantic structuring. All members have great taste in the extremity and harshness of their added effects pedals. Stoikos fitted in like an old hand, turning to flute for a while, as Zoo crescendoed with old chestnut 'Pigeon Kills Car', Vervaeck again demonstrating a twisted metallurgy in his soloing, as the strobe lighting intensified.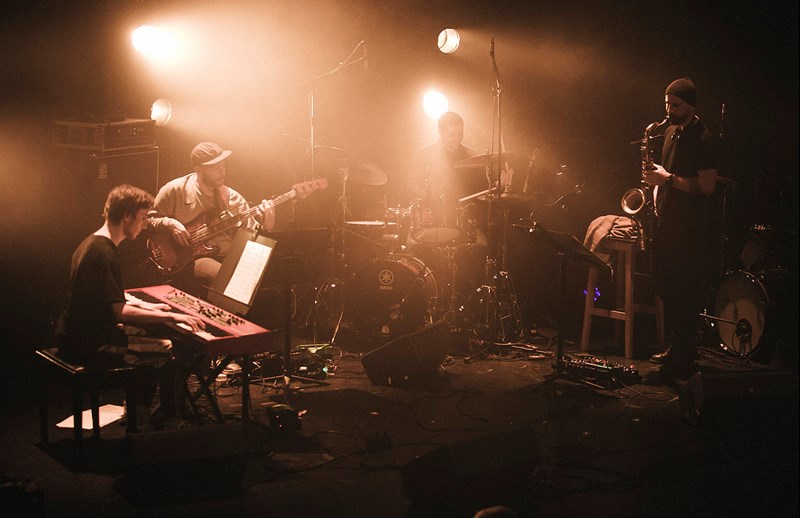 Arcus Quartet (pictured above - photo by Caroline Lessire) were more restrained, but they still languished amidst a glut of ideas, engaging instrumental relationships and a slicker funking dynamism. Their line-up of tenor saxophone, keyboards, electric bass and drums is quite basic, but they immediately set off on a trip where jittery rhythms were matched with streaming horn solos. Alex Arcus (Moldova) sometimes phrased along with the drums of Borislav Petrov (Bulgaria), but would then join in with a melodic theme, his horn dancing independently. Arcus shares the writing duties with bassist Federico Pecoraro (Italy), operating within mainline jazz, but with an electric palette. Pecoraro played very well, especially considering that he was brandishing a broken finger. Arcus infiltrated subtle Balkan traces into his playing, lending a rough burr to the slick fusion. The set closed with Pecoraro's 'Lighter', a slow blues that helped the combo rise above the norm, providing a spine-jangling closure. This quartet relishes its inspired combination, beginning with a basic fusion, but taking it on an imaginative flight.