Elliot Galvin Amid Berlin Fest's Boundary-Busting Highlights
Martin Longley
Tuesday, November 12, 2019
Reportage from one of the German capital's prime annual jazz events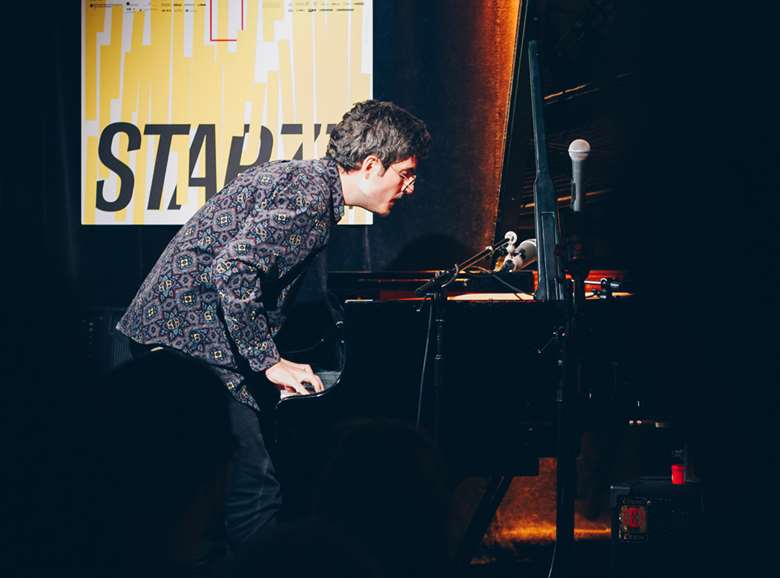 In this second year of artistic director Nadin Deventer's dynamic programming, she called for some radical changes to Jazzfest Berlin's venerable Berliner Festspiele core venue. These included the removal of its main concert hall's frontal seating area, laying mattresses on the floor, then adding a pair of mobile chair-blocks directly on the revolvable stage itself. The artists didn't know which way to point themselves, as their music set off to discover strange new lands.
One of the jazziest main stage sets came from Frankfurt's hr-Bigband, who delivered Ornette Coleman numbers viewed through the lens of Joachim Kühn's arrangements, expanded and smoothed for the horn ranks, though still caroming like their sources. A quartet lay at the band's heart, with old Coleman cohort Kühn (piano), Michel Portal (reeds), François Moutin (bass) and Joey Baron (drums) igniting a fiery togetherness that made the big band sound like a dignified classical orchestra. Portal was deeply puzzled by the scores at several points, while Kühn was completely at ease with his own exhaustive flow. It was a joy to witness Baron in full power-mode, following several recent tours in more serene settings.
Berlin master drummer Christian Lillinger presented his Open Form For Society, featuring three keyboards with paired basses and vibraphones, plus a cello. Initially, the repetitive ambulatory process was unpleasantly microtonal, then Lillinger came to prominence with a manic thwipping solo, Petter Eldh switching to electric bass, and Kaja Draksler using a mallet on her upright piano, while synther Elias Stemeseder fed in a subtle electronic presence. The listener had to scratch that itching, Nancarrow insect-bite, as the twitching invention increased into a perverted militarism, verging on avant ragtime.
A 15-minute walk across town landed the listener in Berlin's major (and intimate) jazz club, the A-Trane, where the UK's Elliot Galvin communed with its piano, pooling from softness to agitation, clearly enjoying his re-embracing of acoustic roots in a post-electronics phase. He also joined the second set from the vari-country Melting Pot collective. It was exciting to catch Galvin in a completely improvised situation, releasing some Cecil Taylor-style volubility, as alto-saxophonists Signe Emmeluth (Oslo) and Mia Dyberg (Berlin) modulated as one, and drummer Katharina Ernst (Saalfelden) chattered along with micro-precision. Galvin had one hand under the lid, while the saxophones fluttered and the twinned basses groaned. Emmeluth did the best vibrato Zorn bell-on-thigh-mute impersonation ever, as the piece subsided into Ernst's gong-chime softness and some Messiaen-esque tranquillity from Galvin.
Not far from A-Trane is the Quasimodo club, making a basement home for The Young Mothers, who hail from Texas, where Norwegian bandleader Ingebrigt Håker-Flaten now resides. The serrated communion of trumpeter Jaawaad Taylor's wired-up rapping and drummer/vibesman Stefan Gonzalez's death metal throat-core was both amusing and frightening.
Jazzfest Berlin was intense. Attendees were able to choose radically different personal festivals, according to taste and spontaneity, and who knows what might transpire at next year's third edition of this wild Deventer adventure.
NB. Sets by Anthony Braxton and Ambrose Akinmusire are covered in the December 2019/January 2020 print edition of Jazzwise...