Joy and positivity are key tenets to the philosophy of Ezra Collective and from their aptly-titled second album, You Can't Steal My Joy, to a performance at Glastonbury, they are going from strength to strength. So with this their final UK gig of the year, drummer Femi Koleoso delivers a sermon at London's Roundhouse. He asks the crowd – a sea of 3,000 people, many loyal Ezralites – if they are ready to party. They are.
The audience dance and sing along to the catchy Afrobeat riffs of James Mollison on tenor saxophone and Ife Ogunjobi on trumpet. It's a rare sight in the jazz world, but Ezra Collective's performances carry an energy practically unrivalled on the London scene. Femi is a percussive powerhouse. Whether he's driving his bandmates or delivering thunderous solos – teasing the crowd with playful rim taps before the inevitable climax – there is a look of pure enjoyment on his face. This is shared by the rest of the band and the audience who, after just three or four tracks, are in a state of ecstasy.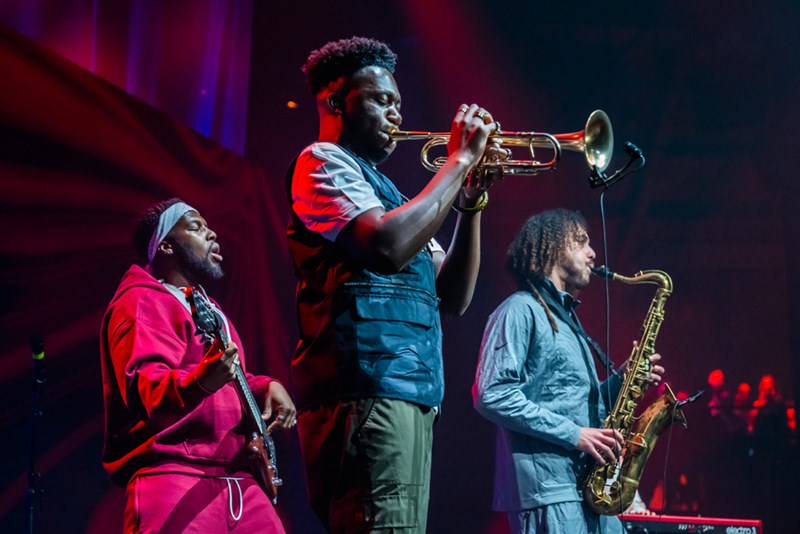 Against a backdrop of gospel chords from Joe Armon-Jones – a wisp of smoke rising from his incense-mounted keyboard – bassist TJ Koleoso speaks of the band's influences. In every live performance, they play homage to the cosmic jazz of Sun Ra, and to Afrobeat pioneer Fela Kuti. In an unexpected genre crossover that proves Ezra Collective are as equally against the grain as their inspirations, Hackney grime MC Jme creeps on stage to rap over their performance of 'Quest For Coin'.
As is tradition, TJ starts a countdown on the finale of 'Juan Pablo', encouraging the audience to get down low before the final climax of the night. It's a joyous frenzy. An Ezra Collective gig is a unique experience, because it's not just a gig. It's a party.