Gareth Lockrane Quintet dazzle at the 606 Club
Peter Jones
Friday, January 14, 2022
The fiery flautist leads his top-notch band through some high-flying originals at Chelsea's renowned jazz spot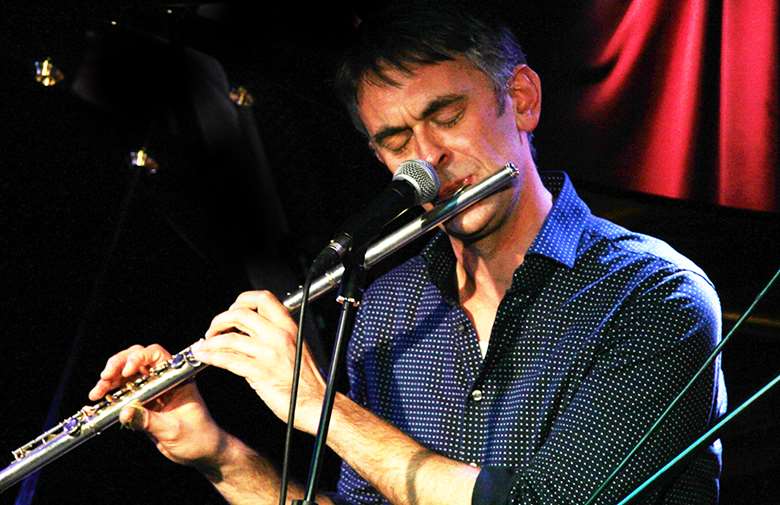 There's a slight danger, in theory, that with flute, vibes and piano in the line-up, it could all get a little too mellow.  Fortunately, that was never going to be the case on this night. With half of Empirical on stage (vibraphonist Lewis Wright and drummer Shane Forbes), considerable ballast was supplied by Tom Cawley on piano and Dave Whitford on bass.
Most of the material was the work of flautist and composer Gareth Lockrane, a man for whom the groove is very much the thing, ideally garnished with strange, sometimes punning titles: 'Primeval in a Good Way', for example, the warm-up tune in a mixture of 5/4 and 3/4, rollicked along like nobody's business, while the groover 'Nol in One' - written for his mum's Dutch boyfriend's 80th birthday - put one in mind of Herbie Mann. Like several of Lockrane's compositions, it harked back to the cool TV themes of the 1960s and 70s: in fact it's fun to speculate which tunes might go with which genre - a holiday programme here, a comedy crime drama there.
He's been busy writing new tunes over lockdown. One of them was 'Blues Subterranea', rendered at a suicidal tempo in 7/8. Another was 'Funky Chicken' - not the Rufus Thomas classic but an up-swinger, its title supplied by Lockrane's eight-year-old daughter - a tumbling sort of tune, not at all funky, bashed along by Forbes's clattering, splashing drums.
Lockrane is nowadays able to draw upon a large back catalogue: the wistful Forever Now, a slow waltz, was written 25 years ago when he was at music college. They threw in a couple of standards, too: 'Prelude to a Kiss' began and ended with unaccompanied alto flute, while they did 'I Remember You' up-tempo, featuring a lengthy swapping of fours between Lockrane and Lewis Wright, whose playing all evening was fiery and propulsive.