Germany's 25th Enjoy Jazz festival resonates with frenetic saxophone, abstract turntablism, live sampling and Turkish movie soundtracking
Martin Longley
Thursday, November 9, 2023
Martin Longley caught up with Alexandra Lehmler, Lakecia Benjamin, Jan Bang and Aki Takase…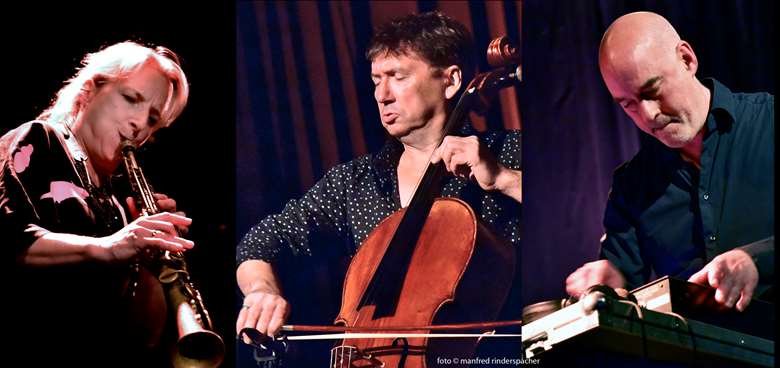 Enjoy Jazz is one of the globe's most stretched-out festivals, running for around five weeks each October and into early November. There's mostly one lone gig every night, but sometimes two, or even three, using a wide variety of venues in its three German cities of Mannheim, Ludwigshafen and Heidelberg. The saxophonist Alexandra Lehmler lives in Mannheim and has been a regular festival presence during the last decade or more. This year she was asked to invite a pair of artists for some deep improvising: Vincent Courtois (cello from France) and Jan Bang (live sampling from Norway). Her artist choices were well-judged, forming quite an unusual line-up, as Lehmler graduated from soprano down to baritone saxophone during the set. The location was the Alte Feuerwache (old fire station), one of Mannheim's chief music venues.
Bang grabbed a soprano phrase and set it to repeating, his sonic presence more pronounced and subverting than on some other recent occasions where he's been guesting with other groups. Here, he's often quite bold and upfront, making deep bass shapes in the ether, inserting hard-body repeats. Bang can also draw back to court sensitivity. Courtois helps coax the mood into a chamber sensitivity, although he's not averse to a harsh sawing action with his bow. Lehmler keeps matters jazzed, as she sews saxophonic threads into a linear journey. Courtois strums a real-time bassline of his own, while Bang reminds us of his preceding high bowing, sampling the cellist on the run. There's something of a twinkling John Surman mood, as when that British great enters his own electronic portal. Bang makes bathyspheric soundings, Courtois drags low, and Lehmler slurs her held-steady alto. The mystery deepens with a rock-acoustic progression, Courtois bowing sonics to remind us of the Tanzanian player Hukwe Zawose, Bang building his tower of repeat. Now Courtois sounds like a bluesy West African ngoni player, the key to his improvising being to tour different lands, gathering inspiration. Lehmler spins out curling lines, back on soprano, but reserving the set's climax for a full baritone dominance.
Lakecia Benjamin also played at the fire station, relishing her epic alto saxophone flow, embarking on a thorough examination of escalating patterns. She's mostly paying homage to the Coltranes, Alice and John, sometimes stepping sideways to let her trio exist in their own full stream. She offers 'My Favorite Things' in a power version, matching alto against drums, followed by a dramatic and flowery 'Jubilation' and then a compressed 'Love Supreme'.
Just a jump across the Rhine, in Ludwigshafen, the Japanese pianist Aki Takase's Japanic played at Das Haus, that city's prime arts venue. This is presently her greatest manifestation, given Takase's varied performing situations. It's a band that always seems to deliver at a very high level, combining wild themes with the imaginative turntable skills of DJ Illvibe, master of old school scratching, as well as general avant garde noise-sculpting. The combination of players is perfectly balanced for controlled anarchy. Takase and Illvibe begin with a duo, making rapid interactions in this radical meeting of realms. Reedsman Daniel Erdmann steps out front and the entire band blasts off with a heavily complicated abandonment. The vinyl is totally tuned and precise in its engagement with the acoustic instrumentalists. Bass and drums are fully wired, and here comes a witty percussion-and-decks duo. We have complete rhythmic ecstasy, as this is an outfit that adheres very closely together, as Takase makes rapid mantis-drop finger patterns on her keys.
For the 2023 edition Enjoy embraced the concept of inviting festivals in other countries to provide a series of takeover gigs. Istanbul Jazz Festival presented a contrasting double bill which opened with a trio providing music for the films of director Nuri Bilge Ceylan. The players chose excerpts from his 'provincial trilogy' which largely features very little musical content, and long stretches of near silence. Initially, the trio sounded a touch too actively joyous to suit the minimalist, melancholy scenario, but the following excerpts weren't too disrupted by their more active scores for soprano/alto saxophones, upright piano and softly percussive drums. Melodic, lyrical and eventually pairing more successfully with the intense visual 'soliloquies' of the films, the trio still didn't leave much space for silence in their music, but the overall result was generally effective.
The second half of this evening was a complete contrast, with Turkish singer and trumpeter Dilan Balkay leading a four-piece band of guitar, bass and drums. Her recent singles are largely pop-electronic in nature, and not so hot, but this set harked back to the style of Balkay's 2021 album. So she liberally spread trumpet solos around each song, and ended up with a kind of jazz-pop-rock melding, informed by her skilled stagecraft. A live exposure communicates performing qualities that aren't so apparent when just spinning the records, although the songs do possess a cumulative sameness.