John McLaughlin and Amoeba impress at Moldejazz as John Zorn withdraws
Martin Longley
Friday, September 9, 2022
Forced to abandon his performances due to illness, John Zorn misses Moldejazz in Norway, but jazz pervaded the whole city nonetheless at this year's festival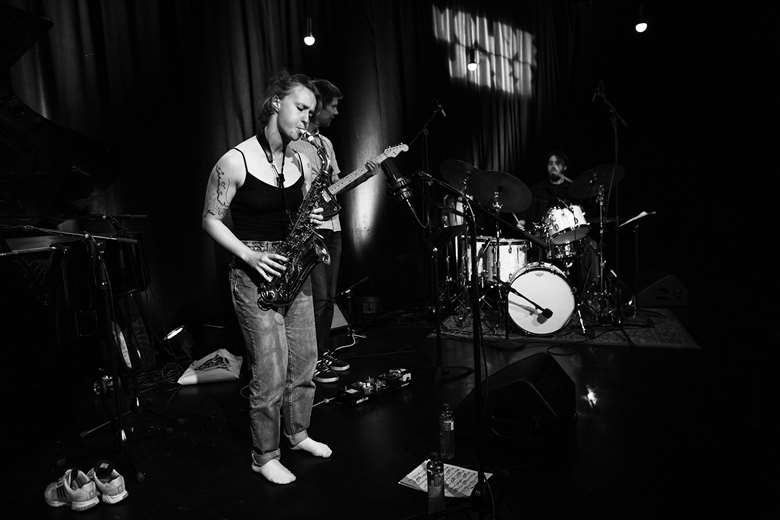 The towering disappointment of this year's Moldejazz was their lost-in-action artist-in-non-residence John Zorn. There were rumours of the delayed New Yorker composer and alto saxophonist actually being on board a plane, but a few days later it was announced that he'd pulled out of the festival due to an unnamed illness. On the surface this was a grim development, but as the days unravelled it soon became apparent that Zorn's enlarged posse of player-interpreters were fully-charged with energies to rival those of their leader. Most of the performances went ahead, or were fine-tuned into a different form, aside from the two sets that were to feature Zorn in a solo state.
Of course, Molde, on the west coast of Norway, was also crammed with other highly significant acts, the six-day festival returning to its accustomed international form. There was the ubiquitous Charles Lloyd, Benin singer Angelique Kidjo, the Stateside jam band Gov't Mule, and the much-better-than-expected John McLaughlin. There were also an impressive number of fine Norwegian artists present, including bassman Arild Andersen (duetting with Bill Frisell), the Trondheim Jazzorkester, Best Western Swing (featuring most of Farmers Market, in Nashville mood), the Tord Gustavsen Trio, and The Core (a trio fronted by tenorman Kjetil Møster).
There was a stunning set from Emmeluth's Amoeba in the Storyville Jazz Club, racing through a series of hyperventilating compositions that clearly matched pre-ordained complexity with lightning intuition. Signe Emmeluth is a Danish alto saxophonist, living in Oslo, and had already made a strong impression at the Trondheim Jazzfest in May, with the Guts & Skins Octet. Amoeba's drummer (Ole Mofjel) has a rock attack, but with deft rhythms, Christian Balvig punching angular piano blocks, with Emmeluth's acrobatic alto running beside the metallic spring of Karl Bjorå's guitar. 'Pumpkin' involved small sounds in space, leading to a one-by-one decay into silence, followed by an equally gradual rebuilding, Emmeluth a dynamo of endless permutations and complex veerings, as Balvig made orientalist piano dapples.
In the same club, Zorn's Masadas existed without him, pianist Brian Marsella pouncing in as key prompter. This fellow New Yorker revealed himself as a prime inheritor of the composer's energy, wit and virtuosity. The New Masada Quartet found Marsella in much straighter shape than when leading his own trio, laying down a slick retro-lounge groove, Kenny Wollesen providing a manic mallet boom-beat. Marsella eventually freed up, down in his own wild beatnik basement, shaping a Jewish-salsa form. The astounded audience let out repeated cheers, like this was a bloodied boxing match.
Electric Masada gave a colossal, deranged performance, with doubled guitars and drums, deafening and joyously headbanging in this confined space, operating as a precise entity, while still sounding like they were about to disintegrate at hypersonic speed. Matt Hollenberg's guitar crackled like a wounded clavinet, while Julian Lage had more of a psychedelic mercury flow, as the band evoked 'In A Silent Way', enveloped in a tough cosmos of doom. 'Lilin' and 'Haifa Arob' had further stereo axe mayhem, with Hollenberg and Lage duelling at opposite ends of the club. 'Keraim' had a slinky aura, taking a needling Hammond and Rhodes solo, courtesy of the completely immersed Marsella. Transcendental!
The veteran guitarist John McLaughlin packed the large Bjørnsonhuset theatre, leading his 4th Dimension crew. Sounding much less 'bad fusion' and much more 'friction blues' in his sound. The substantial set breezed by, loaded with variation and dramatic flair. McLaughlin had no lead, no amplifier and no pedals, just using his fingers to coax out textures on his wireless guitar. He employed Indian time signatures on 'Lockdown Blues', adding some tabla-talk vocals, with an abrasive edge to his solos. Moods were varied as the calming 'Creator Has A Masterplan' benefited from all three front liners providing soft vocals. McLaughlin made liberal use of his whammy bar, as Gary Husband left the keyboards to form a tabla-style twin-drum duel with Nicolas Viccaro.
Moldejazz is a festival that takes over the whole town, in the way that Brecon Jazz did in its heyday. Extreme free jazz grooving rubbed energies with Norwegian trad, luminous piano subtlety was offered as a contrast to gouting post-Coltrane tenor saxophone, and Molde rejoiced in its complete involvement with the festival spirit.