Laura Jurd, Judith Schwarz and Paal Nilssen-Love dazzle at International Jazzfestival Münster, Germany
Tim Dickeson
Monday, January 16, 2023
Tim Dickeson samples the sights and sounds of this vibrantly eclectic biennial German jazz festival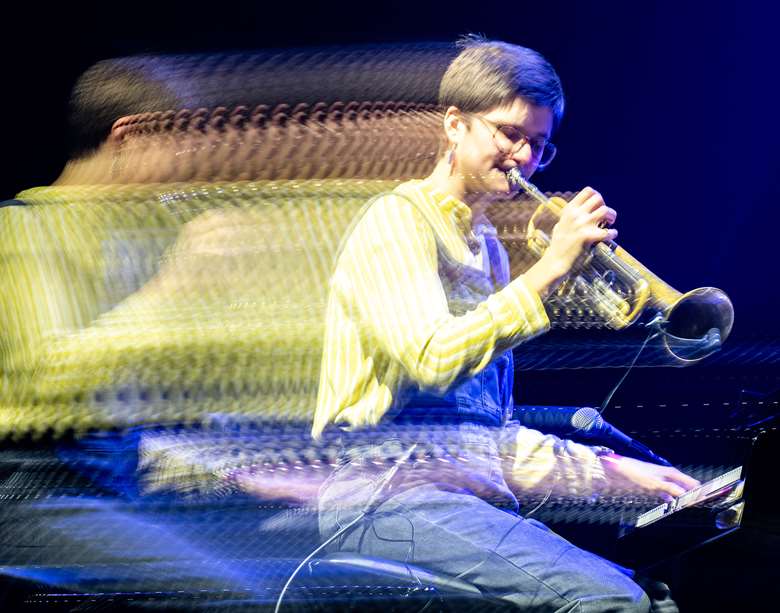 The International Jazzfestival Münster has been running since 1979 and artistic director Fritz Schmücker has been at the helm since 1985. The main festival is biennial but in the in-between years it is presented as a smaller 'short-cut' version.
The festival features a range of European and international artists - this year there were 19 concerts in three venues over three days. The main venue is the Theatre Münster with two auditoriums: the large hall with 1,000 seats and the small hall with 300. An amazing ceiling greets you in the large hall with over 1,200 individual lights and the small hall has a nice jazz club vibe to it. The festival also hosted two inprov concerts in the deconsecrated Dominikanerkirche which houses a famous moving artwork by Gerhard Richter. 
The programming is very eclectic - Schmücker gave me an insight to his vision for the festival: "I try very hard to gain and keep the trust of the audience. The festival should be personal and familiar. I think long and hard about which musicians to invite and work long and hard on the dramaturgy of the programme. I call this: the aesthetics of contrasts. I am convinced that I can reach even untrained ears with the strong contrasts of sound colours. Strong contrasts make it possible to listen to many concerts in one evening and one weekend."
This of course is the holy grail of all festivals: to be able to attract and keep an audience who know what they like but also to attract new people who want to 'give it a go' and turn them into regular festival visitors.
The opening concert in the big hall featured Laura Jurd's Big Friendly Album show and Jurd was very much in evidence over the whole weekend with husband Elliot Galvin (they played a duo set the following day) and their delightful son Henry, who could mostly be found happily crawling around the VIP area with one or other parent in tow. The concert featured Jurd on piano and trumpet (multitasking as mums have to do) with some great guitar work by Alex Haines giving the music a nice cutting edge.
Israeli Ariel Bart is a very interesting young harmonicist; she played an incredible set of her own compositions featuring Talia Erdal (cello) and Arseny Rykov (piano). Rounding off the opening evening was trumpeter Mario Rom's Interzon, a powerful straightahead jazz trio with Lukaz Kranzelbinder on bass and Herbert Pirker on piano.
The UK was well represented during the festival with Matt Carmichael (sax) and Fergus McCreadie (piano) playing a really beautiful duo set and also the great John Surman in a trio with Lucian Ban (piano) and Mat Maneri under the moniker, 'Transylvanian Folk Songs'. I mention these two shows together as a good example of the Schmücker philosophy as both shows took elements of traditional folk music and created really interesting contemporary jazz compositions/arrangements from them. Both shows got standing ovations.
For the more avant-garde taste there was plenty of choice there was saxophonist Luise Volkmann (who was presented with the Westphalian Jazz prize) who premiered her new band '3 Grams' at the festival featuring sax and two voices and also her big band, ETE Large playing experimental music mixing rock, punk, jazz and indie themes.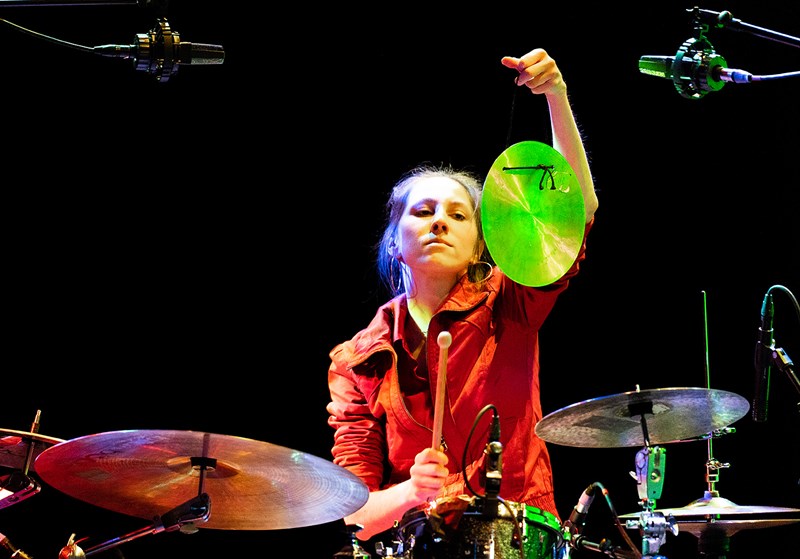 German drummer Judith Schwarz's (pictured above) new project Other:Mother also played their first gig at the festival. Featuring modular synthesizer, treated piano and Schwarz's mesmeric and eye-catching drumming the music moves between Musique concrète to film noir and creating music for a 'disturbed dream' but which was hugely enjoyable.
David Helbock is one of my favourite pianist's and his duo here with French singer Camille Bertault was sublime. Bertault is a highly versatile vocalist with many facets to her voice effortlessly switching between scat, classical and ballads. She and Helbock are a wonderful partnership and Bertault has so much fun on stage, always laughing and smiling.
One of the great moments of the festival was the last two shows on the Saturday night. Louise Jallu is a French bandoneon virtuoso who was celebrating the music of Astor Piazzolla (who would have been 100 in 2021). Piazzolla's music is sensual, romantic, and lyrical and presented here by Jallu re-worked and modernised it takes on a new form while never losing the beauty of the original music. Guitar and Fender Rhodes add a grungier rockier sound to the music which was perfectly offset by the more lyrical violin and Jallu's excellent bandoneon playing.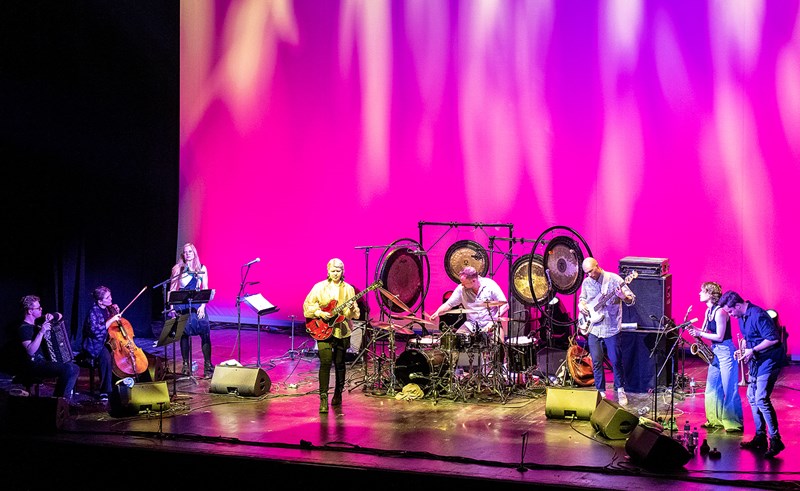 The last concert couldn't have been more different. Paal Nilssen-Love put together his 'Circus' project (pictured above), during the hight of the Covid pandemic. He could only choose local musicians due to travel restrictions and picked players from many genres from classical, pop, rock, experimental and jazz. Love composed the music and his seven 'Circus Performers' strung out across the stage enact it.
Vocalist Juliana Venter was featured early on and then it was over to Oddrun Lilja Jonsdottir (guitar) to hammer out a riff, passing it on to Thomas Johansson on trumpet and so it continued with the lead constantly passed between the players to take the music in new directions. It moved seamlessly between free, rock, jazz and even a little ambient, with Love always on the beat of his huge drum kit and a selection of percussion. The whole show was beautifully chaotic, mesmeric and a joy to watch and listen too.
The festival was a success both financially and musically with a day ticket costing around £44, while the venue sells food and drink (all be it at extortionate prices). Münster is a beautiful town and is worthy of a visit in its own right - add in a top-class festival making this a great location for a weekend break in an otherwise musically quiet January. Next year's 'Short-cut' festival is over the weekend of the 6 & 7 January.
For more info visit jazzfestival.multimediadesign.net/