Lush Lebanese Oud And Lit Londoners Among Highlights At Enjoy
Martin Longley
Wednesday, October 23, 2019
Reportage from the long-running German festival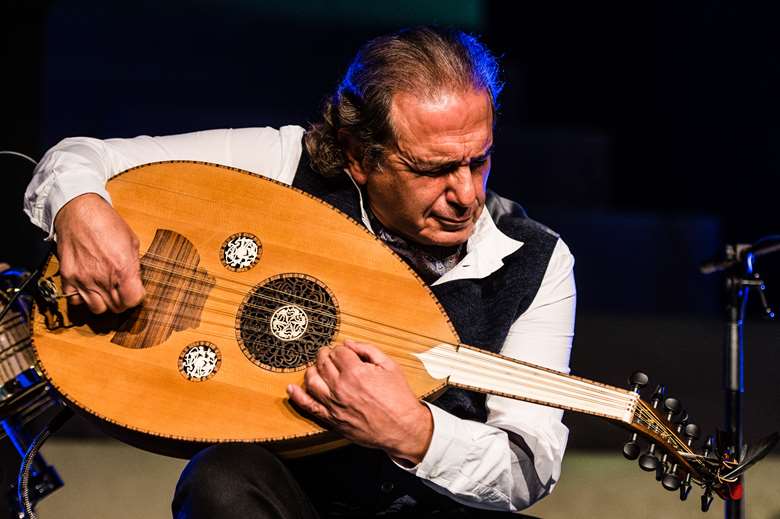 It's a rare occurrence to visit the same venue twice during Enjoy Jazz, the long-running German festival. It's long-running in two senses: firstly, 2019 marks the 21st edition, and secondly, Enjoy Jazz opens on 2 October, and runs right through until 16 November. There are gigs every night, around the cities of Heidelberg, Mannheim and Ludwigshafen (south of Frankfurt), exploring the abundance of venues collectively on offer. Sometimes there are simultaneous shows in more than one city.
Your scribe almost expired, climbing the endless old steps up to Heidelberg's Schloss, the city's looming historic edifice, and the location of a duo performance by saxophonist Archie Shepp and pianist Joachim Kühn. A completely hushed, near-capacity audience were captivated by a 100-minute set that was longer than anticipated from these senior gentlemen, but continually gripping due to their consistently resourceful improvising communion.
The repertoire was shared between the pair's originals, plus a select spread of standards. Kühn's 'Transmitting' opened slowly, emanating Eastern vibrations, as the pianist loosened into some bluesy flourishes, growing into a pointillist solo. Shepp played subtly roughened tenor all evening, uniting with great sympathy, when both players alighted on a central melody, each choosing which notes or phrases to coincide on, before taking their own diverging paths for solos. Beginning tentatively, Ornette's 'Lonely Woman' reminded us of Kühn's extended stint with its composer Coleman. Shepp plunged down, deep and throaty, in an expressive, romantic mood, then lay out while the pianist took a solo. Kühn prefers each hand to operate in different time-streams, also setting lyrical flourishes beside sudden aggressive strikes, considering carefully when choosing the layout of his notes.
Both players know where to savour the spaces between their phrases, laying perimeters around their expressive notes. A reading of Duke Ellington's 'Sophisticated Lady' had a Monkian feel, stretched and deconstructed, then Shepp's 'Hope #2' made jaunty strides, and the set concluded with Benny Golson's 'Stablemates'. Shepp possessed sensitivity with an edge, interpreting ballads with liberal vibrato wobble, full of frissons and flecks from other tunes, often inhabited by surrogate snatches. The applause was so enthusiastic that the pair returned for two encores.
The next evening, Lebanese oud player Rabih Abouh-Khalil brought his trio to the Friedenskirche in Heidelberg. He was joined by two seasoned collaborators: Stateside drummer Jarrod Cagwin and Italian accordionist Luciano Biondini. On the surface, these were acoustic maestros, primed for sensitive soundscapes, but even though this remained the case, much of their 90-minute set geared up into a power trio state, just through the dynamics of their interaction. The three used acoustic tools to shape bombastic mini-suites, appended with sensitive decorations. One number towards the end sounded like a Lebanese King Crimson.
Biondini's accordion was at home as a smaller church organ voice, while Cagwin's large rock-style kit was expanded with bongos, extra small-sized cymbals mounted on the regular sizzlers, and additional handhelds in the form of a small riq tambourine and a large bendirframe drum, Arabic and North African-style. He treated this spread in orchestral fashion, creating far vistas with precise, almost dainty powering around this array. Abou-Khalil opted for a tough style of plectrum (risha) attack on his lower strings, as he shifted from forceful runs to a restful backing, when his bandmates came to the foreground. The core set might have been one hour long, but its two encores added a bonus 30 minutes. The Enjoy Jazz audiences are notably spirited!
KOKOROKO arrived from London to absolutely cram out Alte Feurwache (the old fire station), one of Mannheim's prime alternative music venues. It was a standing crowd, covering the impressive stone floor of this converted space. Somewhat spoiling the symmetry of their accustomed all-female horn trio frontline, saxophonist Nate Holder replaced Cassie Kinoshi, and guitarist Oscar Jerome was switched with Mark Mollison. Your scribe first sighted Afro-beat jazzers KOKOROKO at last year's Saalfelden festival in Austria, where they had a more relaxed, stretched-out demeanour, in a small-bar venue. Now, on this bigger platform, the band delivered a much slicker, powering set, with a punchier horn-riffing stance, and tighter solos, showing that they've doubtless delivered many more large-crowd shows during the last year.
Enjoy Jazz continues until 16th November…