Mark Kavuma Bops-Hard with Banger Factory Lockdown Sessions
Eddie Myer
Monday, July 20, 2020
The fast rising London-based trumpeter brings the hard-bop heat in his virtual live sessions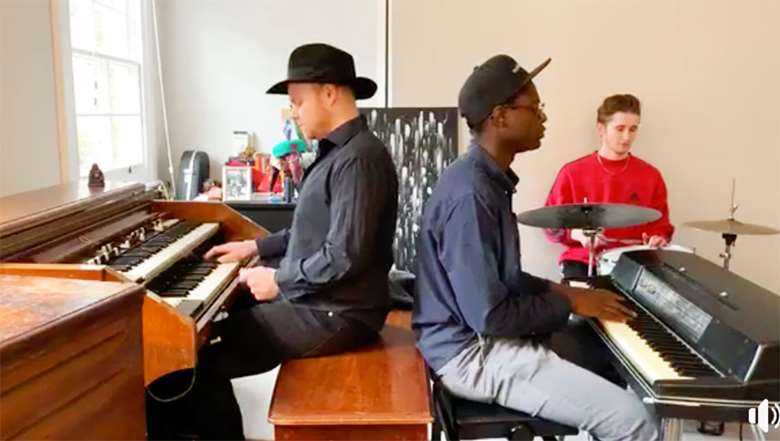 As we approach the sixth month of lockdown and restrictions start fitfully easing, the glaring lack of any convincingly workable plan for the live circuit to return to anything like its pre-Covid state seems all the more painful and the sad deficit of live music across the nation is even harder to bear.

A good moment, then, to focus on some positives. As ever the musical community has reached deep into its reserves of ingenuity, fortitude and optimism and managed to find ways to keep connecting and creating: albums have been remotely recorded and released, split-screen video isolation collaborations have proliferated to the point of overkill, and a multitude of different approaches to embracing the livestream have been experimented with, from Jay Phelp's weekly 'listener's request' living room concerts, to the Around The Houses online events, to Sam Leak's virtual tours of COVID-shuttered clubs. Now that the initial flush of experimentation has passed, it's becoming clearer what works and what doesn't. The art of communication across the nation's patchy bandwidth and through your grimy computer screens presents its own difficulties, and even the greatest players may struggle to find a winning formula in the forced informality of the living room.
One notable success has been Mark Kavuma's series of weekly Banger Factory Presents Lockdown sessions. We're presented with the trumpeter and his Banger Factory colleague Artie Zaitz in what appears to be yet another split-screen remote set-up: but a closer squint at the screen reveals that they're actually sharing the same physical space but seated, back-to-back, at a pair of vintage keyboards. With Zaitz on Hammond organ and Kavuma on Wurlitzer electric piano, they've been presenting a weekly roundup of bop favourites, rare standards and their own Blue-Note flavoured originals ('Cedar Tree' is a standout). The unusual instrumentation actually works well in these unusual times: Zaitz provides swinging bass parts, crisp solos and lush chord voicings and Kavuma plays neatly constructed bop lines over the top, his careful approach to playing his secondary axe giving the performances an unaffected sincerity. The effect is informal and intimate, but still feels like an occasion, as if we'd dropped in on a post-gig jam session backstage: Kavuma's easygoing but charismatic presentation style fits the occasion perfectly. There's none of the awkwardness of some livestreams, more a sense of relaxed camaraderie and a real dedication to the music that's genuinely infectious.

As the weeks pass and the immediate crisis abates incrementally, other players appear in the background: Will Cleasby's brushed kit drives along a swinging take on Monk's 'Evidence', Luca Caruso on drums and Ruben Fox's flute enhance the breezy Kavuma original "June", and everyone seems to be having a great time. How gratifying that this postive energy should be rewarded when Ronnie Scott's book the full-strength Banger Factory for their next Return Session livestream: Kavuma, Cleasby, Zatiz and Fox joined by David Mrakpor, Michael Shrimpling, Deschanel Gordon and Mussinghi Brian Edwards for a joyous 90 minutes of their original repertoire. With Kavuma back on trumpet, encouraging his companions on with exhortations and waving arms, it's a delight to see the pent up energy being released in such a positive display. The stream is still available on the Ronnie's Youtube channel and well worth checking out to lift spirits.