Max Roach – Complete 1958-59 Plus Four Sessions ★★★★★
Wednesday, August 26, 2015
Jazz Connection Roach (d), Booker Little (t), George Coleman (ts), Julian Priester (tb), Ray Draper (tba), Art Davis, Bob Cranshaw (b) Eddie Baker and Tommy Flanagan (p).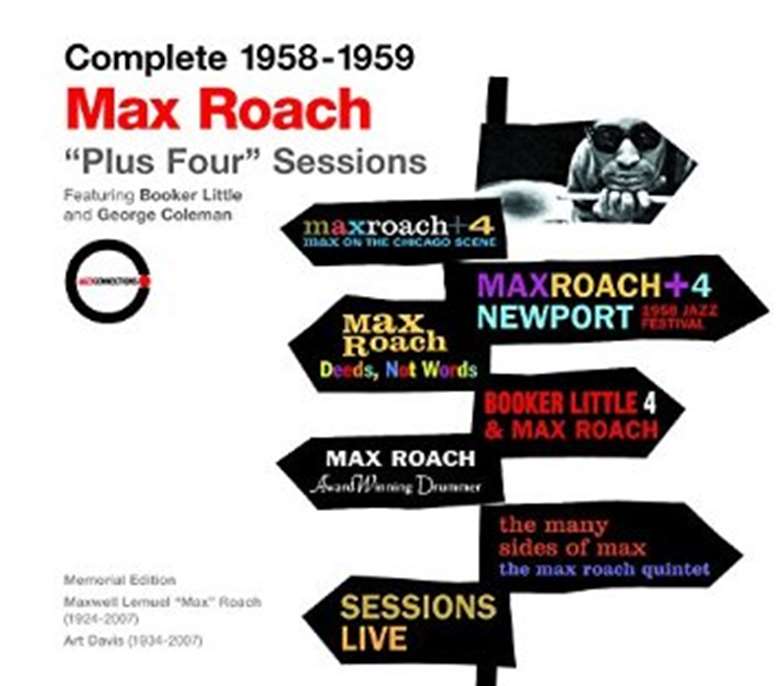 Rec. 1958-59
As he memorably demonstrated to audiences the world over, Max Roach needed nothing more than a hi-hat and a glint in his eye to pull off feats of jaw dropping virtuosity. The trademark finale of the drummer's gigs in which the band exited to leave him playing nothing but the upright cymbal was a sign of boundless imagination as well as immense technical skill. At countless junctures in the embarrassment of riches that is this handsome 3-CD set, capturing Roach at a late-1950s creative peak, the drummer's stinging micro-solos on hi-hat, his remarkably funky snare work, which evokes a turbo charged marching band, and the overall ferocity of his swing give this music a kind of nuclear lift-off.
Emerging from two years of creative wilderness following the tragic death of one of his greatest creative kinsmen, the trumpeter Clifford Brown, Roach put together a new quintet unveiling the precocious talents of young horn players Booker Little and George Coleman and he frankly sounded like a man reborn. There's such untrammeled verve and vigour in the performances, it's easy to think that Roach was intent on making his brand of hard bop as hard as the music of any of the figures on the avant-garde horizon without toppling into atonality full on. Yet the common ground between the two schools is embodied by the use of the pianoless group that became increasingly common among the latter (though Gerry Mulligan's band had taken that step before Ornette Coleman's) and the reprise of pieces by AACM cofounder Muhal Richard Abrams as well as Thelonious Monk and Dizzy Gillespie. Then again the presence of 18 year-old tuba player Ray Draper is something of a master stroke in that it brings the urbane character of Miles Davis' Birth of The Cool into play but lights a fire under its gauzy tonality to create a kind of 'rebirth of the hot.' This essential anthology, that brings together the studio sets Max Roach + 4 , Deeds, Not Words and Max On The Chicago Scene as well as a dynamic Newport Jazz Festival set, has the kind of molten energy as well as creativity that should be a yardstick not just for improvising musicians but for any exponent of modern dance music such is the punishingly hardcore character of Roach's treatment of the drums. If, as the British trombonist Dennis Rollins once opined, one can hear the world of hip-hop in Art Blakey, then the entire universe of drum 'n' bass and beyond is wholly explicit in Max Roach.
– Kevin Le Gendre