Miman and Steve Tromans get freaky at Fizzle
Martin Longley
Monday, September 26, 2022
Scandinavian trio Miman join forces with UK drum innovator Mark Sanders while composer Steve Tromans unveiled his latest work all at Centrala, Birmingham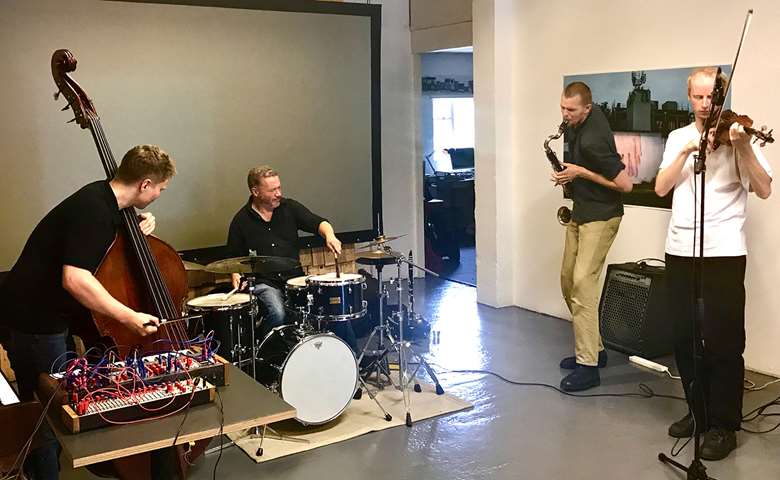 Fizzle is Birmingham's collective of freedom sounds, now celebrating its 20th anniversary. Centrala is one of two regular venues for Fizzle gigs, the other being MAC in Cannon Hill Park. Centrala is an art gallery in the Digbeth industrial zone, but always expressing a deep commitment to alternative live music events, whether deranged rock, intense electronics or free improvisation. Increasingly often, such forms are prone to interbreeding. When the Scandinavian trio of Miman took to the stage, this was just about the only time we've ever heard the introduction, "on double bass and modular synthesiser". Such were the tools of Sweden's Egil Kalman. His Norwegian colleagues were Hans Kjorstad (violin) and Andreas Røysum (bass clarinet), joined by guesting local drummer Mark Sanders.
Formed in 2016, Miman utilise a modern classical palette, partly influenced via their actual instrumentation, with a sensitivity to chamber sonorities. The quartet maintained an equal flow, with balanced dynamism between members, playing for the common sonic good. They ricocheted along bright white corridors, braking for a spell of bass/drums sparseness, as hard string wrenches met nimble woodblock pattering. A sharp re-entry had Røysum on flute, Sanders using scraper-cymbal and mallet, one in each hand. Academic tonalities were transmuted via a Cajun-like swing to Kjorstad's violin (now reincarnated as a fiddle). Bass clarinet established a drone, coupled with Kalman's bowed bass darkness, as Sanders also whipped out his cymbal bow (along with a small tambourine). The guesting percussionist fitted in like an old hand, though he has admittedly already played a few times with the trio. When Kalman downed bass and switched on his synth, the dronescape jacked up to full enveloping intensity, and matter suddenly jumped into the electroacoustic realm. Miman held an unusual power, of dormant threat, ready to rise amidst a sensitised acoustic conversation, breaking the tranquillity with sudden flashes of targeted brutality.
Composer and pianist Steve Tromans is perpetually formulating fresh playing situations, so he revealed his latest concoction at this afternoon gig. The Decadent Sounds Of The Cosmic Beyond had their Birmingham leader playing open-lidded upright piano, alongside wordsmith Sarah Fletcher, with Si Patton (electric bass) and Tymoteusz Jozwiak (drum) handling the aggressive rock vamping. Tromans loves to take his time explaining his musical universe, and his extended introductions and observations are always informative and entertaining. Then, the Decadent Sounds got into the unrelenting pulse. Fletcher was serene at first, seated and reading her verse, but later working up to a strong presence, pacing around impatiently, her best lines coming when she was left alone with Tromans. Otherwise, Patton abused his strings, working in some unique bodily moves, as he raised his arms in the air, or slapped them down by his sides, these gaps being crucial to the timing of the developing music. Tromans plucked strings directly, haltingly finding chords, which he hammered as Fletcher intoned "I met you in the stairwell". The piano ascends to a full John Cale jangle. Tromans has a relaxed position beside his keys, almost as though he's grazing on small triangular cucumber sandwiches, belying the power of his increasing pulsations. We could call him Jerry Lee Riley! Tromans is a prominent presence on the Birmingham scene, but he certainly deserves to be more nationally and internationally known.