Ornette Coleman Original Album Series ★★★★★
Friday, October 9, 2015
Including: The Shape Of Jazz To Come/Change Of The Century/This Is Our Music/Free Jazz/ Ornette! Atlantic/Rhino Ornette Coleman (as), Eric Dolphy (b clt), Don Cherry, Freddie Hubbard (t), Charlie Haden, Scott LaFaro (b), Billy Higgins, and Ed Blackwell (d).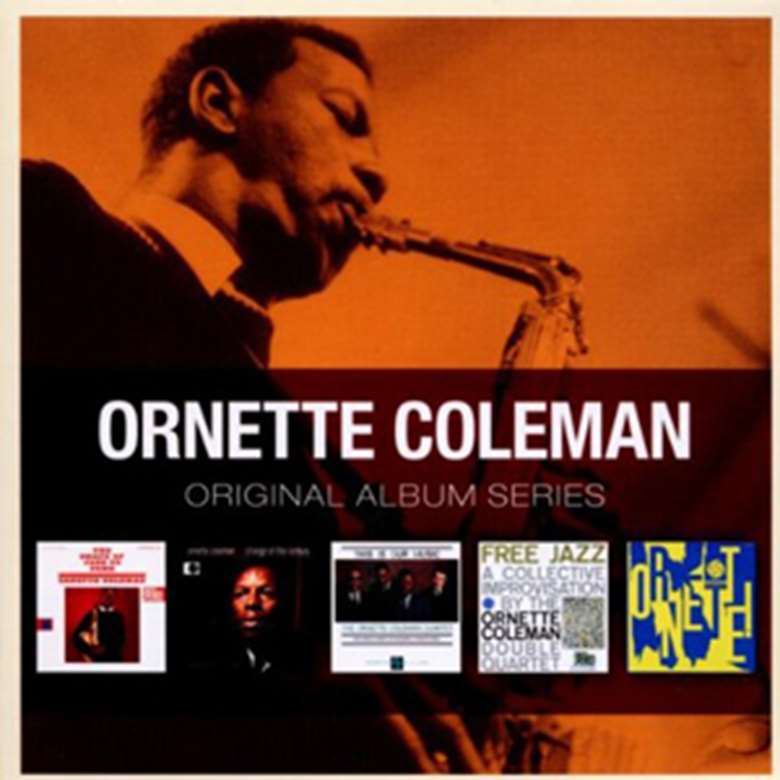 Rec. 1959–62
Although his work for Impulse, Blue Note, Columbia, Flying Dutchman and his own Harmolodic label should by no means be discounted – after all they yielded nuggets such as Skies Of America, Friends And Neighbours and In All Languages – the Atlantic recordings are arguably the backbone of the saxophonist's oeuvre. Taken together, the five sets that start with 1959's The Shape Of Jazz To Come and conclude with 1962's Ornette! still make for something of a shock to the system decades later for two simple reasons: the cast iron strength of character of Coleman as a soloist, which also holds true for his accompanists, who are actually more like co-pilots; and the absolute boldness of the writing which both confirms the vitality of the "avant-garde" or "new music" and makes the crucial point that its central development away from bebop's clearly mapped chords and set meters took it "back" to early blues and country as well as forward to an undefined idiomatic space. Ultimately, Coleman's talent is for making music that is as complex as it is primal. And not affected.
Certainly, the more joyous, almost "stomp and buck" implications of pieces such as 'Ramblin', 'Kaleidoscope' or 'T&T', which is possibly the strangest, most lopsided spin on New Orleans marching band traditions one could hope to hear, are like dance numbers for moving terrain. The mercurial nature of Coleman's thinking led him to reshape structures more daringly than the average musician could imagine and his conception of harmony and tempo as a kind of modelling clay rather than rigid building blocks upon which to graft layers of sound still provides an invaluable lesson for contemporary players. Alternatively, one might argue that the immense appeal of his songs is their mesh of polyrhythm with a form of polymelody so that the whole ensemble acts as a contrapuntal choir singing from different hymn sheets without falling into discord. Given the abundance of his ideas, Coleman would inevitably expand beyond his favoured quartet setting, and the Free Jazz album by the double quartet is striking for the increased sonic range provided by such as Eric Dolphy and Freddie Hubbard as well as the sheer drama of its collective whoop and holler, though the performance arguably has less appeal than the music by the smaller groups. If Coleman the high energy player is well represented there, then Coleman the lyricist, the sensitive soul, is supreme elsewhere: the opener on disc one is 'Lonely Woman'. It can move anybody to tears. In that respect, it is blues, soul, raga, and jazz rolled into sounds that somehow stand beyond all these genres. That is something else!!!
– Kevin Le Gendre