Out of the Cool: Cully Festival presents a winter wonderland of international jazz stars
Adam McCulloch
Wednesday, April 20, 2022
Adam McCulloch reports back from two epic weekends on the shores of Lake Geneva as many UK, US and European jazz acts get back in the touring groove after two years of pandemic postponements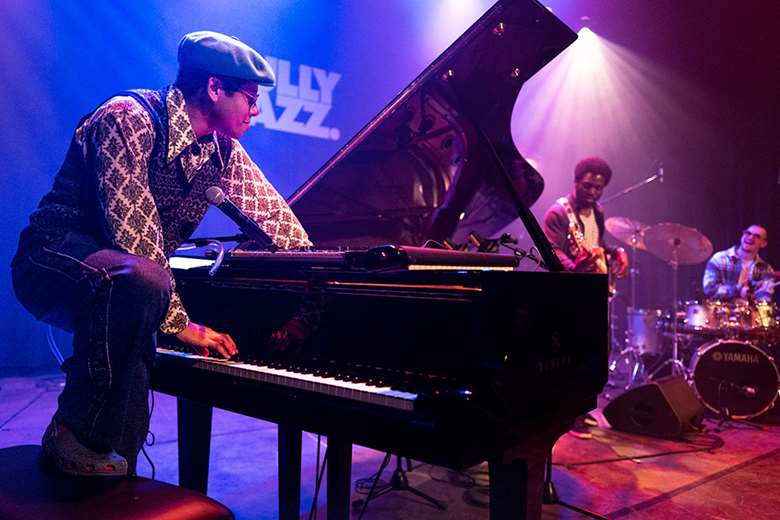 After a Covid hiatus of two years, the Cully Festival was back for its 39th edition between 1st and 9th of April. Set on the shores of Lake Geneva in an idyllic traditional wine-growers' village surrounded by ancient terraced vineyards, and with snow-capped mountains providing a backdrop, there can be few more beguiling settings for a music jamboree. Perhaps only the unrelated Montreux festival a few miles down the road can match it for scenic appeal in Europe. For foreign visitors an excellent train service running late into the night between Geneva and the village means that, for accommodation, nearby towns such as Lausanne and Vevey are great options.
With about 100 free, diverse, gigs in cellars and bars and 33 ticketed gigs (between £30 and £50 individually) there is really something for everyone, nu-jazzers and old timers alike, with this year a healthy smattering of UK acts making waves such as Reuben James, Bill Laurance Trio, GoGo Penguin, Balimaya Project, Rosie Frater-Taylor and Yazz Ahmed. International veterans included Chucho Valdés, Richard Galliano, Dee Dee Bridgewater, Anouar Brahem and Heiri Känzig.
Kicking off the festival in the main 950-seat Chapiteau venue in some style was Snarky Puppy co-founder Bill Laurance with his utterly modern, compelling and expansive trio. A high energy 90 minutes with Max Luthert on bass and Marijus Alexsa drums brought the house down and was followed by a set by Armenian pianist Tigran Hamasayan – another forward-looking trio performing material on a grand scale but with intricate lyricism and passion.
Cully Jazz is nothing if not eclectic with the medium-sized Next Step venue resonating to artists such as US drummer/vocalist Kassa Overall opening up new directions with rap, hip hop and dense clouds of tech instrumental brilliance. On this tour he was joined by a trio of versatile performers each with strong stage presence: Tomoki Sanders (sax and various digital bits), Ian Fink (keys) and Bendji Allonce (perc).
One of the artists Overall has played with is the wonderful Dee Dee Bridgewater – now 70, incredibly – the former Thad Jones-Mel Lewis band vocalist who has worked with many of the greats over the years – Sonny Rollins, Horace Silver, Dizzy etc. Fluent in French after lengthy sojourns on the continent she delighted the Chapiteau crowd with her superb Italian band featuring pianist Claudio Filippini and golden-toned tenor sax player Michele Polga. The band is at Ronnie's on 18 April and is well worth catching.
As Dee Dee's set drew to a close, back at Next Step, 22-year-old UK vocalist and guitarist Rosie Frater-Taylor, with Tom Potter (drums) and Dave Edwards (bass), was easing into her set, displaying her ability to scat, George Benson-style, along with her sinewy guitar lines along with the deft songwriting that's attracting a lot of attention in the UK and beyond. Her subtle voice with the odd Joni reminder won the crowd over on her first European tour. What a lovely contrast with Dee Dee's performance just before.
A particularly intoxicating set was performed by Tunisian oud player Anouar Brahem and his quartet, which showcased the exquisite, haunting bass clarinet and soprano sax of Klaus Gesing. UK audiences may know Brahem through his 2017 Blue Maqams album that featured Dave Holland, Jack DeJohnette and Django Bates. Here he explored a rich vein of jazz, Arabian and North African sounds and harmonies with a choice of tightly formed songs from across his 30-odd-year career. Bassist Björn Meyer proved well up to the delicate task of supporting this exciting and precise band, weaving his lines in and out with discretion and perfect timing.
In 1995, Brahem collaborated on his Khomsa album with Richard Galliano, the accordion virtuoso, who the following night blew away the capacity crowd with a drum kit-less trio: his New York Tango outfit. A collaborator with the likes of Chet Baker, Jan Garbarek and Ron Carter, Galliano seamlessly performed a crowd-pleasing series of short tunes often with minor-led chord sequences with reminders of 'How Insensitive' and 'Autumn Leaves' – songs such as the beautiful 'Des voiliers'. Guitarist Sébastien Giniaux drew gasps when producing great clouds of notes with the flourish of a flamenco master before turning with equal facility to cello. Giniaux's dual role helped offset the natural aural dominance of the accordion.
Galliano also featured in Swiss bassist Heiri Känzig's Travelin' band – a vibrant tumult of global sounds featuring the flugel of Matthieu Michel, tabla of Prahbu Eouard, oud of Amine Mraihi and vocals of Veronika Stalder. Pianist Marc Mean offered particularly sympathetic, thoughtful rhythm section support and logical, inventive soloing through Känzig's multicoloured set.
Prior to Brahem's set the full house was treated to a joyful one-off concert by the HEMU (Haute École de Musique) Jazz Orchestra comprised of students and teachers from the nearby Lausanne conservatory. Led by brilliant vibes player and head of the jazz department Thomas Dobler along with Jaco-inspired bassist Etienne Mbappé (soon to join up on tour with John McLaughlin) the 12-piece, including strings, created a welcome broad palette of sound and robust powerful rhythms with a fusion of latin and North African influences. Young singer and trumpeter Justine Tornay was one of the stars of this rousing set with her passionate voice and dancing, but adding even more icing on the cake were the astonishing Ayekoo Drummers of Ghana who broke out into their own mini-set full of powerful fast 12/8 grooves and telepathic moments of synchonicity. Members of the band had rehearsed for the gig over the previous week in Accra itself – now that's proper funding for the arts.
On the subject of voices, South Korean Youn Sun Nah bathed an appreciative Chapiteau audience in her wonderfully glowing warm vocals accompanied by a top quartet in which guitarist Thomas Naïm shone. Youn was supported by a set from inventive Swiss singer/composer Andrina Bollinger and pianist Alessandra Bossa in at times ethereal but absorbing set with nuanced use of electronica.
Back to the Next Step venue. French pianist Gauthier Toux, a HEMU graduate and Cully regular, has established himself across Europe with his imaginative and deep soundscapes, propelled by Samuel F'Hima on bass and funky responsive drummer Maxence Sibille. There was an esoteric feel to some of the set after the hypnotic Big Steps, which opened the show, but Toux's music is full of surprises, angular offshoots and sudden changes of mood. Never a dull moment.
Which is also true of supremely talented rising UK star Reuben James. Here, the singer, pianist, dancer, melodica player was supported by Slovakian drummer David Hodek and bassist (among other instruments) David Mrakpor. Opening unusually with a solo bass piece, the band settled into a delicious mid-tempo funk groove with sparkling cascading embellishments from James that had more than a touch of the Herbies about them. But before we got too comfortable with the nu-jazz vibe we soon veered into unpredictable territory with audacious, at times humorous segues and quotes. A true crowd pleaser, James played melodica amid the audience, pulled off some Prince-flavoured dance moves, and chopped a powerful version of 'Caravan' with excerpts from 'Rhapsody in Blue' and 'Giant Steps' among many other tunes. He returned to the funk with 'So Cool', mixing in Roy Ayers' 'Everybody Loves the Sunshine' and countless other fragments from across the genres. Truly inventive and thoroughly entertaining, and hats off to Mrakpor and Hodek for keeping up with him.
The first weekend of the festival was hit by snow, not as common as you might think on the vineyard-terraced shores of Lake Geneva as winter melds to spring. But blasting the cold weather away was hit London 15-piece Balimaya Project whose West African-derived sounds brought the fire to Next Step and truly got the snow shaken off the punters' shoes.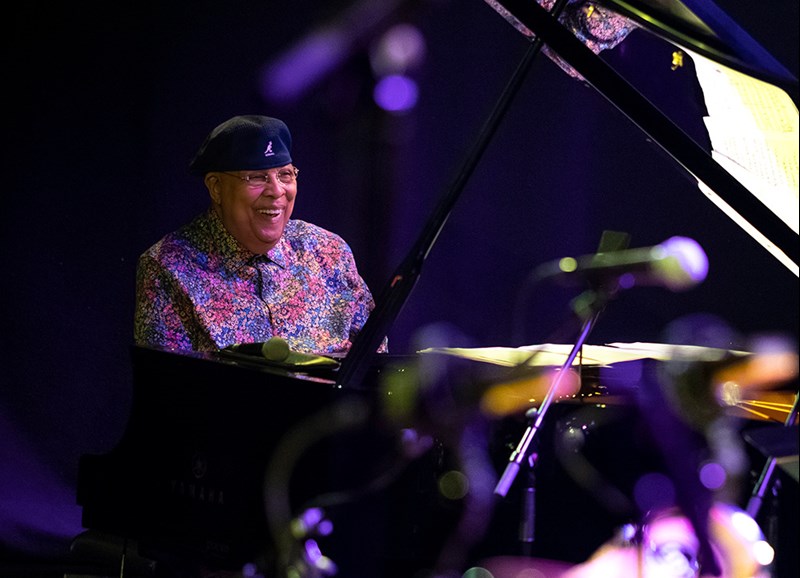 Also bringing the heat at Cully was Chucho Valdés Quartet (above), the Irakere founder's riveting piano a shaft of sunlight over a compelling Cuban rhythm section made up of bass, percussion and drums, on a rare rainy day.
On the second, final, weekend of the festival British-Bahraini trumpeter Yazz Ahmed took her intoxicating electronic Arabic jazz to the main stage. Ralph Wyld (vibes), Dudley Phillips on bass guitar and Martin France (drums) provided impeccable support. Ahmed's set complimented that of yet another UK headliner: GoGo Penguin bringing the Cully action to a close with beat-fuelled electronica. Newly signed to XXIM Records, the trio, comprising Chris Illingworth (piano), Nick Blacka (bass) and Jon Scott (drums) underlined Cully's clear intention to stay on top of exploration in jazz, while honouring the legacy in all its twists and quirks across continents.
Cully's 'off festival' acts proved another rich vein of exploration. Once again, KUMA, led by tenor player Arthur Donnot and keyboardist Matthieu llodra, held the fort in the tiny Caveau wine cellar, channelling Herbie's 80s sounds (including vocoder) and inviting musicians from the main stage gigs, such as David Mrakpor, this time on piano, to join them. Donnot, another HEMU graduate, pulls off a beautifully natural tenor sound with echoes of Grover Washington Jnr, amid the raucous grooves without loss of any detail. Touring elsewhere in Europe and in the UK can't be far away for KUMA.
After two years of pandemic, the relief and enthusiasm of audiences at Cully bodes well for the likes of Cheltenham later this month and Love Supreme in the summer. Just don't expect snowy peaks and abundant locally produced sauvignons.