pBone plastic trombone
Thursday, June 20, 2013
The pBone has been around for a couple of years now, but has only recently found a distributor in the UK.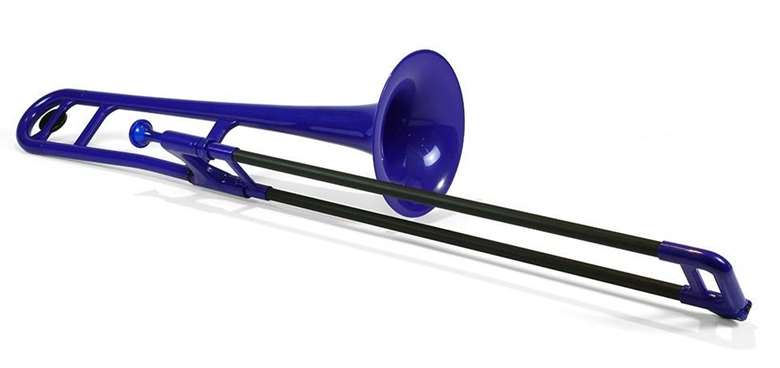 It's a serious musical instrument and it really is extraordinarily good. OK, it's never going to compare to your favourite ol' bone – but it's not trying to. It comes in five funky colours together with black and white versions, is featherweight, has a standard 500 bore, an eight-inch bell and brass stockings. The mouthpiece, like the horn, is almost weightless; it's well designed with a good shape and a cup that strikes a good balance between the 'V' and 'Bowl'. The rim is smooth and well defined.
Sonically, the pBone is mellow, with a nice rounded, centred sound that is well balanced. The intonation is fine, apart of course from the fifth overtone – but as we know, that's a 'bone state of mind, whether you're playing on a £3,000 hand-built brass horn or something a little less refined. Although the pBone is well able to hold its own, we felt that attaching an instrument clip mic to the bell might offer up some surprising and interesting sonic possibilities.
There was one thing however that did catch our eye. On our sample instrument, the tuning slide was set slightly too far in, which on a cold night could make tuning to 440 concert pitch quite a challenge. Needless to say, there's no risk of 'dings' to the bell when the pBone is on the stand and you'd have to give the bell an almighty bang to crack it.
It comes in a lightweight zippered black nylon denier bag with a zippered side pocket and at just shy of £150, we reckon it's worth every penny. We're also reliably informed that pBone players (unlike most 'bone players) don't suffer from a sore left shoulder!

For more info go to www.vincentbach-ltd.co.uk