Pine And Rahman Keep It Real With Ballads Of Taste And Grace Inside East Sussex Citadel
Stuart Large @boyaboutsound
Monday, October 21, 2019
Courtney Pine and Zoe Rahman perform tracks from their co-produced album, Song: The Ballad Book, at Herstmonceux Castle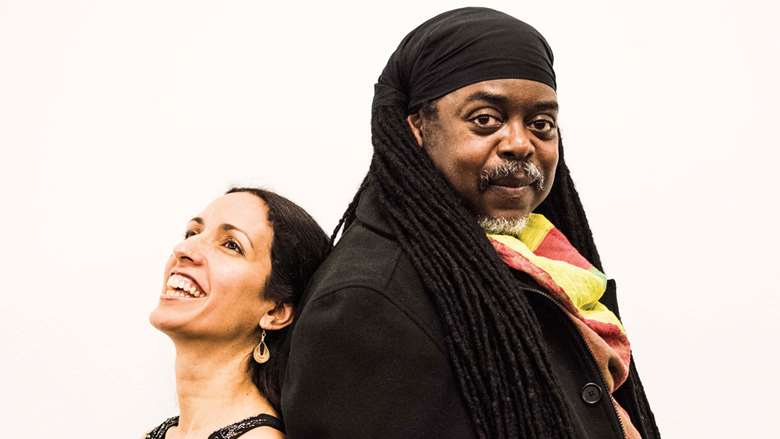 I'm never sure who's entitled to feel more nervous at an intimate live show: spectator or musician? Pine and Rahman walked out to warm applause in a charming 15th-century ballroom setting. The closeness of the audience added an extra zing to the already palpable anticipation. 
With Rahman seated at the piano and Pine selecting the bass clarinet for this project, they opened with 'Smile'. This was perfectly apt as, with hardly a minute played, Pine was clearly distracted by a late arriver trying to creep in without success. Pine pounced on this to relax both himself and the audience, calling out, "we can all hear you, you know!". Once the applause and laughter faded, Pine and Rahman resumed their slick rendition. 
The first set included a mesmerising version of 'The Windmills Of Your Mind' and, now in his stride, Pine employed an inherent rhythm by creating a percussive bass-line from the instrument's lowest notes. It was an infectious foundation, allowing Rahman to stretch her fingers up and down the keyboard, no one more impressed than Pine himself. 
After the interval came an impromptu, yet well-received rendition of 'Summertime', before a rousing and tribal version of 'Let My People Go' and the undeniably silky tones of Sherwin's jazz standard 'A Nightingale Sang In Berkeley Square'. 
There's time for one more before bowing out, fittingly 'Amazing Grace', Pine's favourite cut from the album. A contract is made with the audience to do this again: "I have to be honest, I've really enjoyed playing jazz music out here tonight". And we certainly enjoyed hearing it, too.