It's gone 2am, and 15 of us remain in the basement club Mleczarnia, where jams continue past audiences and reason. The bassist's bow is hanging in shreds, keyboardist Katherine Zyabluk's gorgeous classical chords have turned jagged, and cross-legged on the floor as if earthing the music, Mateusz Rybicki is playing roughly beautiful, Central European clarinet. There's a monastic purity of musical purpose, heard by an audience distilled to its essence, our focus by now vodka-dilated. Alighting on Ornette Coleman's 'Lonely Woman', Zyabluk's eyes are alertly wide, as Rybicki's gypsy peals pierce for a few minutes into something transcendent, lifting the lucky few down in the basement too.
Jazztopad's headline concerts in Wrocław's luxuriantly modern National Forum of Music offer loftily ambitious compositions, and collaboration with Poland's rich classical tradition. But its great moments occur in the club, or at improvised gigs in private apartments, where morning sun bathes groups grappling towards ephemeral new sounds, their half-grasped visions close enough to touch.
French cellist Vincent Courtois' concert combines his trio with the Lutosławski Quartet's strings to premiere his suite based on Jack London stories. For all his experience on classical borders, it's Courtois the teenage Kinks fan who drags blues-rock drive from his cello, and whose trio lean forward as if battling stormy weather, like piratical ruffians at an angle to the world.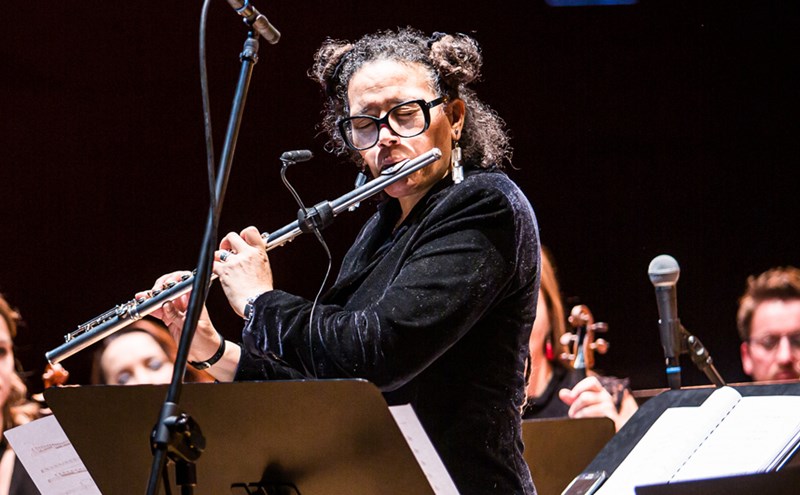 AACM lynchpin Nicole Mitchell's festival commission, 'Decolonising Beauty', unites her Artifacts Trio with the NFM Leopoldinum Orchestra (above). Its ecological theme draws sickly violin shrieks and rat-in-attic skitters, till Mitchell's flute leads an embattled climb into the upper ether, while still finding room for Tomeka Reid's knuckled, string-snapping cello violence.
Danilo Pérez's Global Messengers continue the Panamanian's career-long message of unity:
"A different message from Donald Trump," as he emphasises. In a country with its own nationalist government, he isn't wholly preaching to the choir. He also brings a suite, 'Fronteras', though its unwieldy immigrant narrative is better communicated by the smiling pleasure of his transnational band, and a speedy, smashing encore. Piotr Damasiewicz's Power of Horns debut their album, Polskaon, the same bill. With his white kaftan, beret and beard, Damasiewicz could be partisan, priest or Laurel Canyon guru, suggesting an enjoyable ego confirmed by his compositions, which feature rhythm-section freak-outs, heroic prose on industrial Poland, massed brass funk and African percussion. Chucking in the kitchen sink, he knows how to use it.
The meditative intent of Vijay Iyer and Wadada Leo Smith's ECM work, a cosmic rhythm with each stroke, is harder to fall into, with Iyer's Vangelis-like soundscapes appearing dated. Smith, muted and Milesian on trumpet, seems peaky under the lights, but his few gravelly words are a humorous and humane sound.
The truth is, though, that I struggle to remember these headliners once I'm home. Instead I recall pianist Gregorz Tarwid leaping up at Mleczarnia to incant Polish beat poetry. And I remember a grand flat with a grand piano, where Matlyda Gerber's leg jerked with her baritone sax's gale-force as it twisted and tossed a tune aside, and Tony Wilson rang psychedelic, church-bell chimes from his guitar: original sounds found as guests munched homemade pastries.
In another flat, an artist's manifesto for his imaginary Jewish Renaissance Movement In Poland was framed, conjuring a "procession of the ghosts of your old neighbours, the ones haunting you in your dreams". Another poster listed former names of Wrocław, once German Breslau till ripped up borders in 1945 wholly changed it, a wrenching history Britons can hardly grasp. Up the stone steps of a third flat, a toddler ate her cereal a few feet from saxophonist Daniel Erdmann's face, tapping her foot. And back at the club, in the set after the last set, the last quartet unpacked to jam again, no longer knowing how to stop. Mateusz Rybicki may be playing clarinet there still.