Review: Protection Racket Deluxe Conga and Deluxe Djembe Bags
Monday, June 3, 2019
The Cornwall based Protection Racket, who've built a considerable reputation as one of the world's leading drum and percussion case specialists, recently updated their conga and djembe cases with added features and new sizes.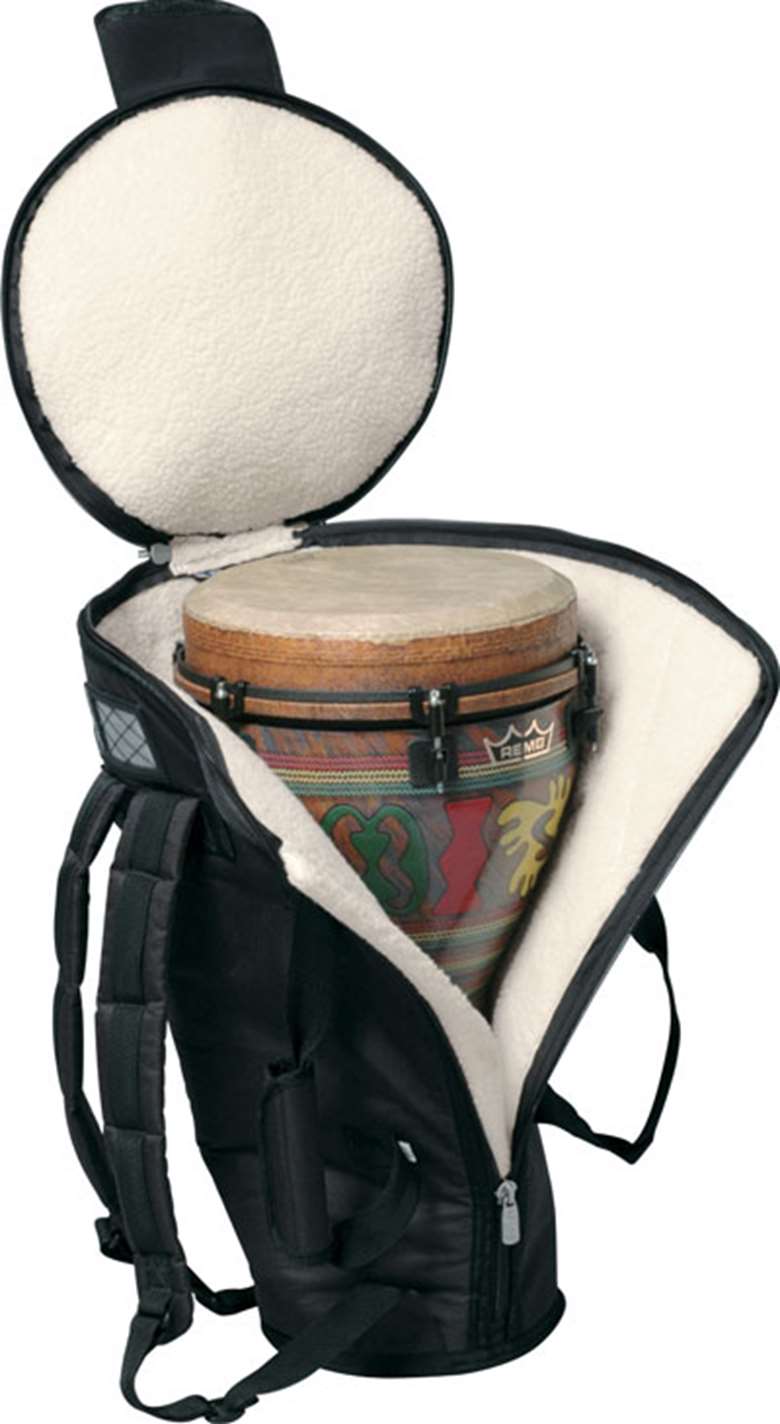 The Deluxe Conga Bags now come in a full range of head sizes, including 10" Requinto, 11" Quinto, 11.75" Conga, 12.5in Tumba and a new 14" Super Tumba. They are all 30" high and are shaped to the conga drum profile for carrying and transportation ease.
Constructed from Racketex, a high abrasion-resistant 600 denier waterproof polyester shell with Propadd dual density foam padding, the bags are a one-piece construction with full-length, heavy-duty weatherproof nylon spiral-chain zips and nickel-plated zip pulleys. Padded backpack style harness straps are fitted to one side and a carrying handle and shoulder straps are on the other, while an excellent new feature are the grab handles fitted to both sides at the top opening, which greatly facilitates loading and carrying.
Name and identification tags are fitted to the exterior, while internally the bags are finished off with a layer of Propile, a synthetic fleece that not only cushions and protects the drum (a must with rare woods and exotic grains), but also wicks away any surface moisture, a huge benefit for natural calf heads. Lightweight, robust and of high-quality build, the design enables fast packing and offers a variety of carrying options. Prices start at £86.49 for the 10" up to £101.35 for the 14" and are a very sound investment for all types of conga, especially high-end drums costing between £500 to £800 each.
The Deluxe Djembe bags are of the same materials and construction as the conga models and come in 10", 12", 13", 14", 15" and 16" head sizes and vary in height from 24.5" up to 29". They have a backpack style shoulder harness and carrying handles and the bag has an outer zipped pouch which is big enough to hold percussion items such as shakers, cowbell, claves and guiro, though not all at once. Prices range from £50.70 for the 10" to £69.19 for the 16". They're serious bags at a sensible price. Jon Newey
Further information www.protectionracket.com