PUNKT doesn't like to follow the usual festival rules, consciously avoiding predictable big name festival acts, but with a 15th anniversary to mark, remixers-in-chief Jan Bang and Eric Honoré noticeably upped this year's artistic ambitions. As ever it fell to a PUNKT veteran, Ståle Storløkken (below), to kick off the sonic subversion with Kristiansand Cathedral's two organs, as he combined the delicacy of the nine-voiced one with the fearsome 58-voiced one, while the audience listened reverentially in the pews.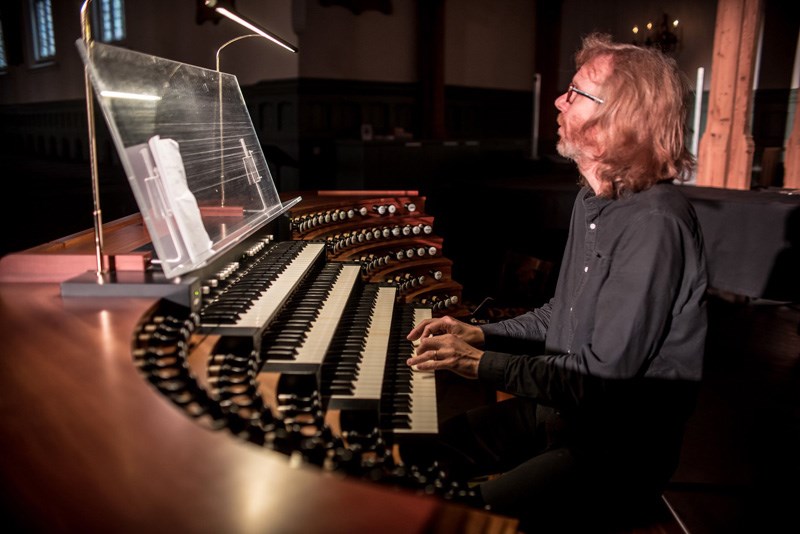 Storløkken's profound keyboard knowledge turned these unwieldy beasts into malleable tone palettes – at first layering soft chords before sneakily expanding his range via some subtle synth injections. His bombastic alter ego in prog-funk battering ram Elephant9 often disguises his highly-nuanced harmonic concept, which manifested itself here via jagged, pointillist chords, with craggy melodic lines traversing vertiginous timbral vistas. Finally, he gave in to temptation and put the organ's many pedals to the metal, conjuring ominous impacts with suitably demonic overtones.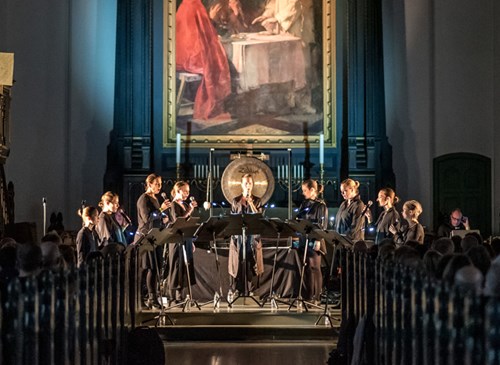 The massed Trondheim Voices (above) offered a haunting response to this, as they invoked another kind of celestial mood with extraordinary wordless close harmonies. Pitch perfect, they slipped between keys in woozy waves of vocals. While their set was overlong it didn't lack for drama as the vowels ooo-ed and aaa-ed, a giant gong was struck and tiny bells chimed, as Storløkken, secretly stationed by the mixing desk, added his own electronic embellishments. The meandering sense of time and space deepened with Steve Tibbett's set – the guitarist happy to doodle tastefully on his steel string and effects against Hang drum and tabla rhythms from percussionist Marc Anderson – to induce a sonic dream-state.

Thus it fell to remix maestros Bang and Honoré (who'd been sampling all of this) to emerge from the shadows alongside trumpeter Arve Henriksen and human pedal board/guitarist Eivind Aarset (below) to spin these golden threads into a majestic wall of sound. Choral clouds swelled, organ chords sighed, Arve's yearning angelic cries flying above, with Bang and Aarset creating their own undulating symphony beneath, weaving the three previous sets into some of the most awe-inspiring music I've ever heard.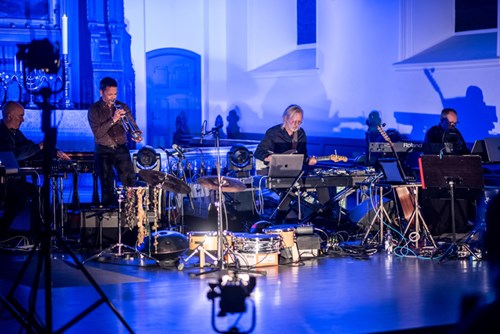 Such inspired spontaneity is encouraged at PUNKT – yet this opening gambit set the bar very high for the remaining programme. Guest of honour was iconoclastic avant-punk guitarist Thurston Moore, who tore into a jazz inflected yet ritualistically rhythmic set with his Ensemble (below), who built to a chiming decibel-busting climax. The theme of repetitive looped rhythms was echoed by excellent young band Drongo, who unlike their name, intelligently dissected polyrhythms between multiple guitars and keyboards, in a driving Kraut Rock-Afrobeat mashup. Six stringer Kim Myhr took this in an acoustic direction the following night with his quadruple guitars and triple drums chug-a-thon. Yet, it was volume of Moore's set that must have inspired the loudest remix I've so far experienced at PUNKT as Supersilent's Storløkken and Henriksen made fierce frequency mischief with Deathprod drawing granite-like slabs of sampled guitar from his laptop, that built to a crushing roar.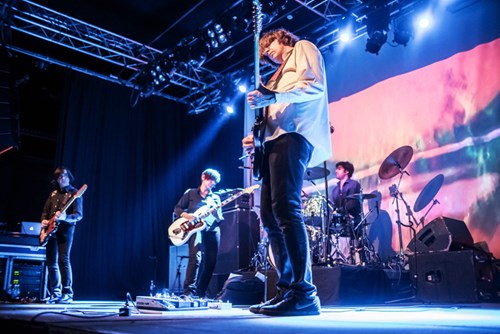 If climbing this particular musical mountain left one dizzyingly at the summit, the final night felt like an amble down the other side in the comfort of the impressive Kilden Performing Arts Centre. This began with the world premiere Osaka-born composer Dai Fujikua's 'Shamisen Concerto', performed by Japanese shamisen virtuoso Hidejiro Honjoh and the Kristiansand Symphony Orchestra.

The rasping, folkloric rawness of the traditional three-stringed instrument contrasted with lush string swells from the KSO, as Honjoh worked fleet-fingered pentatonic phrases across the slender neck of the boxy banjo-looking shamisen – deftly wielding the oversized paddle-like 'bachi' as its incongruous plectrum. The concerto provided a rich range of source material for a spellbinding remix from Bang and Sidsel Endresen, her reversed vocals mimicking the shamisen's waspish timbre.  

The concluding double-header of power-trio RYMDEN, and a dream-team of remixers promised so much, and almost delivered a decisive conclusion, but this was scuppered by a strict curfew at the venue. RYMDEN's Bugge Wesseltoft is now at the peak of his considerable powers alongside the former EST rhythm section of Magnus Öström and Dan Berglund, all showing they are fast becoming one of the most formidable trios around. Thus, while the loss of Esbjörn Svensson is still keenly felt, Wesseltoft's time has come as one Europe's finest keyboardists, here uniting the electronic path EST were latterly pursuing with an earthy acoustic jazz-rock. It all points to great things ahead for this mesmerising band. With their set hastily concluded via some frantic gestures from Bugge, the remix team hastily assembled with Nils Petter Molvær, his warm yet piercing trumpet tone quickly etching melodies in the air. Aarset, Bang and Honoré once more artfully combined, but with the clock ticking, the samples seemed more frantically assembled, a skittering 16th note snare pattern and looped snatch of Berglund's bass line the most obvious connection to the RYMDEN set. But then it was over before it had begun, the curfew the culprit.

It was a stark reminder of the genius and fallibility of this festival, these ghosts of chances so hard to capture and control, but that's what makes the fragile beauty of PUNKT so special.


– Photos by Petter Sandell‎