Scofield And Cleary Hushed And Handy At Palm Jazz, Poland
Martin Longley
Friday, November 15, 2019
Our festival specialist gets to grips with the goings-on in Gliwice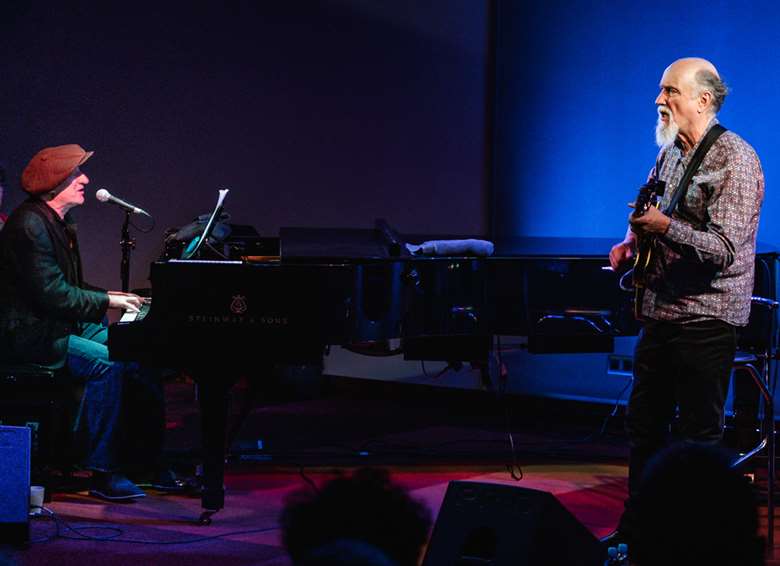 How about catching a John Scofield gig in an intimate 200-seater theatre? The Palm Jazz festival in Gliwice, can offer such an experience, as its hosting venue is the recently refurbished Jazovia, right on the old town's main Rynek market square. Gliwice lies in the southern Silesian region of Poland, and later in Palm's marathon month-long sequence, there are opportunities to see Jean-Luc Ponty, Nils Petter Molvær, David Murray and bassman Avishai Cohen under similarly close-quarter conditions. The Jazovia building is of listed status, so it wasn't permitted to install a lift: folks have to climb up to the third floor, which certainly keeps the audience youthful. The festival's artistic director is pianist Krzysztof Kobyliński, who converted to music from business (as he puts it) around a decade ago.
The duo of guitarist John Scofield and singer/pianist Jon Cleary has been an occasional touring project in recent years, here delivering two sets on the second night of Palm. It's a chance to hear Scofield at a quieter level, though he could still have turned down, next to Cleary's piano. The guitarist nestles warmly into the deeply New Orleans universe of British transplant Cleary, who is a walking and talking songbook of that revered Louisiana tradition. Four songs in, 'Tipitina' fired up, one of the core classics, as reconfigured by Professor Longhair. Scofield even contributed hushed harmony vocals, then howled gently on guitar, to climax. They headed straight into 'Fever', with Cleary's reverbed fingerclicks effortlessly spreading throughout the audience, transforming into handclaps once Scofield started soloing. Bordering on schmaltz, Hoagy Carmichael's 'Stardust' was also a set highlight, Scofield keeping it down to hushed bass figures until delivering his best solo of the evening. Little Richard's 'Lucille' closed out in brash style. The second set held several repeats, but there were fresh numbers too, such as the Lloyd Price gem 'Just Because', the wily 'Cuttin' In' (Johnny 'Guitar' Watson), and 'Money In My Pocket', injecting some Dennis Brown reggae. Phew!
The festival had opened with a pair of trios. Czech guitarist Rudy Linka was joined by Senegalese singer/bassist Alune Wade and Stateside drummer Rudy Royston, the leader loading up with heavy echo, and plenty of twangy sustain, for a spangled ballad beginning. The second number, 'Big Hall', was dedicated to guitar hero Jim Hall, getting into the rollin' blues, and already liberally including bass and drum solos, early in the set. Wade sang in sweet high-range Wolof on the third song, Linka helping out on the chorus singalong. Funk and Afro-froth episodes followed, making this a charmingly varied outfit, then there was a sidelong glance at 'God Bless The Child', made a distant cousin from its Billie Holiday source.
There was a high degree of thoughtful musicianship during this opening night, but always at the service of a finished work. Entheos Trio, from Italy, once again featured guitar, but this time with piano and drums, beginning with an abstract improvisation that grew into 'Watershed'. Edoardo Bignozzi drew from a Spanish classical guitar vocabulary, taken for a jazz excursion, frequently secreted down in the bassline zone, while lyrical pianist Pierpaolo Principato took e.s.t.'s 'Seven Days Of Falling' to shine. Tommy Caggiani used a sack of percussion, always sensitive to the musical continuum, ringing metal, making hesitantly-timed crashes, and cracking splinters, singing to invoke the spirits, halfway between Italian shepherd and Cuban orisha, then speeding up to a cajon/drum rumpus.
Palm's third night presented two duos, each featuring a soprano saxophone and piano line-up. Mikael Godee (Sweden) and Leszek Kułakowski (Poland) painted a ringing landscape, horn played under lid, with the pair adhering to a melodic line. The piano was frequently percussive, the soprano dancing with a presumably requested deep ECM reverb. Rain Sultanov and Shahin Novrasli (Azerbaijan) maintained the mood, but in a complementary way, rather than jarring into another state. Sultanov brandished a rare curved soprano, but Novrasil often seemed like the dominant partner, though the two tended to craft themes via alternating responsibilities, even during a single phrase. Novrasli had an extreme case of the Keith Jarrett grunts, raising himself up from his stool, all a touch too dramatic, and distracting from the evocative landscaping.
Scofield & Cleary play at London's Pizza Express on 17th November. Palm Jazz runs until 6th December 2019