From a jazz perspective at least, this was always going to be the central rub with this festival: how well would high-energy, pedal-to-the-metal acts like Steam Down, Ezra Collective (pictured top) and Melt Yourself Down engage with the demographic of this festival, with its many young families and more genteel sensibilities? In the end, it turned out there was no need to worry, with the sheer positivity and energy of the music conquering all.
Campers trickled in on the opening day with a mixture of excitement and apprehensiveness, the threat of a rainy weekend ahead heavy in the air and on their weather apps. To listen to Afghan folk-inspired group Kefaya was to forget about those worries, a set which laid the groundwork nicely for the festivals' first jazz act, Steam Down (below). While the atmosphere may not have reached the giddy heights of their regular night in south London, their flights of improvisation, audience interaction and ability to meld classic jazz with something entirely modern had large parts of the crowd ecstatic. The same could be said of raucous punk-jazzers Melt Yourself Down and marginally more mellow Afrobeat collective KOKOROKO.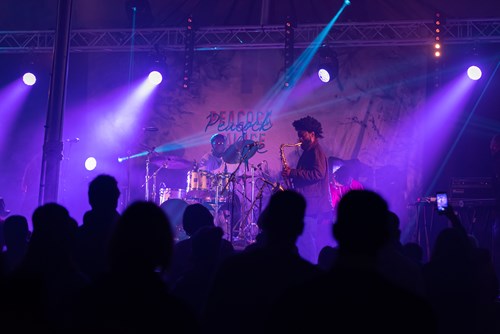 Later in the festival came GoGo Penguin. Such a silly name, such serious music. You know this trio are never going to serve up a light-hearted funky jam, with many of their songs possessing a similar sense of epic, spacey scale. There's not much in the way of audience interaction, but they more than make up for it with their jaw dropping musicianship, making them an unmissable live act. Tank & The Bangas, by contrast, are an unabashedly fun act who brought the New Orleans sunshine with them for a glorious final day. The playful yet powerful vocals of Tarriona 'Tank' Ball are the cherry on top of an eclectic cake that encompasses jazz, soul, hip-hop and more. One can see why Robert Glasper was keen to get involved in their latest album.
Ezra Collective's main preoccupation as a group is the feeling of joy – making sure they create it and that everyone gets their fair share. They must be one of the most entertaining live jazz acts in the UK, and their showing here was no exception. It's a tour de force, from the opening punchy bars of Fela Kuti's 'Water No Get Enemy' all the way through to their most danceable number, 'Juan Pablo'. It's no mean feat that crowd interaction specialist Femi Koleoso and the rest of band manage to get most people, even the dozy sun loungers at the back, up on to their feet and dancing by the end of their set.
Sure, none of the jazz acts here pulled a crowd quite on the same scale as headline act KT Tunstall, but they still drew impressive numbers, considering that many of them would have been unknown quantities. More importantly though, the mood that each act managed to create, be it in one of the smaller tent stages or on the main stage, was always upbeat, and it was fantastic to see many younger children in the crowd also evidently enjoying the music.    
– James Rybacki