Small gigs in intimate spaces rarely present a problem, but as soon as one is performing in medium to large venues, where reliance on clear onstage monitoring soon throws up discrepancies – sometimes big ones, with too much or too little volume, imbalanced levels and feedback – all of which can have an adverse effect on your/your band's performance. A solution to getting around all these inconsistencies is a personalised set of in-ear monitors, or IEMs. By no means a cheap option (ranging from £300 to £1,500), the benefits of investing in a pair are huge and for musicians that are as likely to be playing high-spec jazz clubs, medium-sized halls or big venues and stadiums, IEMs offer unrivalled audio consistency while also shielding the wearer from excessive volume levels.
A high-end pair of IEMs also provides audiophiles and music producers an immersive and accurate listening experience too. So when marketleading California-based company Ultimate Ears got in touch to offer Jazzwise the chance to test a pair of their IEMs, the first thing to do was visit The Custom IEM Company, the Hertfordshire-based 'ear-impressions' specialists who produce bespoke moulds for the likes of InEarz Audio, Ultimate Ears, ACS and Shure, among others. They carefully inject a purple silicone goo into each of your ears, which sets in a few minutes and is then used to create the custom-fitted shells for your IEMs. This method is actually on the way out, as when Jazzwise was there, the new scanning machine for taking purely digital ear-impressions had arrived but wasn't fully up and running. As it was the physical impressions were scanned and emailed across to Ultimate Ears' California HQ for the monitor shell to be 3D-printed, with the electronics hand-crafted and tested by the UE technicians.
With a wide-range of models available for singers, guitarists, producers and audiophiles, we selected the UE11s (£880) that UE state are for 'bass players, drummers and producers/DJs' – thus favouring a balanced output with a boosted bass response. It definitely takes a few attempts to perfect the corkscrewing action that's necessary to insert the tubelike protuberance into one's ear canal, but once in place the natural suction is remarkable: they fit like the proverbial glove. This and the sturdy cable enhance the feeling that these are built for the road. Tech-specs on the UE11s include four proprietary balanced armatures (tiny, intricately engineered speakers) with a sub-bass, bass, mid and treble combining into a threeway crossover that balances all ranges and engages the sub with impressive power when necessary. The dual bores within the ear-canal tube split the lows and highs so there's a very noticeable amount of separation and clarity to the resulting frequency blend. With a -26 decibel noise isolation cut, standing next to any particularly loud soundsources on stage (yes, a noisy drummer or over eager guitarist!) are easily kept at bay – while the full range capabilities of the UE11s with their frequency response from 5Hz to 22 kHz creates a huge, yet incredibly detailed sound.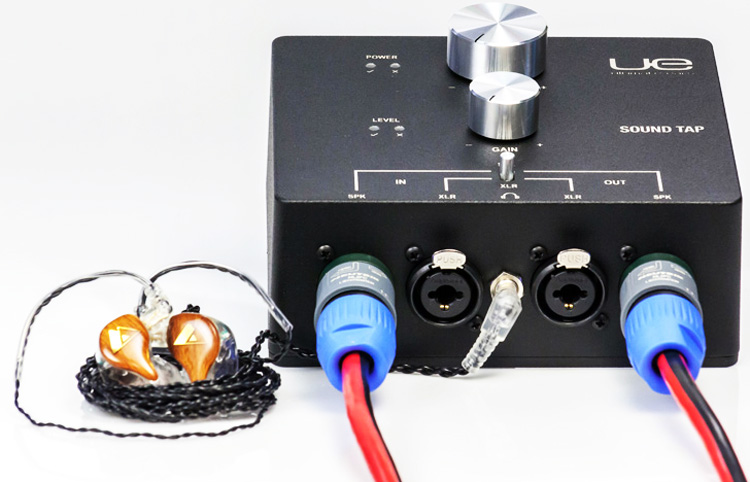 UE have also provided a neat way to connect your IEMs to the mixing desk via their Sound Tap personal DI monitoring box (pictured above). Powered by two nine-vault batteries the Sound Tap connects to the desk via either the supplied Speakon or quarter-inch jack cables, with a handy extension cable to plug your IEMs into as well, ensuring you're not too tied to the spot! There are a wide variety of wireless monitoring options available – some cheap, some very pricey – but the Sound Tap offers an affordable pro-level entry point to the world of using IEMs live. Tough yet sophisticated, Ultimate Ears IEMs are a great example of form and function in perfect harmony, offering an unparalleled sense of immersion right into the heart of the music in astonishing detail and depth.
– Mike Flynn
For more info visit www.pro.ultimateears.com