Despite heavy rain down the road, the WOMAD site largely basked in sunshine and, with one less big stage, there was still much to satisfy the jazz-inclined world music lover.
Opening night featured Juan de Marcos' Afro-Cuban All-stars' highly polished latin-ballroom sound, with de Marcos' daughter Laura Lydia's bass-clarinet adding distinctive texture. The more unrestrained energy of US/Cuban Orquesta Arkana, by contrast, would later throw a delighted Siam Tent back to the heyday of Perez Prado and others. Fine, furious solo playing embellished remorseless mambo rhythms, while vocal lounge lizard Pepito Gomez swerved around the stage.
A trio of Afro-beat-based acts bridged the gap between dancefloor grooves and accomplished jazz, starting with the Afro-reggae of London-based Soothsayers. The band featured scorching solos from Idris Rahman's tenor sax, a frustratingly brief glimpse of Julia Biel's remarkable voice and a fine cameo from their Youthsayers young-player project. Charismatic frontman Peter Solo's Vaudou Game added Togolese voodoo slink to rich Afro-beat percussion, but it was the Afro-futurism of Kokoroko (below) that really made an impact.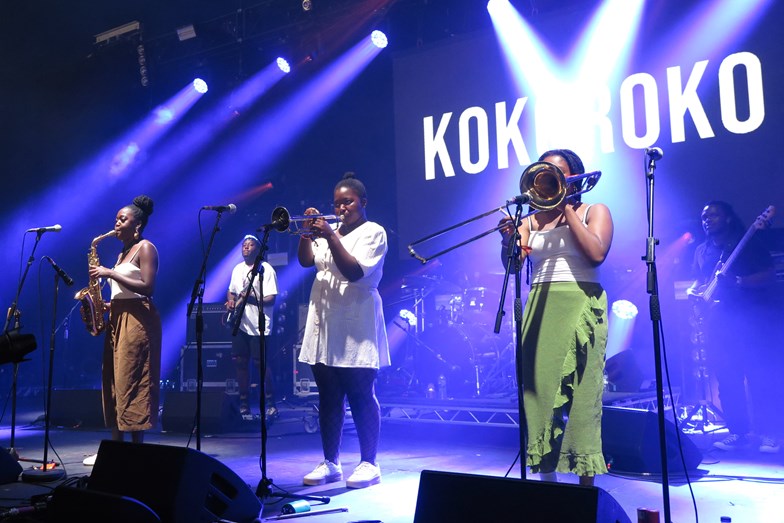 Playing to a packed crowd just after her SEED Ensemble had been nominated for the Mercury Prize, Cassie Kinoshi's storming sax solo opened a satisfyingly high-energy set full of ear-catching solos. Interestingly, the band's usual guitarist Oscar Jerome was brought on as a 'special guest' for their meditative hit track 'Abusey Junction'. His own band had previously played a set of original George Benson-esque soul-jazz numbers featuring Jerome's vocals as much as his always stylish guitar.
If touring 'A Change Is Gonna Come' has been a strain on Carleen Anderson's voice, her rendition of Nina Simone's 'Four Women' was as spellbinding as the original, while saxophonist Camilla George's wistul lyricism shone out on Coltrane's 'Alabam'a, the tune driven by Nikki Yeo's furious piano. Rapper Miss Sanity's perfect nailing of Gil Scott Heron's 'The Revolution Will Not Be Televised' was a treat, too.
Two acts stood out, however, for perfectly deploying ethnically-rooted music in a contemporary jazz context. Centred on the Ghanaian gyil xylophone, Vula Viel's newer pieces have stripped down traditional structures to find a more spacious freedom. With Ruth Goller's punk-edged bass a notable foil to Bex Burch's flailing gyil and Jim Hart's polyrhythmic drumming feeding both, the results were often thrilling.
And then there was Dhafer Youssef, who even turned his quartet's line check into a jaunty spontaneous composition. Permanently moving around the stage his oud drew out the others through call-and-response duels that were underpinned by the free-flowing interaction of the others. With guitarist Eivind Aarset often providing both electronic atmosphere and rolling bass-lines, Brazilian drummer Adriano dos Santos deftly combining kit drums and cajon and the discreet alto-sax of Raffaele Caserano the tapestry of sound felt infinitely variable. What integrated it was the distinctly Arabic melodic construction of Youssef's oud playing and, even more powerful, his floating falsetto vocalisation. It was a flawless and exciting fusion of world music and jazz that rounded off the weekend to perfection.