Yazz Ahmed plays to the moon at WOMAD's jazzified 40th edition
Tony Benjamin
Wednesday, August 3, 2022
Tony Benjamin is impressed with some seriously jazzy highlights as the renowned world music festival marks its 40th anniversary in style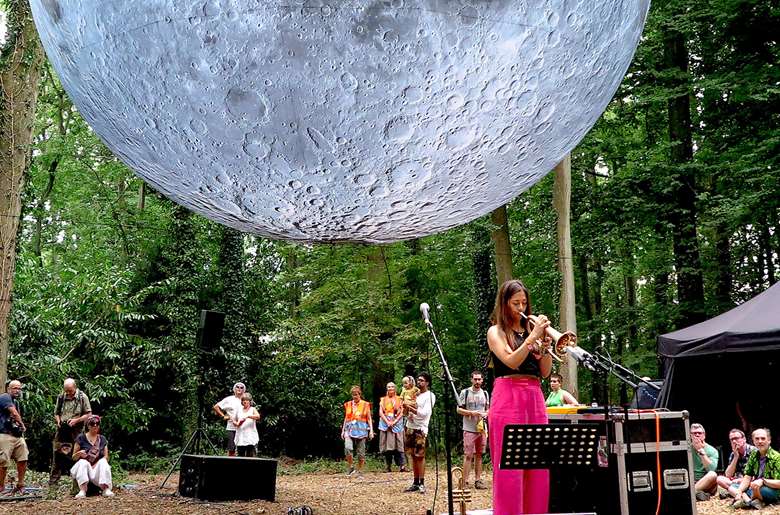 The pandemic may still rage but as the big festivals re-emerge it's very welcome to be wandering their familiar streets and venues once more. This 40th WOMAD combined old favourites with new acts and, of course, some ethnic 'discoveries'. From Friday afternoon's get-go the young UK jazz scene proved an important (and popular) strand in the programme. Yazz Ahmed's 11-strong band made a powerful start, deploying five trumpets (including Ahmed's) and two cellos to great effect on the programmatic Deeds Not Words, Martin France's imaginative drumming both driving and disrupting when appropriate. They played a live version of The Moon Has Become, Ahmed's electro-acoustic collage commissioned by the festival as the soundtrack to artist Luke Jerram's 3D moon installation hanging in a forest glade. Ahmed later played a 'remix' of the piece under the enormous globe as part of a captivating outdoor solo set.
Back indoors, Sarathy Korwar's Indian jazz fusion had gained increasing urban edge, the drummer himself offering understated precision rather than pyrotechnics. The emphasis was on words, often politically charged social critiques, with poet Zia Ahmed a notable voice. Vocalist Asheber commanded the crowd as keyboard player Joe Armon-Jones' set also established club grooves in the d&b Soundscape tent. Ranging from straight up dub reggae through jazz funk and nu-soul the tunes allowed fine solo playing from James Mollison's tenor sax and Ife Ogunjobi on trumpet, though Armon-Jones himself only really showed off his prodigious technique on the appropriately named Time To Let Go. Ogunjobi then reappeared as last-minute dep with SEED (below), impressively keeping his place within Cassie Kinoshi's tightly written music. Theirs was a more complex sound with elaborate melodic lines and well-constructed mood changes within which every player shone. This really is a collective of talent that is learning and developing at all times.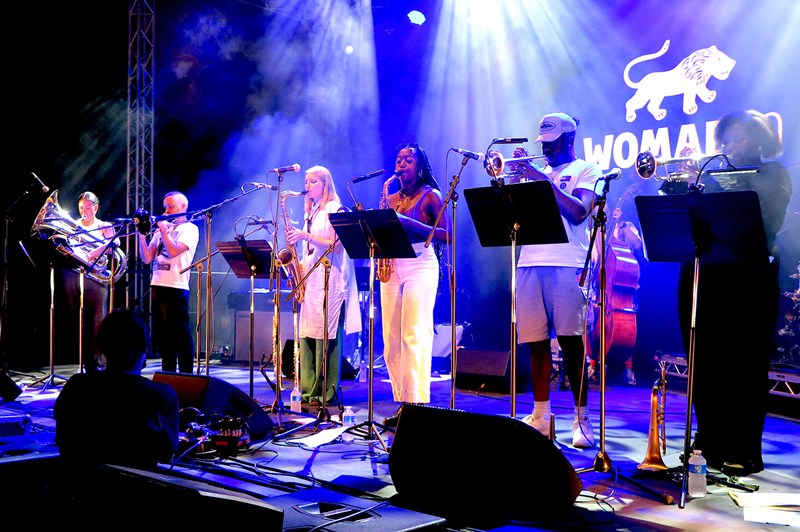 The number of photographers jostling in the pit says much about a band's profile and Nubyan Twist had over 20 – as well as a packed Siam Tent audience. Within minutes it was a heaving dance party as Ria Moran's vocal for Flow rode across its broken beats, reggae and jump-up house and Joe Henwood's baritone sax ripped through an impressive solo. The interplay of Henwood's sax with Tom Excel's guitar later stoked an incandescent Afrobeat finale. Both would reappear impressively in Onipa, Excel's Afrofuturist project with Ghanaian musician Kwekhu Sachey (aka K.O.G.) and multi-instrumentalist Wonky Logic. Deploying cascading guitars, earth-moving synth bass and ensemble hand percussion their set was another crowd-pleasing highlight, cleverly deploying instrumental ideas behind K.O.G.'s charismatic showmanship and making the most of the d&b soundscape PA system. In a complete contrast, masterful veteran Gilberto Gil commanded attention with an easy-rolling set of his own Brazilian classics and others, the band packed out with family members right down to great-grandchildren. With all that jazz and a host of global treats besides it's fair to say that 40 years has not blunted WOMAD's ear for quality or capacity to provide an excellent weekend's entertainment.