Zoh Amba, Myra Melford and Mary Halvorson connect improvisation and composition at Lisbon's Jazz em Agosto
Martin Longley
Monday, September 4, 2023
Martin Longley shaved his head in the Lisbon heat of this prime Portuguese 12-dayer…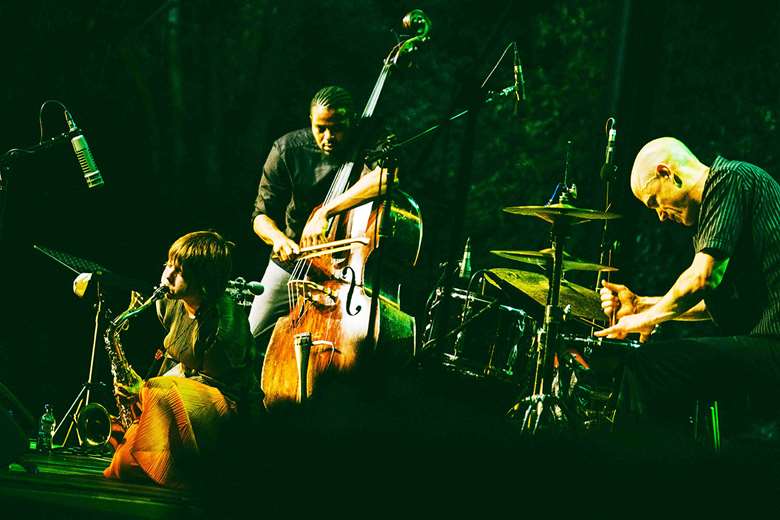 Improvisation and composition wriggled restlessly side-by-side during the Jazz em Agosto (Jazz In August) festival at Lisbon's Gulbenkian Museum. Concerts are held nightly, at 9.30pm, to avoid the day's searing heat. There is mostly a single performance, so the senses are highly concentrated, although the two weekends of this longer-running festival include 6.30pm solo concerts, in the Gulbenkian's smaller theatre. The 9.30pm sets take place in the museum gardens amphitheatre, an extremely evocative location.
The Zoh Amba Trio presented this young tenor saxophonist in yet another situation. Every time that your scribe has caught her in the last year or so, she's been accompanied by different players. Although dwelling in NYC, Amba has been prolifically touring around Europe, and was here joined by Luke Stewart (bass) and Chris Corsano (drums), a fine pair of players. The trio's method of unwinding is a completely free improvisation.
Similarly to Archie Shepp, Amba employs a head-shaking vibrato, buzzing her reed, heading full-bleat onwards. This fleet throttling sound is supported by running basslines and dashing drum patterns. The general volume isn't quite high enough to suit the sonic overloading, given that your scribe is seated on the front row. Perhaps there's a ear-blind spot down here, with the small frontal speakers perched on the stage-lip. The opening piece turned out very short, and the second turned towards a gentler approach, Amba's tenor in the pleading higher ranges. A hymnal mood pervaded, standing on hesitant tiptoe. Then, a bass-drums sequence got swapped for an a capella horn solo, before all three players were being caught in each other's rapid crossfire. Repeated small honk-cries painfully scaled the hill, with Stewart's bow skating, Amba mewling harshly. She always endeavours to search out the authentic sounds that are available in the heat of the moment, the important connections to be made in a flash.
For the next two nights, another type of jazz was made real, with a much greater amount of controlled composition, even if improvisation remained possible within complex structures. Myra Melford's Fire And Water is a supergroup of bandleaders, the pianist and composer inviting the sterling presences of Ingrid Laubrock (saxophones), Tomeka Reid (cello), Mary Halvorson (guitar) and Lesley Mok (drums). Most of the set was dedicated to the unveiling of new music destined for the band's second album, with just a few pieces included from their debut. One by one, the players introduced themselves, until the entire crew was active, Laubrock beginning on soprano. The spread got busier, eventually swarming in a highly controlled and notated fashion. It took the band members quite a while to shuffle their scores between each composition. Melford mostly chose not to address the audience, setting out on a road of intense concentration. Various duo permutations emerged, as Halvorson made filigree loops, amassing patterns over which to add circuitous lines. She kept her sound delicately acoustic, even so. At a crucial point, Melford decided to freak out, with a cascading post-Cecil Taylor solo, creating one of the set's most exciting outbursts. Reid strafed wildly and Halvorson applied a complex riff progression, negating the thought that this had initially appeared to be a band full of introverts. Diligent, precise and committed, this crew had plenty to say, topping their 75 minutes with an encore continuation.
Puzzlingly, the amphitheatre stage lighting mostly remained static throughout the week, with little change from a blue-flecked amber, dimly pervading.
Halvorson returned as a leader on the following night.  Amaryllis gathers together Adam O'Farrill (trumpet), Jacob Garchik (trombone), Patricia Brennan (vibraphone), Nick Dunston (bass) and Tomas Fujiwara (drums). This performance was a kind of companion piece to the Melford gig, as it also held a fascination for marshalled themes set with sudden improvisatory awakenings. Halvorson's finely nuanced works are cerebral and exact, but also organic and loaded with warmth. The presence of Garchik's earthy trombone is particularly gratifying. O'Farrill also jetted out several cutting solos, developed as perfect structures. A vigorous bass and guitar duo has a momentarily percussive belligerence, as Halvorson makes metallic strafes. Once again, this was almost all new material, designed for a sequel LP. The Amaryllis encore is even fresher, having only been played once together, during the afternoon's soundcheck. O'Farrill shone out again, right at the climax!