Ozmosys, Southbank Centre, Queen Elizabeth Hall @ EFG London Jazz Festival
James Shufflebotham
Thursday, November 28, 2019
The top-flight fusion four-piece fire-up the opening night of 2019 London Jazz Festival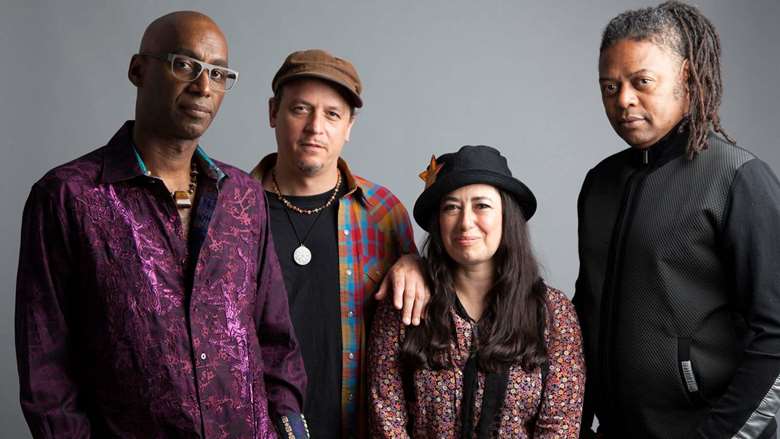 Eyes to the Future. As if by osmosis, the attendees at Southbank's QEH collectively glimpse a prospective future of jazz. An excitingly thought-provoking welcome to the EFG London Jazz Festival 2019.
Is Ozmosys heralding or part of a new wave of jazz? Who can fairly say? But this quartet exudes a chemical energy which is invigorated by the jazz canon - without feeling shackled by it - to gaze ahead. Each member of this 'supergroup' has played their part in the illustrious history of jazz: legendary drummer Omar Hakim is renowned for his work with Miles Davis and Weather Report, amongst too many more to name here; on keys and electronics with composition / arrangement duties is Rachel Z (also Hakim's wife), best known for her playing with Steps Ahead and Wayne Shorter; Kurt Rosenwinkel on guitar, with a series of solo projects and collaborations with the likes of Gary Burton and Joshua Redman; and Linley Marthe, best known for his work with The Zawinul Syndicate.
Each player is at their unrestrained best. From the potentially explosive timbral variety of Hakim which feeds the thunderous rhythms and eternal dexterity of Marthe, to the harmonic sophistication and (at times) Metheny-esque melodies served up by Rachel Z and Rosenwinkel. The unit of Hakim/Marthe is the rhythmic driving force that tempers the conjuring of Z/Rosenwinkel: it preserves and strengthens the infectious nuggets of melodic and harmonic gold without compromising their complexity. Most fascinatingly of all, it is not just the audience who undergo an osmosis.
On stage, the unified experiential genes of these top-flight musicians are still diffusing, still refining what our prospective future might be. Their debut EP captures the same glimpse of this potential future for which, ironically, your eyes should return to the first sentence of this review.