Stubbleman @ Purcell Room, EFG London Jazz Festival
Sam Street
Thursday, November 28, 2019
A dazzling mechanical musical travelogue entrances at the Southbank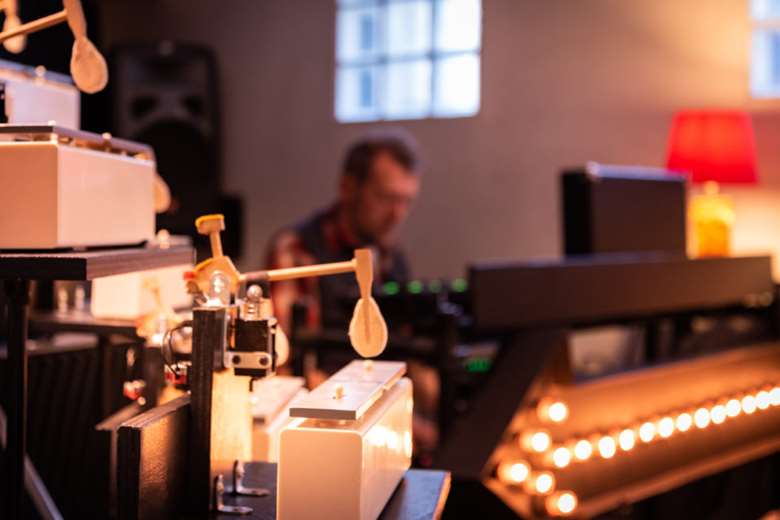 The Purcell Room was transformed by the contraptions and creations of Stubbleman: the latest musical endeavour from Pascal Gabriel. Before the concert everyone in the audience was passed an envelope, the contents of which explained we were about to witness every track from Stubbleman's debut album, Mountains and Plains, performed in full, and continuously, by automated instrumentation.
On stage were an array of instruments and contraptions set up for the unmanned performance and when Stubbleman finally appeared on stage, he explained how he had created each of the instruments in his shed; just adding to the ingenuity and experience of the evening. After his brief introduction, Stubbleman took a back seat behind a piano. He was joined by a bass guitarist for the performance, but the set up was designed to make the automated instruments the real centre of attention.
Gabriel explained that he chose to use automated instruments to "compliment the repetitive nature of the arpeggios of the music", something which worked incredibly effectively. The self-made automats and drones helped to create an ambient backing which perfectly accompanied the live performance from Stubbleman himself.
Projected on screen behind the stage were videos and time-lapses to help the crowd retrace Gabriel's coast to coast road trip across America which had inspired his debut album. We found ourselves lost in shots of unforgiving Texas plains whilst our eyes darted around the stage trying to discover which automated instrument was contributing each unique sound for every different movement.
What could have easily felt like a gimmick or novelty instead felt like a futuristic yet emotional journey that we were fortunate enough to witness. When Stubbleman takes his project on tour in 2020, be sure to not miss this mesmerising musical experience.