Christian Scott Atunde Adjuah plus Madison McFerrin @ EartH Hackney, EFG London Jazz Festival
Hugh Morris
Thursday, November 28, 2019
A dazzling double-bill of cool contemporary US jazz does the business in Dalston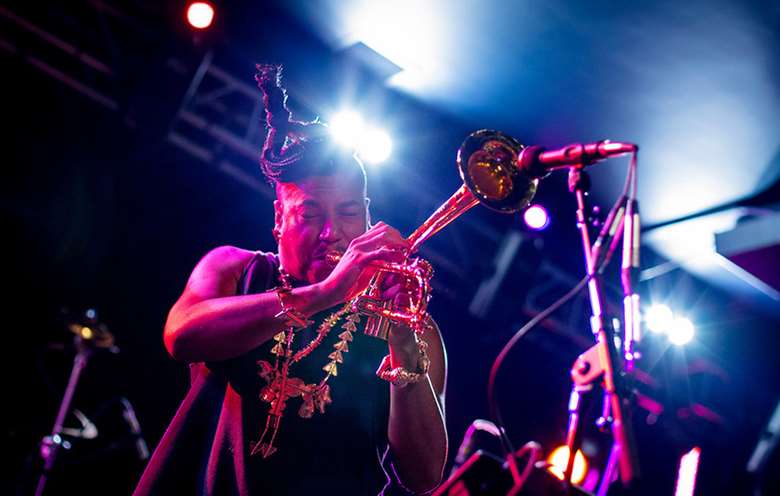 "Y'all should feel really special", joked singer Madison McFerrin to a capacity EartH crowd. "Either that or [like] guinea pigs". McFerrin is switching paths for her December release 'You and I', turning her subtle acapella loops into a vocal-led blend of close instrumental harmony and bassy, digital beats. The new sound pits introspective acapella textures against glacial grooves with more than a hint of Erykah Badu. The set peaks with the heartfelt 'I'd Like to Know You Better', drawing on the soul thread running through the set. With more performances, McFerrin's new direction will feel less of a brave leap and more of a comfortable stretch.
Say 'stretch' in jazz circles, and trumpeter Christian Scott Atunde Adjuah immediately comes up – 'stretch music' is Scott's own term that summarises his omni-appreciative philosophy of music making. Ancestral Recall retains this outlook, but with the goal of reaffirming the rhythmic complexity of African American music; high-intensity acoustic percussion is in, hip-hop and trap signifiers are phased out. Scott is really finding purchase in this version of his 'stretch music', an energy channelled by his exemplary bandmates. The contribution of Weedie Braimah on djembe and congas is immense, concealing Corey Fonville's drums in full band textures to give scope for wild, exploratory solos.
Scott's own, stand-and-deliver soloing will probably never change, but in Logan Richardson (alto sax) he has a complementary sideman who satisfies the need for less fiery, more soulful improvisation. As is expected, Scott also offers two powerful speeches that might grate if they weren't so heartfelt. However, the band excelled in finding emotional resonance beyond the irate and impassioned; 'Songs She Never Heard' had hard-edged force and passion, but also an unexpected jubilance almost verging on rejoicing. This emotional range is perhaps the subconscious 'stretch' Scott has been aiming for.