Empirical, Purcell Room (2) – EFG London Jazz Festival 2018
Thursday, November 29, 2018
One, two.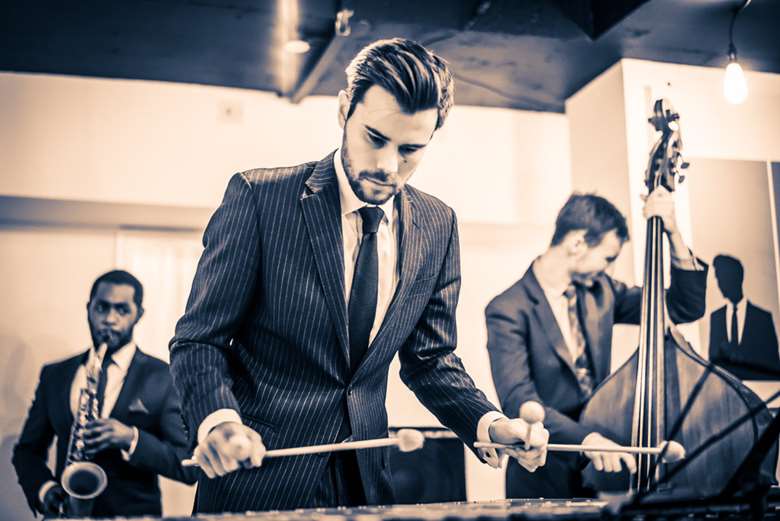 .. one, two, three, four.
A sharp blue light cuts out four male silhouettes dressed in suits. Sparks of metal and wood take over the Purcell Room beat by beat. The quartet: Nathaniel Facey, alto sax; Tom Farmer, double bass; Lewis Wright, vibraphone and Shaney Forbes, drums; begin the show with eyes closed as if each one were hypnotised by his particular instrument. The result is a blend that is full of dissonant and precise nuances that hook you in from the first moment.
Their formal dress code of browns and greys contrasts with the energy of their innovative jazz that, far from constrained, vibrates and snakes through the room bringing the audience closer to the stage, despite its large size, to create a more intimate atmosphere. "No service" is a song that exemplifies their modern influences. Inspired by a permanently connected world, reflects on how indispensable it is to be online nowadays.
Tropical vibes of subtle drums and vibraphone join a more romantic tone in the second part, whispered by the double bass and the saxophone. The audience's imagination wanders among sandy and wet sounds that clear all worries and calm minds. In one of their last songs, the group begin a string of rhythmic clapping. The euphoric public follow giving the timber a rather physical and Latin touch.
Empirical started more than 10 years ago, for a tribute concert to the great American saxophonist, Eric Dolphy. "There is no set thing. You have to be open to anything," says bassist Farmer. "Today it was quite astral. I was thinking of space. We haven't played for a while, so we've got this intensity to come out," he adds.
– Lucía Camblor