Tomorrow's Warriors' Legacy Real Winner At JazzFM Awards 2019
Monday, May 13, 2019
Jez Nelson and Chris Phillips open proceedings in time-honoured fashion by asking the sponsors' tables to keep the noise down, and we're off into the JazzFm Awards' annual summation of the nexus of art and commerce.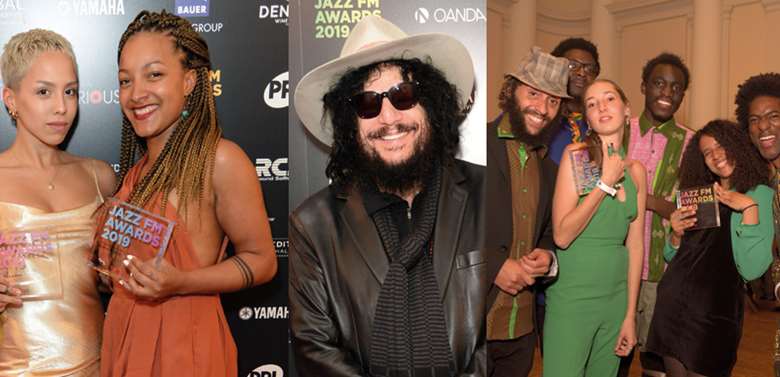 Perhaps the exigencies of the latter have dictated the absence of a house band for this year's entertainment – instead Eric Bibb and Cherise Adams-Burnett duet on a piece of polished pop-acoustic balladry. Then we're down to business as Keyon Harrold presents the International Award to forward-thinking drummer/bandleader Makaya McCraven. Bibb, perhaps predictably, wins Blues Act, and Jean Toussaint gets the Best Instrumentalist plaque from a stately Julian Joseph, with an accompanying round of heartfelt acclaim from the floor. Elsewhere evidence of the consolidation of the 'Sound of Young London' dominates.
Jacob Collier vaults onstage to collect the PRS Gold award, then bounds to the piano to deliver a dense thicket of musical exposition, through which he leaves the listener to search for a negotiable pathway of melody. Next up Cassie Kinoshi acknowledges her Breakthrough act award win via video link from Connecticut, whence her burgeoning compositional career has taken her. Back in the room, Nubya Garcia has returned from tour to bag the UK Jazz Act, while Poppy Adjudha is all glamour picking up Best Soul Act, and Adams-Burnett looked poised as she returned to collect Vocalist Of The Year in a golden dress.
Sons Of Kemet get Album Of The Year, with front man Shabaka Hutchings murmuring into the mic: "We can only go as far as our imaginations can take us", and his imagination continues to take him further each year. Young America is represented by an engagingly humble Louis Cole, looking every bit the hipster geek in faux leopard fur and sneakers. Classic American jazz was represented by Blue Note supremo Don Was, who embellishes the enduring mystique of his Music Biz Elder tropes of hat, shades and gravelly voice and a video endorsement from world-famous non-jazz drummer Ringo Starr.
Further entertainment comes in the diverse forms of Beverly Knight and her scaled-down band delivering a tribute to Aretha Franklin, while the Dead Ringers crew created a scarily convincing comedy double-act between Jools Holland and Donald Trump. Each recipient pays tribute to their inspirations and supporters, and as the evening progresses a theme starts to emerge as act after act cites the Tomorrow's Warriors organisation as a crucial factor in their musical development, and Jazz Re:Freshed for helping spread the word. So it's fitting that Gary Crosby and Janine Irons take to the stage alongside Steam Down, the latter clad in vivid Afro-print fabrics to collect the Live Experience trophy. By Janine's reckoning 19 of the 39 nominees are ex-Warriors; surrounded by their youthful cohort, she and Gary resemble proud parents at a school prize-giving. Steam Down play us out, all vibe and visceral excitement. Let's hope this remarkable flowering endures, resisting chilly political and economic predictions, to bear further fruit into next year and beyond.
– Eddie Myer