Diana Krall, King Crimson and Terence Blanchard elevate Umbria Jazz Festival
Tim Dickeson
08 August 2019
Tim Dickeson reports back from the booming Umbria Jazz Festival as it plays host to some of the biggest names in jazz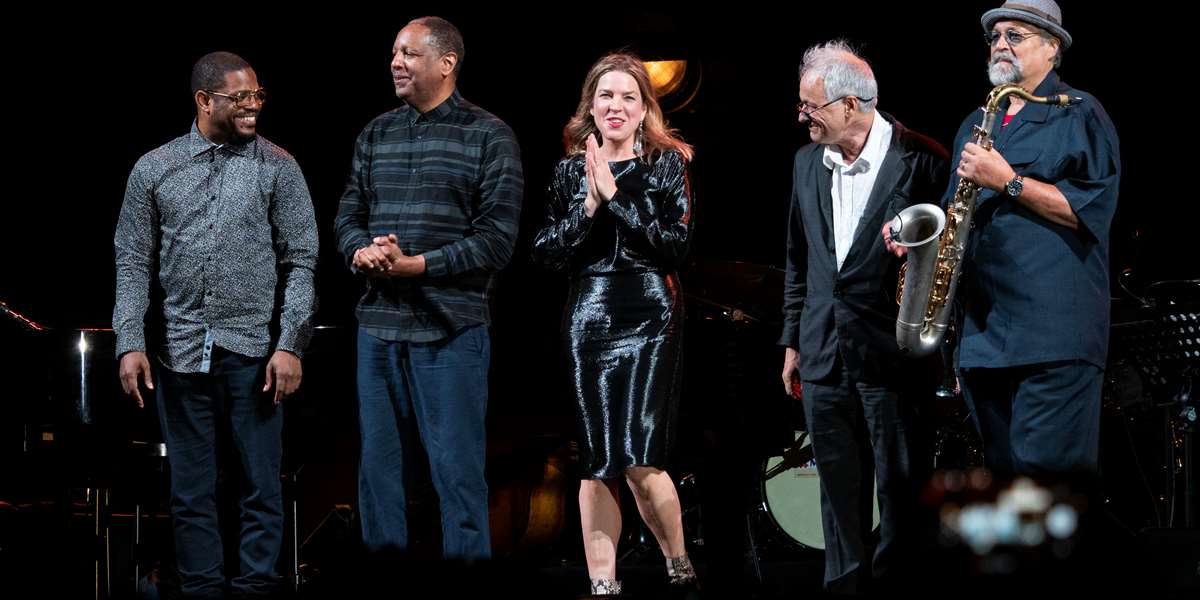 The closing press conference at this year's Umbria Jazz Festival was full of good news for Italy's largest jazz gathering. Record numbers of visitors and a boom in both ticket sales and merchandising returned an income in excess of €1.6m. And it's not hard to see why audiences flock here. Over the course of the 10-day festival there were 300 events (mostly free) in twelve different locations. Ninety-five bands featuring almost 500 musicians plus workshops, children's events, swing dance lesson, DJ sets and a New Talent contest, made it one of the most comprehensive editions in the festival's history.
As with most big festivals these days, the main venue featured a range of music including pop, rock and jazz, with the income from this ensuring there is a wide choice of pure jazz every day in the smaller venues, and non-stop music on the free stages.
Diana Krall, Chick Corea, Michel Camilo, George Benson, Snarky Puppy and Kamasi Washington all featured in well-attended shows in the Arena Santa Giuliana. The biggest crowds however came in for Paolo Conte, Nick Mason's A Saucerful of Secrets, Thom Yorke, Lauryn Hill and King Crimson.
Canadian jazz star Krall (pictured top) played a brilliant set alongside special guests Joe Lovano and Marc Ribot, both of whom brought a new slant to her show, adding contrasting dark and light elements. Ribot cranked out some really spiky guitar with Lovano as the perfect foil, blowing more melodic lines around the largely Great American Songbook choices from Krall. Overall a very different show from the vocalist, the change of style really suited her, as she exuded obvious joy at being among these new musical friends.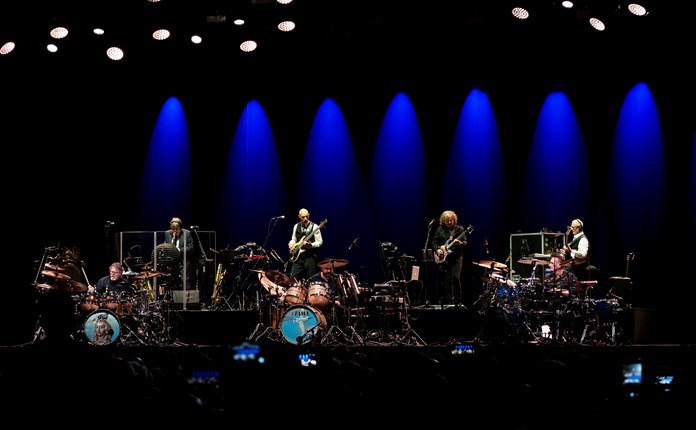 As a lifelong King Crimson (above) fan the 50th anniversary show was always going to be a personal highlight of this year's Umbria programme. A capacity crowd had filled the seated stadium and there was palpable anticipation in the air. Featuring a two-tier set-up with three drum kits – Pat Mastellotto to the left with the middle drummer doubling on keys – behind them was Mel Collins (sax), Tony Levin (Stick and basses), Jakko Jakszyk (guitar, vocals) and esoteric guitar maestro Robert Fripp, dapper as ever, far right.
After a few introductory notes and some rumbling drums, Fripp started a familiar and ominous sounding guitar phrase that quickly exploded into 'Larks Tongues' in Aspic (Pt 1)' to the absolute joy of the crowd who roared their approval. And so the show continued: 'Moonchild', 'Court of the Crimson King', 'Discipline', 'Frame by Frame', 'Islands', 'Cirkus', 'Epitaph', 'One More Red Nightmare', 'Indiscipline', 'Starless' – it was a cornucopia of delights.
This stunning two-part show to the (let's be honest) slightly ageing audience who sang the songs and banged their heads in all the appropriate places. The arrangements may have stayed true to the originals, but it all came across as fresh, vibrant and above all great entertainment. Unsurprisingly they encored with '21st Century Schizoid Man'. Not a word was uttered by the band to the audience, as the music was King…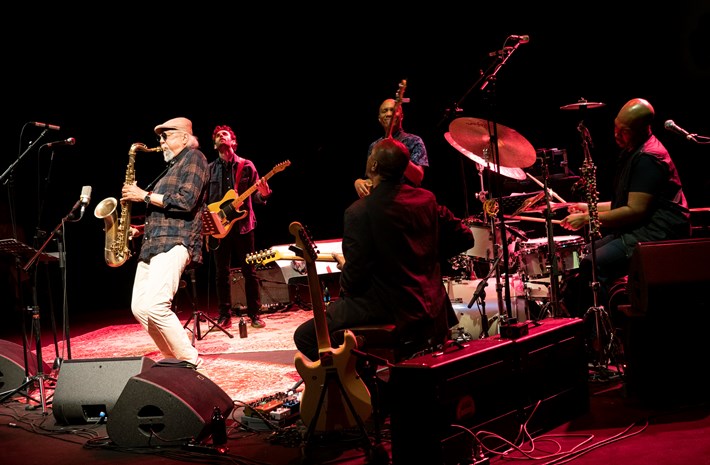 At 81, Charles Lloyd (above) is still pushing the boundaries. His set with the double guitar front line of Julian Lage and Marvin Sewell was a nice surprise. Lloyd was happy to direct and let the guitarists take the lead but he is eminently capable of cutting in and taking some great sax and flute solos himself. This was the first time the band had played together but such is Lloyd's class that you would have never have known.
Umbria stalwart Paolo Fresu played a beautiful duo concert with Lars Danielsson that had a rammed Morlacchi Theatre (below) in raptures. Another octogenarian, Enrico Rava, with Francesco Diodati on guitar and Francesco Bearzatti on sax, blew the audience away with a really powerful, age-defying set.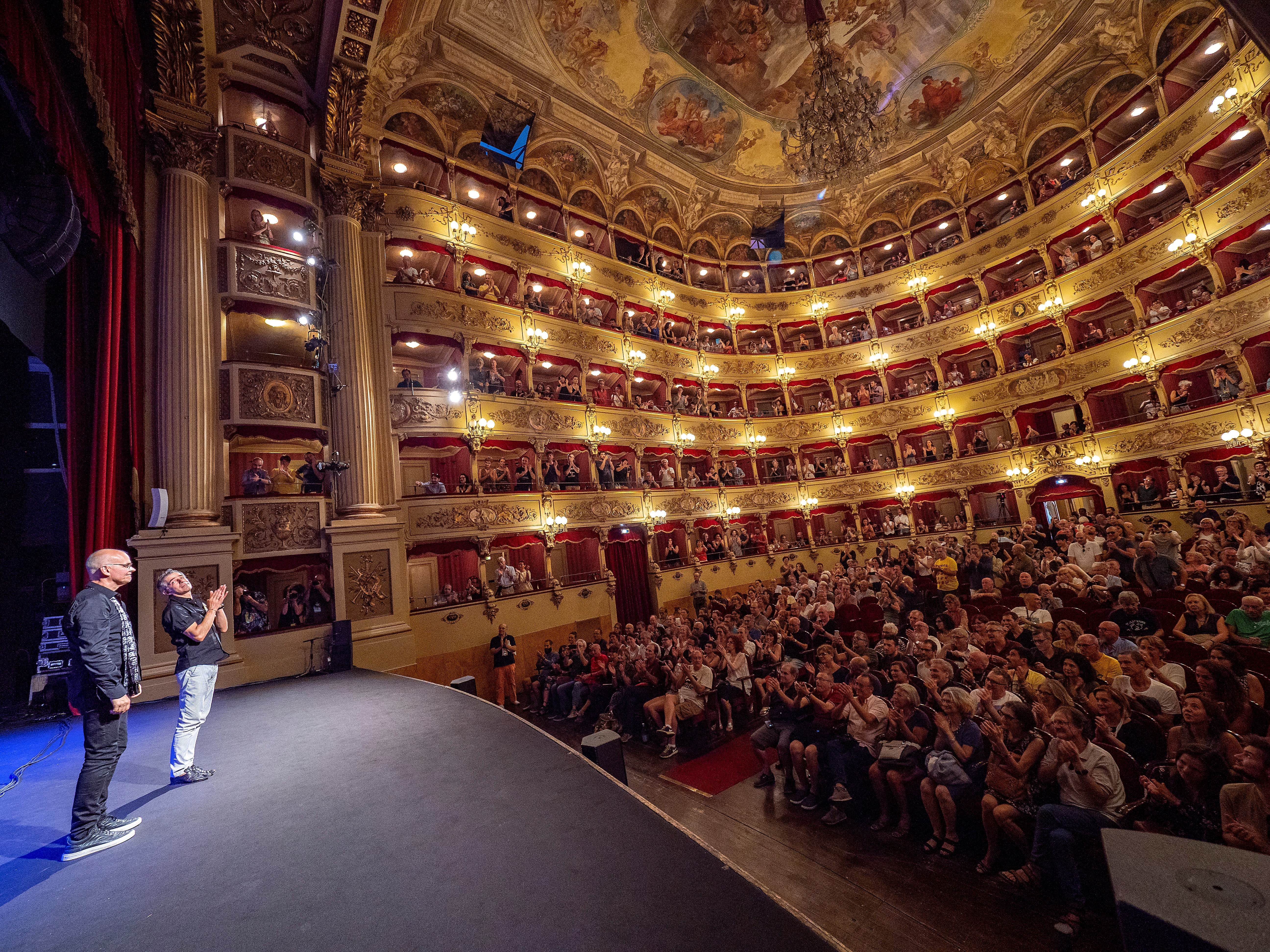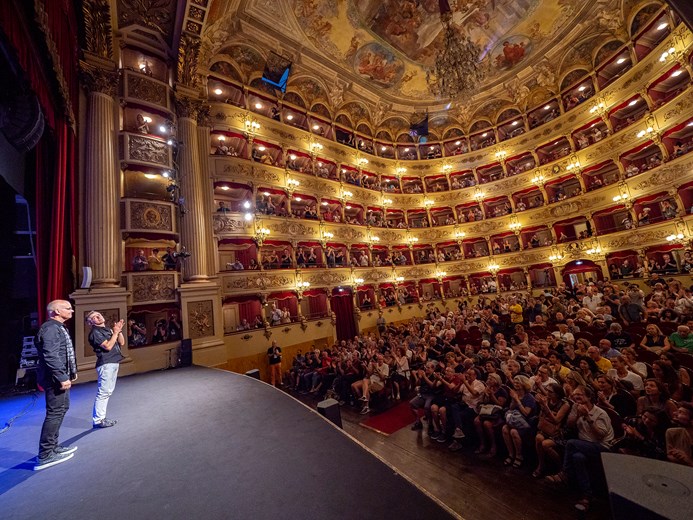 Of the (slightly) younger acts at this year's festival there were also great performances from trumpeters Terence Blanchard and Marquis Hill, and new Blue Note signed vibist, Joel Ross. Blanchard's E-Collective (below) has a fresh approach, undoubtedly with some subtle elements of fusion in the mix, but jazz-rock this is not. Guitarist Charles Altura is a real find as is young bassist David Ginyard Jr, both adding much to the shape of the sound. Gerald Clayton on piano and keys was a rock at the band's core.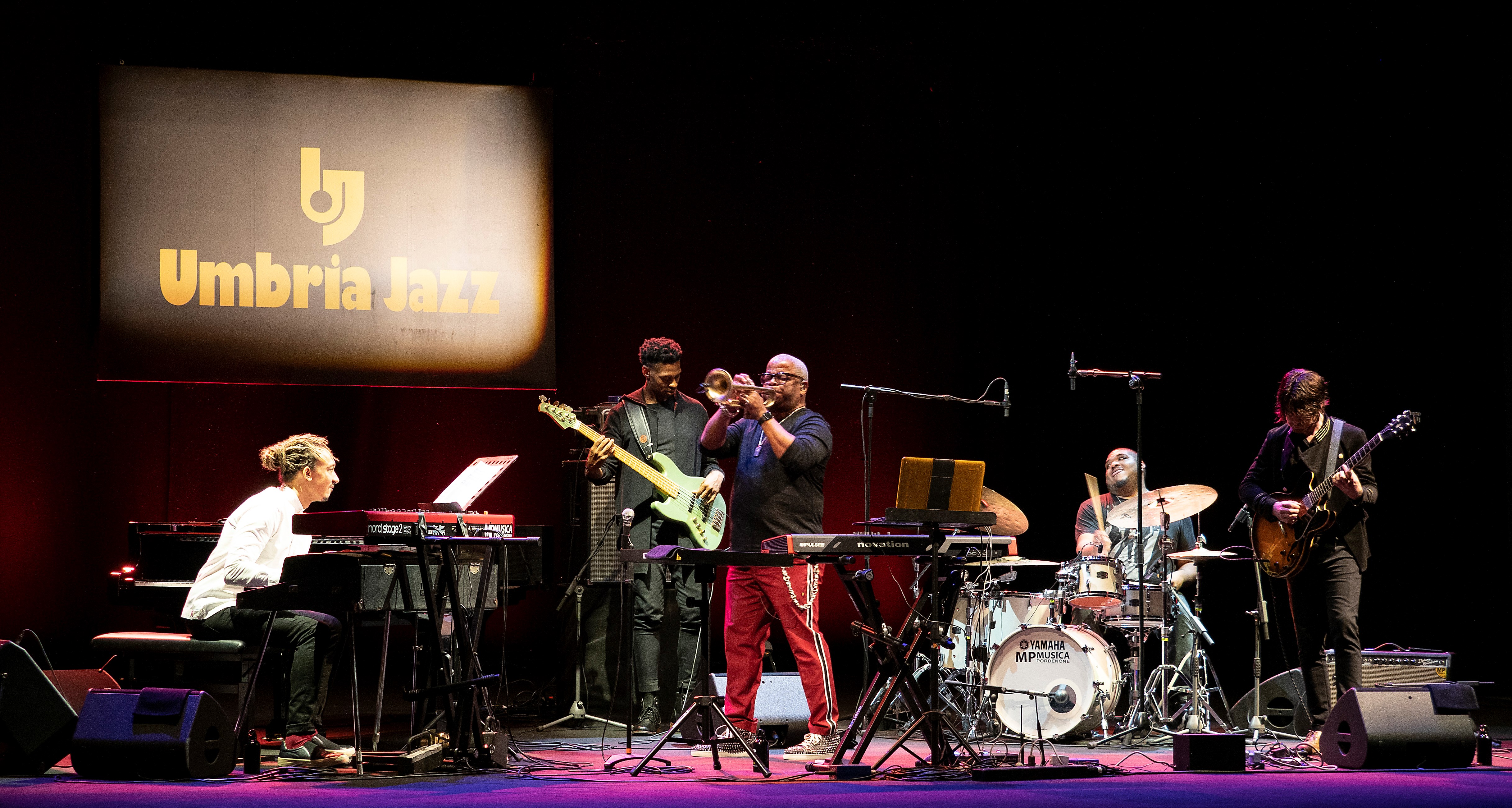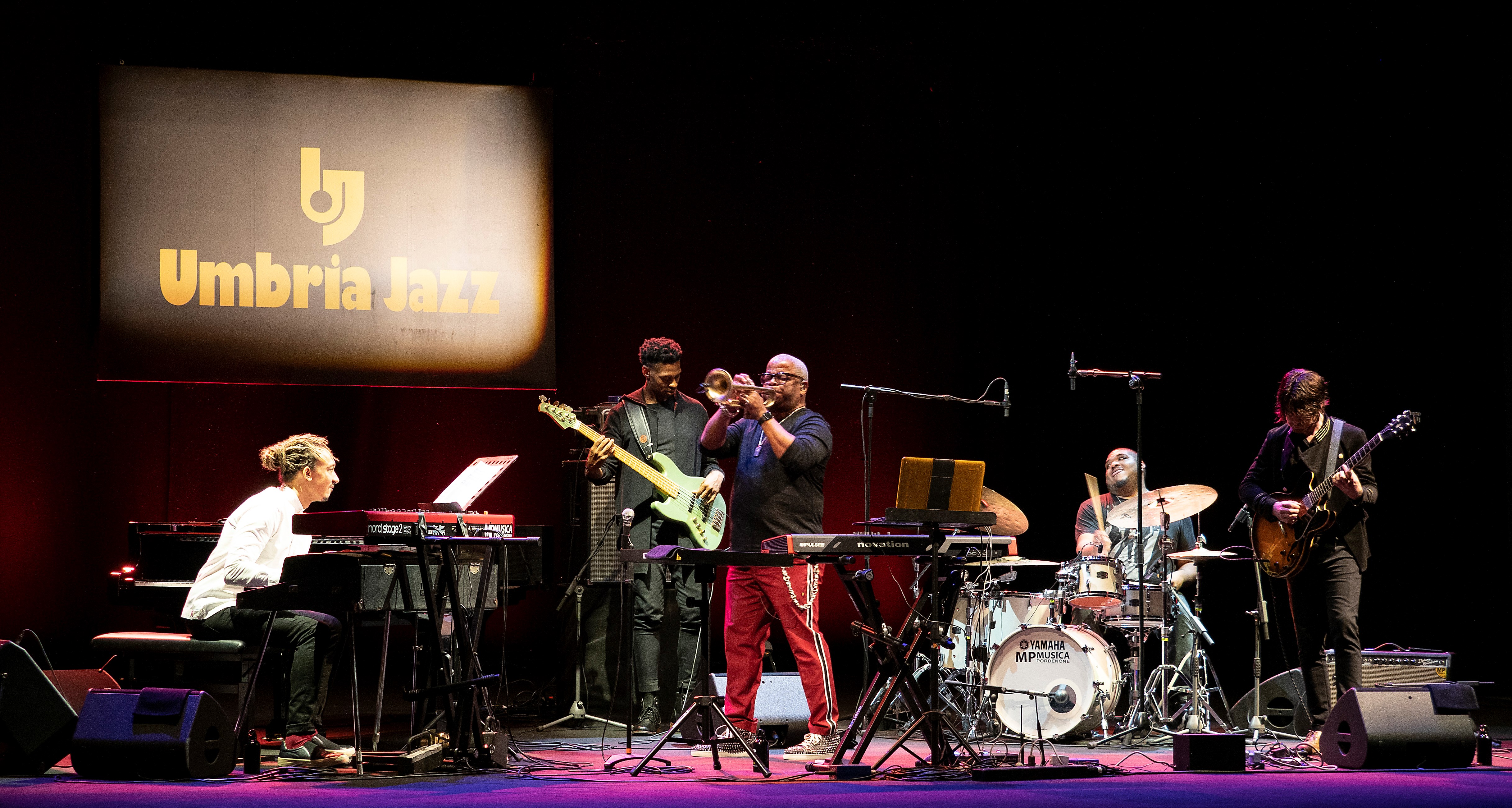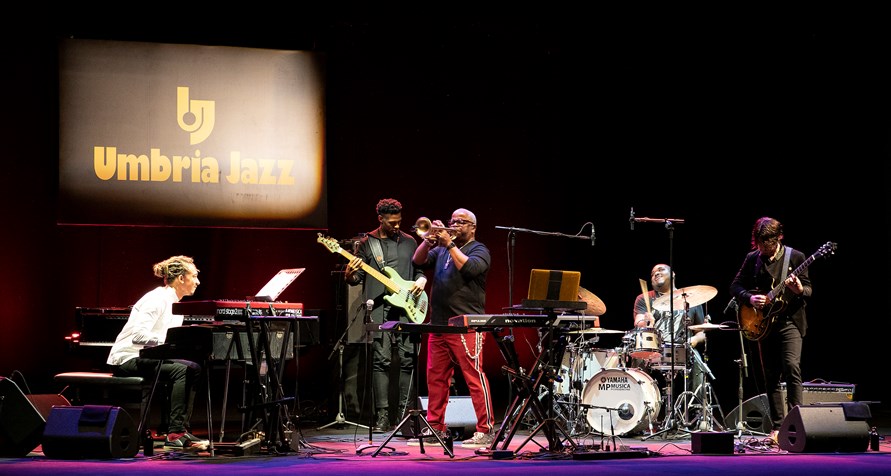 Marquis Hill fronting his own band has matured well since the last time I saw him in Marcus Miller's Band. Ross, the gifted Chicago vibes player, played with his own band and also with Marquis Hill, was equally impressive in both settings.
The festival added a new venue for this year, the stunning Auditorium san Francesco al Prato. This church had been used years ago in the early days of the festival, before it was partly destroyed by an earthquake, but has now been restored. Pianist Uri Caine was given the honour of the first concert in this venue.
This was a great edition of Umbria Jazz, that was well programed and really entertaining. More subtle changes and surprises are promised in the years leading up to the festival's 50th anniversary in 2023, so watch this space!
(Photos by Tim Dickeson)