Billie Holiday
Stuart Nicholson

A tragic childhood, a troubled personal life, addiction problems – but Billie Holiday rose above it all to become one of the greatest singers of the 20th century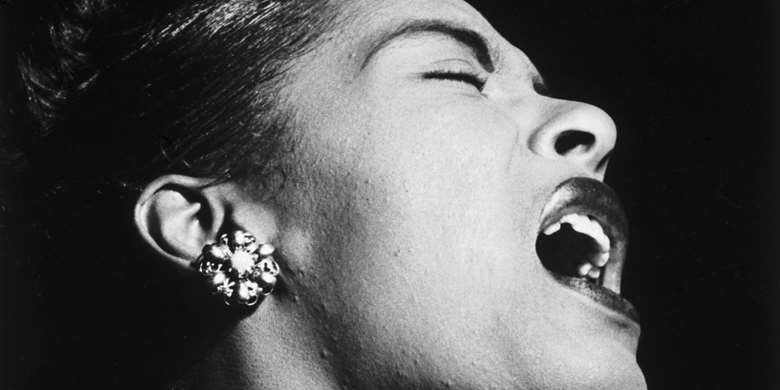 Holiday, Billie (b. 7th April 1915, Philadelphia, d. 17th July 1959, New York City). Holiday was born in Philadelphia and registered at birth in as Elinore and the father's name was given as Frank DeViese by her mother Sadie on 24th April 1915; troubled childhood, committed to care on 5th January 1925 and into protective custody on 24 December 1924 after being raped by Wilbert Rich — she was just 11 years old.
On release did housekeeping chores in brothel; attracted to music and would learn songs from recordings of Louis Armstrong, Bessie Smith, Sophie Tucker and Ethel Waters; began career singing along with recordings in brothel for tips from customers; at 14 years old followed her mother to Harlem; arrested on 2 May 1929 for "Vagrancy" — a charge then commonly used for prostitution, which was harder to prove — sent to hospital followed by "100 days in workhouse," at Blackwell's Island on the East River.
On release all she wanted to do was sing; first job in Harlem at Grey Dawn, then Mexico's on 133rd Street, Bright Spot on 7th Avenue, Alhambra Bar and Grill, and Covan's, behind the Lafayette Theatre, where John Hammond heard her in 1933; led to record debut at age 18 with Benny Goodman combo; sang in Harlem clubs (where she had become well known) 1933-35; recorded with pianist Teddy Wilson 1935-9; as leader of her own combos 1936-42.
Recorded several classics of jazz during this period, especially well remembered are the sides with tenor saxist Lester Young; vocalist with the Count Basie Orchestra 1937; vocalist with Artie Shaw's Orchestra 1938; booked into Barney Josephson's Cafe Society Downtown where she was a success, debuting the song "Strange Fruit" which she recorded on the small jazz independent label Commodore; signed with the Decca label she had hits with "Lover Man," "That Old Devil Called Love," 'Don't Explain," "Good Morning Heartache," "I Loves You Porgy" and "My Man"; worked as a single and was regularly booked into the jazz clubs on 52nd Street (known as Swing Street) where she steadily rose to stardom in 1940s.
Appeared with Louis Armstrong in the motion picture New Orleans; jailed for a year and a day on drug charge in highly publicised trial in 1947; as a result Cabaret Card withdrawn meaning she was not permitted to play New York clubs; release from prison celebrated by a standing room only concert at Carnegie Hall, but was reduced to playing clubs outside New York and asking price went down; toured Europe in 1954; signed by Norman Granz for his Clef label (later amalgamated into Verve) she produced several latter day classics — Billie Holiday Sings (1952), Billie Holiday (1954), Music for Torching (1955), Songs for Distingué Lovers (1957) and for Columbia Records Lady In Satin (1958) which was reportedly her favourite album.

December 1957 appeared on the CBS television show The Sound of Jazz widely believed to be the finest ever presentation of jazz on the television screen; by now her personal life was beginning to catch up with her with drug, alcohol and nicotine addiction causing intonational problems; toured Europe in 1958; at Monterey Jazz Festival on 5 October 1958 clearly under influence of alcohol, or drugs, or both; February 1959 flew into London to appear on the ITV show Chelsea at Nine; made her final public appearance at the Phoenix Theatre, New York City in May 1959 for their Jazz at Phoenix show, had wasted away to ninety-five pounds, her head lolling and spittle running down her chin in dressing room yet transformed herself into a creature of great dignity when she went on stage but was only able to sing two of her planned seven numbers.

30 May she collapsed at home and was admitted to the Metropolitan Hospital, New York, where she died on 17th July 1959; a requiem mass was held for her at 11am on 22 July 1959 at St. Paul's Roman Catholic Church on Columbus Circle, over 3,000 people attended, 2,400 crammed into a church built for 2,100 with the rest outside.