Dave Holland
Stuart Nicholson

Bassist Dave Holland has played with everone from Miles Davis to Thelonious Monk in an extraordinarily successful career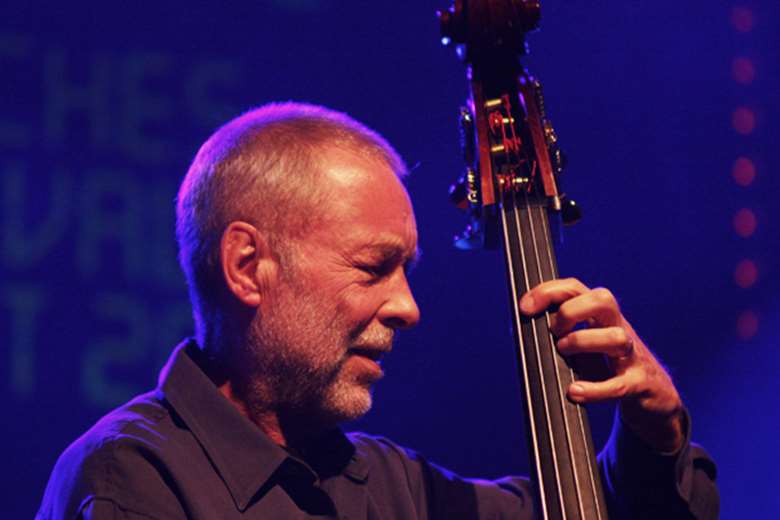 Holland, David "Dave" (b. 1st October 1946, Wolverhampton). Began playing ukulele by ear as child, then guitar at age 10; current musical craze skiffle took up tea-chest bass; bass guitar age 13; joined pop band Steve Brett & The Mavericks; heard bassists Ray Brown and Leroy Vinnegar on record and traded in bass guitar for upright bass while on tour in Germany; moved to London 1964, studied with James Edward Merrett, principal bassist of the Philharmonia Orchestra; received full-time three year scholarship from the Guildhall School of Music and Drama; joined the Roy Budd Trio, Pick Yourself Up!!! This Is Roy Budd (1967), Roy Budd IS The Sound of Music (1967), Roy Budd at Newport (1968); active on the London jazz scene while in music college, Humphrey Lyttelton, Ronnie Scott, John Surman, Evan Parker, Kenny Wheeler, Spontaneous Music Ensemble, Kenny Wheeler, Johnny Dankworth, John McLaughlin, John Stevens, Chris McGregor also backed Lulu, Roy Orbison, Johnnie Ray; played several seasons in house band at Ronnie Scotts' backing artists such as Ben Webster, Roland Kirk, Coleman Hawkins, Joe Henderson.
In 1968, Miles Davis heard him in Scott's invited him to join his band; Filles de Kilimanjaro (1968), In a Silent Way (1969), Bitches Brew (1970), Isle of Wight 1970 (1970); Bitches Brew Live (1969/70), Live at the Fillmore East, March 7, 1970: It's About That Time (1970), and two tracks of Live-Evil (1970); during this period also worked with Chick Corea, Thad Jones-Mel Lewis Jazz Orchestra and Joe Henderson; 1970-71 formed the group Circle with Chick Corea plus Barry Altschul (d) and Anthony Braxton (saxes) albums include Circle/Paris - Concert (1971); 1972 debuted as a leader with Conference of the Birds (which takes its name from the Persian literary masterpiece by poet Farid ud-Din Attar); participated in Karl Berger's Creative Music Studio; performed on Bonnie Raitt's album Give It Up; on 15th June 1972 played on Thelonious Monk's final public performance.

1972-3 played with Paul Bley; recorded with Anthony Braxton 1972-75; duo sessions with saxophonist Sam Rivers; 1973-75 played with Stan Getz; 1974 played with Lee Konitz; 1975 formed Gateway Trio with John Abercrombie (g), Jack DeJohnette (d) Gateway (1976), Gateway 2 (1978), Homecoming (1995), In the Moment (1996); 1977 started playing solo bass concerts Emerald Tear (1977), and solo cello recording life Cycle (1983); 1978 with vocalist Betty Carter one year; also recordings with Maria Muldaur, bluegrass players John Hartford, Norman Blake, Vassar Clements; in 1982 formed own band for touring and recording that included Kenny Wheeler (t), Steve Coleman (as), Julian Priester or Robin Eubanks (tmb) Jumpin' In (1983), Seeds of Time (1984) and The Razor's Edge (1987); trio with Coleman and DeJohnette Triplicate (1988); band with Coleman, Kevin Eubanks (g), Marvin "Smitty" Smith (d) recorded Extensions (1990); in 1990s recorded with Joe Henderson, Betty Carter, Herbie Hancock; 1991 formed World Trio and duo album with Steve Coleman; 1993 solo bass album One's All; formed new band Dream of Elders (1995) and quintet Points of View, Prime Directive, Not for Nothin, Extended Play: Live at Birdland and Critical Mass; 2002 formed big band and with What Goes Around he won his first Grammy award, Overtime (2005) that followed also awarded a Grammy; 2006 recorded Critical Mass with quintet; 2008 recorded Pass It On with sextet; 2009 co-founder of the Overtone Quartet with Chris Potter (ts), Jason Moran (p), and Eric Harland (d); 2010 recorded Hands in duet with flamenco guitarist Pepe Habichuela and with his octet recorded Pathways;
2013 formed Prism, a fusion quartet, Prism (2013); 2014 recorded the Art of Conversation with Kenny Baron; in 2018 reunited with saxophonist Evan Parker, a close friend since their days on the 1960s London jazz scene, to record Uncharted Territories (2018).