Ambrose Akinmusire: "I can take solos that are clean and pristine but what happens after that?"
Friday, July 31, 2020
Coming to prominence while a just teenager, and still only in his 30s, American jazz trumpeter Ambrose Akinmusire has already won a lifetime's worth of awards and accolades. With the release of a superb new Blue Note album On The Tender Spot Of Every Calloused Moment – a powerful expression of the contemporary black experience – his profile is surely set to soar still higher. Kevin Le Gendre talks to this most literary of musicians about his love of language and desire to pause and reflect in the heat of the moment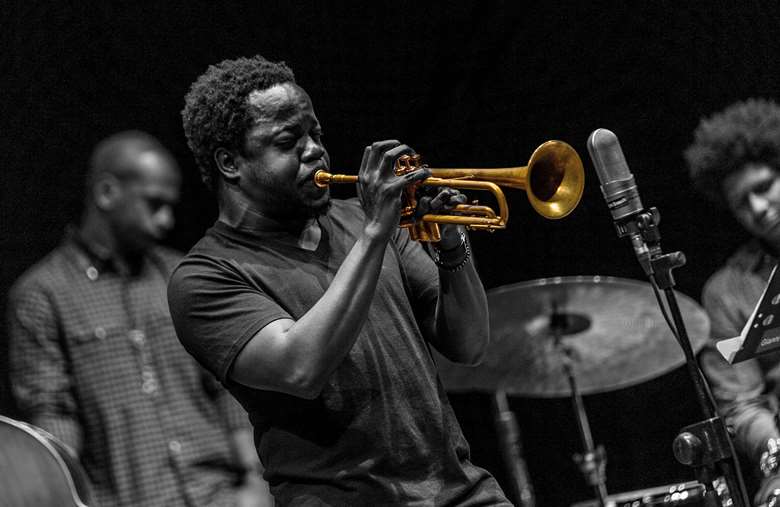 There is no definitive rulebook on how to title a song. Vast differences in vocabulary and personality can be seen from one artist to the next. Ambrose Akinmusire has a distinct literary flourish, paying as much attention to his choice of words as he does notes and tones on the albums he has recorded in the past decade. As The Heart Emerges Glistening, The Imagined Savior Is Far Easier To Paint, A Rift In Decorum and Origami Harvest were all named after long gestations. The births needed thought.
"Usually I brainstorm… it could be maybe 100 titles I'll come up with, then I'll keep whittling them down, chopping them up until I get one title that has the essence of all the 100 titles," he explains on a clear line from Oakland, California. "Yes, I am very much interested in language, including its limitations. But I think I'm mostly interested in the gesture of words, how they hint, how they can go forward, but also be hinting at something to the left. And that's how I come up with these titles."
Akinmusire's engagement with all things written is extensive, and off the top of his head he cites a current reading list which is eclectic: doyenne of African-American activism Angela Davis; beat generation enfant terrible William Burroughs; Afro-Futurist Grande Dame Octavia Butler and Morgan Parker, whose poetry collections Magical Negro and There Are More Beautiful Things Than Beyoncé offer the kind of intellectual electricity that would appeal to minds that are anything but switched off.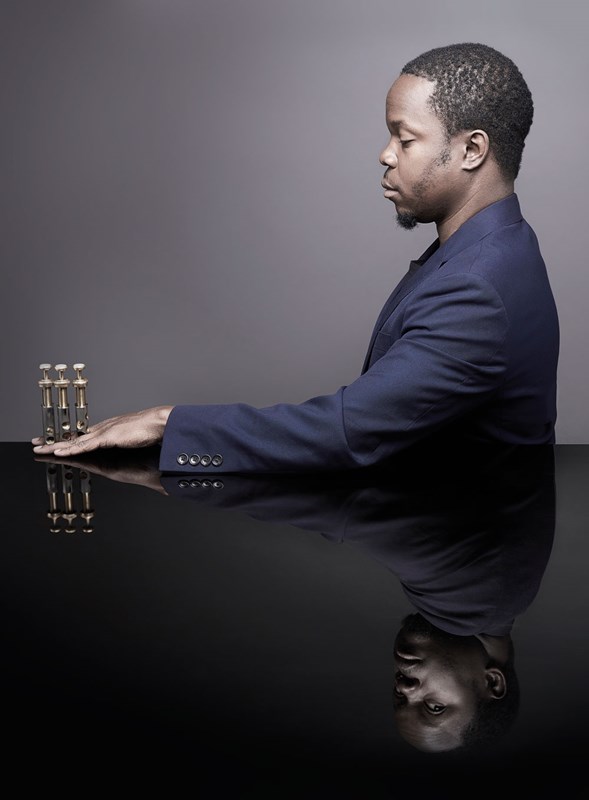 Ambrose Akinmusire (photo: Pierrick Guidou)
Some might say that Akinmusire errs on the side of willful obfuscation rather than transparent explanation, but that potential criticism is of no concern to him. Spelling things out has never been on the agenda. With regard to his new set, On The Tender Spot Of Every Calloused Moment, he chuckles at the idea of didactic breakdowns.
"I wouldn't. That's part of it," he offers without any hesitation, before adding: "I try to make titles that people can return to and also have different interpretations of."
However, the trumpeter identifies a key theme in this work. "What I can say is that the album has a lot to do with me thinking about expressing the black experience in a contemporary setting. So the title speaks to that. It could be super literal and just talk about pain… the resilience of humans. But the title doesn't mean one specific thing."
Just a few days after our conversation, the story of Ahmaud Arbery, an unarmed black jogger shot by two white men in Brunswick, Georgia, started to gain traction in the international media, highlighting yet again the alarming regularity of US race-related murders, and the fact that these deaths inevitably frame any debate on what it means to be African-American in the land of the gun and the home of the slain. 'Tender' could reference such stark intimations of mortality but beyond the obvious physical and emotional resonance there is a less obvious financial connotation. "I wrestled with the word tender the most," Akinmusire says decisively after a moment's pause. "But what sold me on tender is the fact that it could hint at commerce and money."
Listeners are hence left to ponder capitalism, and the substantial collateral damage and mental and physical wounds left in its wake, as another element in a multi-layered matrix of meanings, though the trumpeter also reveals that 'calloused' evoked 'the colour maroon… and a dark beauty', as well as skin that has had time to scar.

The stimulus encoded in Akinmusire's language is matched by a talent – or, rather, bonded to it - that has undergone sustained growth following auspicious beginnings. British audiences took note of him as a teenager who appeared in Steve Coleman's Five Elements, alongside another precocious trumpeter, Jonathan Finlayson, back in 2001 (both are heard on the double album issued that year, Resistance Is Futile), while subsequent sessions with Vijay Iyer & Mike Ladd, (on 2003's In What Language?, a valuable treatise on immigration and discrimination in places of transit), Aaron Parks and Josh Roseman confirmed those favourable first impressions. In acoustic and electric settings, be the vocabulary rooted in groove, swing or freer forms, Akinmusire acquitted himself with a commanding maturity. Winning the 2007 Thelonious Monk International Jazz Competition would also greatly further his cause.
His 2008 debut Prelude To Cora was his opening salvo as leader, and the album's several original compositions served notice of both a strength of character and desire to engage with subjects that are far from easy, as in 'M.I.S.T.A.G. (My Inappropriate Soundtrack To A Genocide).' But it was his mesmerising performance on the piece 'Henya', from As The Heart Emerges Glistening, his 2011 Blue Note debut, that significantly raised his profile. Many were taken by the way Akinmusire served the soulful, simmering melody with great poise, sometimes offsetting warm, well-paced phrases with agitated notes that wavered and wriggled in tight pockets of tension.
While an appearance on Kendrick Lamar's 2015 tour de force, To Pimp A Butterfly consolidated a longstanding interest in hip-hop, further opportunities in jazz fuelled his development. He became a member of the Blue Note All Stars alongside such prime movers as Robert Glasper and Lionel Loueke, but also noteworthy was a commission from the Berlin Jazz Festival in 2017, the final edition under the artistic direction of Richard Williams, in which he was asked to respond to four songs recorded by blues singer Mattie Mae Thomas, an inmate at Parchman Farm prison in Mississippi back in the 1930s.
The project took on a personal dimension when Akinmusire got down to brass tacks. "I started doing research and realised that the penitentiary where she was a prisoner was literally seven minutes away from where my mom lived, " the 38-year-old reveals in a surge of excitement. "So I asked her about it and she said 'yeah, we used to walk right past it every day, and it just made it all the more real. I could relate to the blues a little bit more, particularly the Delta blues. That project put me right in the centre of questioning what the blues is and how it affects me, and how I can express it in 2020."
In real terms that mission means Akinmusire circumnavigating perennial tropes such as the "12 bar or…the moan and groan." Regardless of whether the blues as the trumpeter imagines it is explicit or implicit, the intricate musical vocabulary of On The Tender Spot Of Every Calloused Moment should leave no listeners unmoved, primarily because of the composing, soloing and cohesion of a fine quartet (bassist Harish Raghavan, pianist Sam Harris and drummer Justin Brown). A decade's worth of gigging has significantly cemented the chemistry between the players, who bring much airy understatement to a pulse but can seamlessly slide into a slightly harder backbeat without disrupting the melodic current of a given arrangement. Furthermore, the band has developed a perceptibly wily flexibility with tempo, playing with sufficient finesse and lightness of touch to blur the line between what might pass as fast and slow, as if they had somehow achieved a kind of suspension amid motion.
"Like you said it's been there on previous albums, but it's more explicit on this one," Akinmsuire confirms. "Putting these things that are extreme, almost like polar opposites right next to each other, like tempo and stillness, and eliminating the middle. I think my personality is a lot like that… my playing is a lot like that. I'm just not interested in this middle ground of much, so yeah, the music I listen to is like that.
"I love Arvo Pärt and Chopin, but then I also love Roscoe Mitchell and later Coltrane. So yeah, I'm thinking about this stuff a lot. I'm also really addicted into thinking about what it's like to pause a moment. I don't know if this show was ever popular in the UK, but there was this show called Out Of This World (in the 1980s). I don't remember any of the actors but the main character, her name was Evie, and she would put her index finger together and she would pause time…then she would walk around.
"And she would change things, or go out and have an orange juice and everything would still be paused. That's something that always stuck with me, like just pausing, with everyone focusing on the emotion, and really just dealing with that. A song that represents that on this album is 'Reset.' Even the song 'Worry' is like that. But I think a lot about slow motion on a lot of other tracks, and what that would sound like.
"Justin [Brown] and I… we went to high school together," he continues. "I remember having these conversations with him where he'd be like 'man, I have this image in my head: I'm trying to sound like I'm going uphill… but in reverse.' That's what you hear especially in this setting. When he's playing with Thundercat you don't hear that."
While the relationship between the Akinmusire and Brown is a fundamental part of the creative achievement of On The Tender Spot Of Every Calloused Moment the album is also a sign of the leader's desire to both push forward artistically, and recognise those who have played a part in his journey to date. 'Roy', a tribute to fellow trumpeter Roy Hargrove, is important because the late Texan, along with Wynton Marsalis and Nicholas Payton, was a mentor to Akinmusire when he was a youngster in Oakland.
In terms of other lasting influences, Ron Miles also made him think about the importance of subtlety and space as well as tonal ingenuity, and his name matters because he is one of the less heralded of modern horn players who remains a relatively elusive soul. Miles turns up at Akinmusire's gigs whenever he plays in Denver, stays for the set, and then steals away into the night just as the players are winding down.
In any case the pivotal thing Akinmusire has learned from bandleaders and virtuosi like the above is the need to define his own aesthetic and mark out a specific vision. Conversations with the likes of Steve Coleman stayed with him as he has sought to bring new ideas to the table. Eventually, Akinmusire made a conscious decision to move from leading a quintet (with the eloquent tenor saxophonist Walter Smith III) to a reed-less group when he travelled to Japan around 2013, which is an experience he readily describes as "one of the most difficult things that I had done musically."
Historically speaking, there are markedly fewer quartets led by trumpeters than saxophonists that have become iconic, and perhaps the fact that Miles Davis and Booker Little are greatly defined by their fabulous quintet work alongside Wayne Shorter and Eric Dolphy respectively has cast their performances sans saxophone into shadow. The aforesaid Ron Miles, Wadada Leo Smith, Cuong Vu and and Avishai Cohen are some of the notable contemporary exponents of the trumpet quartet, and Akinmusire made his first foray into the format on 2017's A Rift In Decorum, an album full of musical daring recorded live at the Village Vanguard the previous year.
"I wanted to see how I could make it sound like it was more than four instruments, so it made me focus a little bit more on orchestration and voicings and colours, and figuring out how to change the sound of the trumpet for each song so it didn't feel monotonous," he explains. "And I think after doing that for six or seven years it got to a point where it felt comfortable. The Vanguard record was quartet and that was a real challenge for me to be able to play a whole week of sets, so yeah, that was really the beginning of it. Nowadays I think of it as a piano trio with a trumpet effect on it."
Even before Akinmusire was more exposed in a quartet the richness of his tone was hard to ignore. There is a particularly full, almost padded sound he achieves in the low register, which is where he strays because of his natural leanings as both a listener and player. He willingly states that his ear is taken with a member of the string rather than brass family. It decisively governs many of his timbral choices.
"My favourite instrument is the cello," he declares earnestly, before elaborating on his love of the bass end of the sonic spectrum. "I just think that things speak better there; because that's what I'm attracted to and that's what I hear in my head. I think 90% of the time I'm hearing a cello. That's why a lot of time you don't hear me articulating like a lot of trumpet players because it's hard for a cello to really get that."
Yet as much as he likes to take things down low, Akinmusire has also imbued his vocabulary with other signes particuliers. He can produce the softest, most sensual sounds but also roughens textures at will, so that his controlled cracking of a note stands as a dramatic punctuation in extended improvisations. All the rugged distortion evokes a distinct sense of struggle, a 21st century blues of the most personal, involving kind.
"It is, especially in sound," says Akinmsuire. "And that's something that I've been attracted to and trying to put in my music as much as I can from a very young age, pushing everything as far as you can, almost to the point of breaking (notes).
"Like I was saying earlier, pausing at that limit and trying to just teeter on the edge, pause there and see what it feels like… on the song 'Blues' it happened and I just pushed through and kept playing, and was trying to almost break it. I thought of Miles Davis, then I played something like Miles on purpose as a reference right after.
"I can take solos that are clean and pristine but what happens after that?" he reflects, before revealing a legend's advice thereon. "One of the first things Wayne Shorter said to me (I think Miles said it to him) was, 'You sound great, but can you sound like you don't know how to sound great!' That's something that really stuck with me."
On The Tender Spot Of Every Calloused Moment is out now on Blue Note
This article originally appeared in the July 2020 issue of Jazzwise. Never miss an issue – subscribe today!
Listen