Bud Powell: The Agony and the Ecstacy
Brian Priestley
Tuesday, October 26, 2021
Brian Priestley celebrates Bud Powell's place at the forefront of modern jazz, revisits his achievements alongside Charlie Parker at the birth of bebop, and explores the darker side of Powell's exceptional abilities, which saw him endure spells in psychiatric hospitals and periods taking hard drugs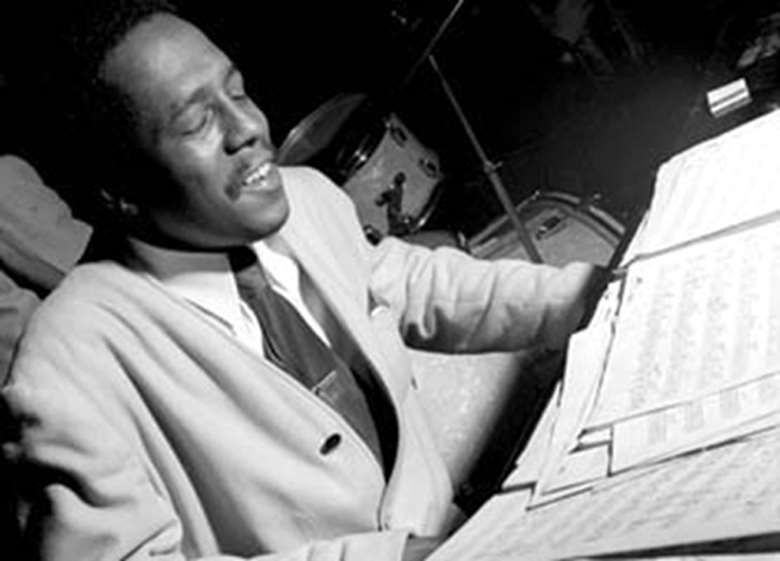 You have to wonder why it is that Bud Powell only gets lip-service from most fans and even historians. Especially when fellow pianists all acknowledge how important he was. Not only did he have a host of contemporary imitators, but there's copious evidence that he was much admired by his seniors – Monk, Hank Jones, even Art Tatum – and by younger pianists such as Evans, Tyner, Hancock and Corea. The last-named did a whole album dedicated to Bud two decades ago and, now that Keith Jarrett has released a version of his tune 'Dance Of The Infidels', it's official that jazz pianists idolise and emulate Powell.
Maybe we should also be listening to the non-pianists who worked with him, and observed him at his best. As Sonny Rollins put it recently, "I think he was a genius. When I was coming up, our prophet was Charlie Parker, Charlie Parker was the guy. But Bud Powell, his improvisations were definitely on a par with Charlie Parker. If you're thinking of the bebop style, Bud Powell was supreme. In fact, some people put him above Charlie Parker." According to Jackie McLean (interviewed for Peter Pullman's exhaustive Powell biography, Wail: The Life Of Bud Powell), in the late 1940s Sonny was one who held that point of view.
You only have to listen to a couple of live broadcasts where Powell and Parker played together – Complete Live At Birdland with Fats Navarro (RLR, 1950), or Summit Meeting At Birdland with Dizzy Gillespie (CBS, 1951) – to feel the force of the argument. Perhaps the competitive edge temporarily left both Bird and Bud on Jazz At Massey Hall, but the demonic drive and diamond-hard precision of his playing a couple of months earlier on the opening trio tracks of Powell's Birdland 1953 reissue (ESP-Disk) is a startling reminder of his abilities. And it was an up-tempo solo version of 'Just One Of Those Things' (Verve, 1951) that inspired drummer John Stevens to compare Bud with Albert Ayler and state that "He almost plays off the end of the piano."
When you hear the fantastic intensity as well as the accuracy from this early period, it's perhaps not surprising that he had a troubled history. Born the middle of three brothers in 1924 (the younger Richie played with – and died in the same road accident – as Clifford Brown), he was initially taught by his amateur pianist father. Bud's tremendous facility inspired the father's 'classical' ambitions and, along with his indulgent mother, created a teenager who believed he could do no wrong. After being taken under the wing of the more senior Thelonious Monk, Bud was soon into the world of alcohol and drugs and, according to bassist Curly Russell (quoted by Pullman), "Bud used drugs, but he had himself under control. But the minute he drank alcohol… he became belligerent."
The first Verve session, which yielded four brilliant originals and two standards including a coruscating 'Cherokee', was made during a one-day release from the psychiatric hospital
The problem of the first drink being one too many persisted throughout his life, and may have been a factor when he was arrested and brutally beaten about the head by cops in 1945, while touring with the Cootie Williams band. This led to a spell in the notorious Bellevue Hospital, but worse followed when, after a couple of years of normal functioning back on the bebop scene, he was committed (following a bar-room fight) to an institution that, among other things, gave him electro-shock treatments. Powell then re-emerged on the scene for another couple of years, until the 1951 arrest alongside Monk on a possibly 'planted' drugs charge led to further institutionalisation. (A gruesome 'first', in Pullman's book, is the detailed documentation of these events from police and hospital records.)
The publicity description of 'The Amazing Bud Powell' was never more justified than in the music made between these various confinements. Sideman dates for Savoy with Parker, Sonny Stitt and Dexter Gordon, his own trio dates for Clef/Verve, and the trios and quintets (with Fats Navarro and the young Sonny Rollins) for Blue Note and Roost are unfailingly impressive. Yet we're lucky that some of these recordings were made at all. Pullman's research reveals the first Verve session, which yielded four brilliant originals and two standards including a coruscating 'Cherokee', was made during a one-day release from the psychiatric hospital. And Rollins recounts the following incident:
"He was a very volatile person and, as you know, he had some mental problems. But unfortunately, back in those days, we used to use narcotics. I did have an experience with Bud, but he and I went to a place to use narcotics. It was up on the top floor of a tenement building in Harlem, with the needles and all of this paraphernalia. I was younger than Bud, so I was OK but, after Bud took his, he passed out. I ended up cradling his head and trying to get him to revive. My whole life came before me and, God, 'if Bud Powell dies and he and I are together using drugs' – it was just a nightmare scenario. It might have been after he was away for a while so, when he came back on the jazz scene, his body wasn't used to the drugs, you know. You're not healthy enough to get to do drugs – a funny turn of phrase. Anyway, as providence would have it, he came back to consciousness."
The extraordinary composition 'Glass Enclosure' goes through four different emotional areas within 140 seconds – and with no improvisation whatsoever
As well as the tumultuous improvisations on standards which have come down to us from this period of Powell's life, there should be far more attention paid to his original pieces (one of the positive points about the more recent book, The Amazing Bud Powell, by Guthrie Ramsey). There are numerous distinctive versions of the traditional AABA 32-bar song-form, such as 'Wail' (aka 'Fool's Fancy'), 'Bouncing With Bud' (aka 'Bebop In Pastel') or 'Parisian Thoroughfare', one of his few tunes to be covered by others – in this case, Clifford Brown and Max Roach. All are on Blue Note, as are the far more unusual 'Glass Enclosure' and the 1951 mambo 'Un Poco Loco', its theme employing polytonality and using voicings no one else used then, while its extended solo (like most latin montunos) is entirely modal. The extraordinary composition, 'Glass Enclosure' from 1953, not only has 'slash-chords' before slash-chords were invented but goes through four different emotional areas within 140 seconds – and with no improvisation whatsoever.
Listening to this piece brings to mind a phrase from the blog of pianist Liam Noble, concerning "the anger in Bud Powell's music, anger that in his case was transformed into a kind of ecstatic energy." If Powell's playing became less intense and often less accurate after 1953, this may be related to the exclusive management of his career by the owners of Birdland, which included fixing him up with a female minder (his common-law wife Buttercup). Two brief forays to Europe in 1956-57 led to what seemed a new start involving residence in Paris, and a similar exclusive contract with the Blue Note club starting in 1959. It transpires that Val Wilmer, fellow photographer Tim Motion and I all made separate pilgrimages to see him there in the winter of 1960-61. My own recollection of nursing a drink through his three sets (opposite Kenny Clarke's trio) was that the approximate, rather non-committal playing of the early evening became gradually more focussed as the night wore on. But the recollection of the distant, lost figure sitting at a table between sets is more indelible.
This Paris period, of course, was the inspiration for the movie Round Midnight, wherein Dexter Gordon re-enacts Powell's life-story but with a saxophone. The film also has some fine music, including Bud's tune 'Una Noche Con Francis', and walk-on parts for both Michael Cuscuna and the real-life Francis Paudras, the French artist who tried to rehabilitate Powell through love and empathy. That hope was crushed by the pianist's acceptance of a return season at Birdland, which proved far less successful than in the movie, and his death less than two years later at the age of 41. Listening to the records from the second half of his career is rather like the experience of listening to him live, and holding your breath for some semblance of the earlier fire, or at least the melodic cogency and the brilliant execution. But there are sessions where he almost pulls it off, including Our Man In Paris (Blue Note) with Dexter and Essen Jazz Festival (Black Lion, aka Hawk In Germany) with Coleman Hawkins in 1960.
"By the way, did you know that Duke Ellington was a big fan of Bud Powell?" says Sonny Rollins, and thanks to Val Wilmer we have confirmation of this. Apparently while recording with Mingus and Roach, Ellington told them: "Just think of me as a second-rate Bud Powell" and, though talking tongue-in-cheek, only five months later he chose to produce a Powell album while in Paris. The Duke was clearly aware that, despite the legions of imitators and disciples, there was only one first-hand Bud Powell.
---
This article originally appeared in the December 2014 issue of Jazzwise. Never miss an issue – subscribe today