Charlie Parker: a Beginner's Guide to Bird
Brian Priestley
Monday, October 18, 2021
Charlie Parker may have died aged just 34 on on 12 March 1955, but his totemic musical language of 'bebop' has remained a foundational element of the vernacular of jazz
On 29 August 2020, Charlie Parker turned 100. Like his esteemed contemporaries, Dizzy Gillespie and Art Blakey (who both died in the early 1990s), he is now officially a jazz museum exhibit, filed under the heading of 'bebop'. Except that Parker, despite dying at the age of 34, is still alive and sounding free as a Bird, for those who care to listen.
"Anyone can learn to play bebop." This provocative statement is attributed to a British musician of Django Bates' generation (not Django himself), and might of course reflect the speaker's reaction to the way that bebop is now taught. But, just as training people for the priesthood didn't guarantee students having any talent for that calling, the results of jazz education only tell you about the mechanics, not the genesis or revelations of the style itself.
According to his early publicity, of course, the 'high priest of bebop' was Thelonious Monk, but it was Parker who played the role of the prophet. (Let's leave aside the historical fact that many of his disciples imitated him to the extent of having a similarly early death.) His attitude to studying and performing was: "You've got to learn your instrument; then you practise, practise, practise; and then, when you finally get up there on the bandstand, forget all that and just wail".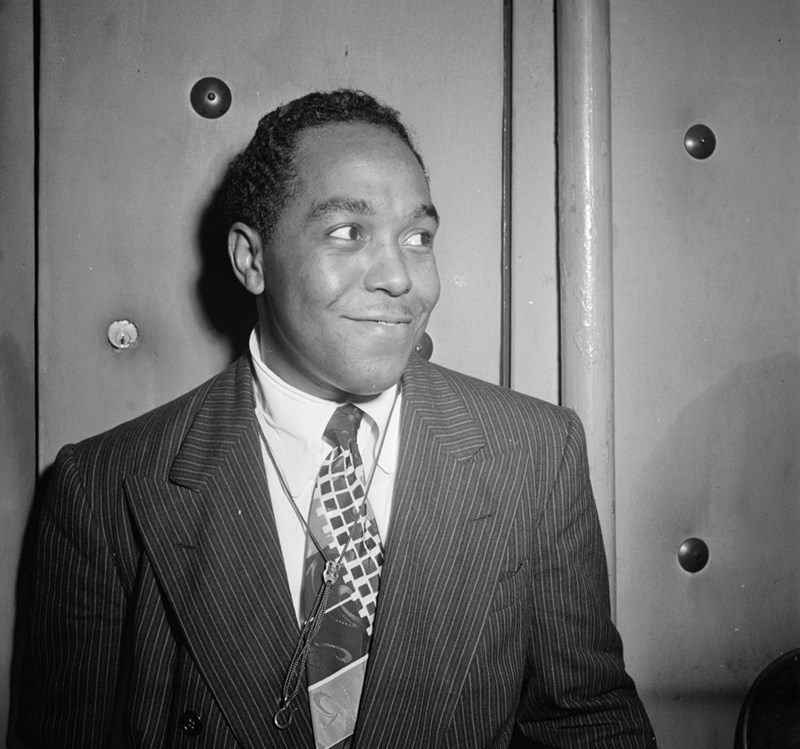 Charlie Parker (photo: William P Gottlieb courtesy Music Division, Library of Congress)

A self-taught marvel
That was exactly what he had done himself. Largely self-taught, he had an alto from the age of 11 but only started taking it seriously after playing the baritone-horn in his high-school marching band, a couple of whose members started an amateur jazz group. Once his interest was engaged, he dropped out of school and started practising at home from standard exercise books ("at least 11 to 15 hours a day", he once claimed) and tapping his colleagues for explanations about chord relationships and keys.
It helped that he was growing up in Kansas City, a traditional entertainment centre which despite the 1930s Depression was still riding high, thanks to a corrupt, gangster-friendly municipal administration (well portrayed in Robert Altman's movie Kansas City). And, although Charlie later told tales about his over-ambitious participation in the famous KC jam-session scene, he moved rapidly into the professional arena with mentoring from his reed-playing bandleaders such as Tommy Douglas and Buster Smith, and non-technical encouragement from the great Lester Young. Nearly 20 years later, Lee Konitz heard him play back an early Lester solo as a dressing-room warm-up and, of course, there were no transcriptions available back then, except in Bird's ears.
The fact that Parker was soon out-performing his mentors is attested in comments by Buster Smith, by his subsequent bandleader Jay McShann and by Dizzy Gillespie, who was persuaded to jam with him when passing through KC with the Cab Calloway band in 1940.
Interestingly, Bird's first stay in New York the previous year made little impact, perhaps through having insufficient contacts, but he was impressed by Art Tatum and spoke of achieving a technical breakthrough while jamming on the song 'Cherokee'. However, when McShann's KC big-band became successful enough to play the famous Savoy Ballroom in Harlem in 1942, or when Parker joined Earl Hines in 1943 on tenor, the word was out among fellow musicians such as John Lewis, Howard McGhee and Ben Webster.
The New York scene
It wasn't till summer 1944 that he based himself in NYC and made his first records there with guitarist-vocalist Tiny Grimes, a member of Art Tatum's trio. But the collaboration with Gillespie, which included Dizzy sitting in with McShann at the Savoy as well as their time together in the Hines and Billy Eckstine bands, is what set the seal on the new music. Dizzy had already led small groups in the winter of 1943-44 and wanted to employ Parker, who was then in Washington and back in KC, but their famous double act only really existed in public for just over a year.
From the end of 1944, they worked together on several non-bebop record dates for other leaders, but played two lengthy club residencies with their own group, which also appeared on at least three concerts and three classic record dates (two under Gillespie's name, one under Bird's).
Tunes credited to Gillespie, such as 'Groovin' High' and 'Dizzy Atmosphere', have links to the still-popular swing-era language (and the hook of his 'Salt Peanuts' is directly quoted from a famous Louis Armstrong record of 1930). Parker's own 32-bar AABA collaborations like 'Shaw Nuff', 'Anthropology/Thriving From A Riff' and 'Confirmation' (the latter first recorded by Dizzy without Bird in early 1946) sail over their often up-tempo chord-changes in more lyrical fashion.
Their respective styles were soon lumped together as 'bebop', but Gillespie (speaking to me in 1980) was clear-sighted about Parker's role as a catalyst: "I would say that my major contribution was in the field of harmonics and rhythm. Charlie Parker's was phrasing, which I think was the most important part of the music, anyway... [Players based in NYC] had all our rhythm and our harmonies already, and then Charlie Parker came on the scene demonstrating how it could be done. And then all of us fell in behind that."
It's worth noting too, that Bird's own 1945 record date included 'Billie's Bounce' and 'Now's The Time', both 12-bar blues, which back then was not Dizzy's favourite mode of expression. But it's a constant influence on Bird's articulation, which leads to his later quartet masterpiece 'Parker's Mood', a perfect amalgam of the intricacies of European harmony with the cry of the blues.


"

You've got to learn your instrument; then you practise, practise, practise; and then, when you finally get up there on the bandstand, forget all that and just wail

Charlie Parker

The brief experience of a Parker-led quintet including the young Miles Davis playing live on New York's 52nd Street predated the above record session, but also the fateful trip with a Gillespie group to play an eight-week residency in Los Angeles. Less than reliable at showing up nightly, Bird also failed to return as expected to NYC and ending up scuffling on the Coast. With help from fledgling record producer Ross Russell, his first LA recording under his own name included not only Miles on trumpet but successful versions of Gillespie's 'Night In Tunisia' (featuring what Russell described as Parker's 'Famous Alto Break') and his own new tune 'Moose The Mooche'.
But this title dedication to the local heroin connection and the latter's subsequent imprisonment led to Bird falling apart on a second record date, forever associated with his halting version of 'Lover Man'.
Personal troubles
You could write a book about Parker (indeed, I did in 2005) that, as well as his music, detailed his personal failings. Introduced to heroin in Kansas City at the age of 15, he was soon addicted and yet seems to have been capable of coming off the drug several times and propping himself up with vast quantities of alcohol instead, before becoming re-addicted. As a result, he often treated the many women in his life with little consideration, and many of his musician colleagues little better.
To bandleaders, record producers and concert promoters, he was often a liability. But it's true also that, after the first 100 years or so, we overlook the misdemeanours of artists and performers whose creations still have something to say to us.
Bird's legacy
Similarly, the elapsing of time gives a perspective on the essential nature of their creations, enabling us to see past short-time popularity – not only in terms of whose creations are significant, but the relative value within their output. It's an irony that Parker's only best-selling singles were from his long-desired collaborations with a string section (specifically 'Just Friends' and 'April In Paris') but the cramped nature of the arrangements and restricted running-time of the 78rpm singles don't wear well in the long run. His ear for the beauties of European harmony is better expressed in his lyrical melodies such as 'Quasimodo', while his interest in the work of then contemporary composers such as Stravinsky survives mainly in random, mid-improv quotations.
Worth remembering, though, is that, as well as his stated aspirations to learn more about European music, Bird also hinted at the future – but in ways which he didn't have the time or the concentration to pursue. That astonishing, less than three minutes long, piece called 'Ko-Ko' is like a suite, its opening and closing ensembles consisting of just alto, trumpet (Gillespie) and drums (Max Roach) with no chord movement and an arrhythmic, a-harmonic melody that hovers in no-man's land until grounded by the central improv on the chords of 'Cherokee'. It's almost like a roadmap for the Ornette Coleman quartet of a dozen years later and, while many younger players disliked the apparent regimentation of later bebop, none of them ever criticised Parker.
Another pointer to the future was his occasional work with Latin bands like Machito, initiated by producer Norman Granz who saw his mission as popularising, or at least mainstreaming Bird – hence also the strings sessions. This Latin connection came after Parker's own originals such as 'Bongo Beep' and 'Barbados', and it often worked, thanks to the astonishing polyrhythmic variety of Bird's improvisations compared to the regularity of the Latin percussion.
A recent interview by Ethan Iverson with the strongly Parker-influenced veteran Charles McPherson touches on his perennial rhythmic flexibility: "The accents make you feel like he could never come out right, and he does... That is some serious rhythmic freedom and some serious harmonic freedom and some serious melodic freedom."
It's probably easier to hear this today, because we're now more used to listening to music that's rhythmic but incorporates lots of variety, compared to the heavy swing rhythm-sections that were still the norm when his music was first created. Saxophonist Chris Potter, interviewed by Neil Tesser for a recent reissue album, mentions: "The phrasing, the repetitions or lack of repetitions, the gestures of surprise – if you imagine him playing the same lines over a hip-hop beat, it still works. He would have fit in right now without even needing to change his style, really."
The interviewer also reminds us of the altoist's urgent expressive tone, which no one ever successfully reproduced. Recalling his teenage experience of coming across a Bird track on radio after having only read about his name and his impact, Tesser realised that he "could recognise Charlie Parker despite never having heard him."
If you're in a similar position, look first for his 1947-48 quintet with Miles and Max, not only the famous studio tracks originally on Savoy and Dial, but also the well-recorded broadcasts from the Royal Roost. And the extraordinary 1950 live session with Fats Navarro, Bud Powell and Art Blakey. And the last happy reunion with Gillespie (and Powell, Mingus and Roach) live at Toronto's Massey Hall, sometimes called the "Greatest Jazz Concert Ever".
If you know all this stuff already, go back and listen once more and be amazed all over again.
---
This article originally appeared in the October 2020 issue of Jazzwise. Never miss an issue – subscribe today!