How Miles Davis put together 'the greatest rock 'n' roll band you ever heard'
Paul Tingen
Wednesday, October 13, 2021
In December 1969, Miles Davis boasted: 'I could put together the greatest rock 'n' roll band you ever heard'. He attempted to prove his point during a series of turbulent sessions in the first half of 1970. This is the story of the album A Tribute to Jack Johnson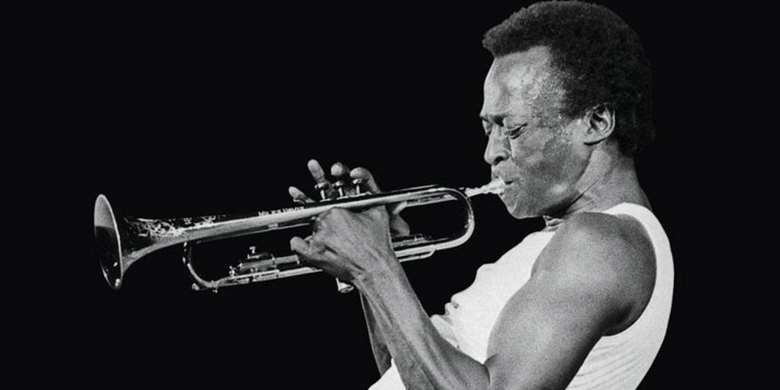 'I could put together the greatest rock 'n' roll band you ever heard.' The Rolling Stone journalist who took this statement down could have been forgiven for feeling sceptical. By late 1969, jazz musicians were still working out how to rock, let alone roll. Miles' most recent release at the time, the ambient masterpiece In A Silent Way, was a far cry from rock 'n' roll. And that landmark exploration of rock 'n' jazz, Bitches Brew would not be released until April 1970. Many years later, in his autobiography, Miles acknowledged the challenges he encountered in working with rock 'n' roll, saying: 'When I started playing against that new rhythm first I had to get used to it. Playing the new shit was a gradual process.'
Jimi Hendrix, who Miles hung out and jammed with occasionally during 1968-70, proved a crucial catalyst in the trumpeter's journey towards playing 'the new shit'. Influences from Hendrix had been creeping into Miles' music since 1967, but he possibly received his strongest cue on New Year's Day 1970, when he attended the second of the two legendary Band of Gypsies concerts by Jimi Hendrix at Fillmore East in New York. After seeing what just one guitarist, bassist, and drummer could achieve, Miles spent much of the first half of 1970 recording with increasingly small, guitar-led bands.
The result was A Tribute to Jack Johnson, the soundtrack for the eponymously titled movie about the legendary black world heavyweight boxing champion at the beginning of the 20th century. After the album's release in February 1971, it was barely promoted by Columbia and sank into semi-obscurity. Yet over time its reputation has grown to such a degree that the release of The Complete Jack Johnson Sessions was awaited with widespread and eager anticipation. The album's brazen inscription 'The greatest rock 'n' roll album ever made!' will raise some eyebrows. 'Pull the other one,' would be an understandable reaction. And yet... today the reputation of Jack Johnson is such that those in the know are unlikely to find the inscription pretentious or ridiculous. Rather, they may savour it and contemplate its merits. Question: 'could A Tribute to Jack Johnson possibly be, if not the best, then at least one of the best rock 'n' roll albums ever?'

Miles Davis expressed his ambition to get one over on rock 'n' roll at the end of one of the most tumultuous decades of the 20th century. The seismic shifts of the 1960s are well documented and still permeate our culture today. Increased political awareness had given rise to a genuine counterculture and a maelstrom that considered no sacred cow too holy, no ivory tower off-limits and was turning Western culture inside out.
Music, particularly rock 'n' roll and folk, was the main vehicle of expression of the counterculture movement, and so music mattered more than it ever had done. The names of those musicians that led the way in numerous rapid musical changes and shifts in consciousness are now legendary: James Brown, Little Richard, Sly and the Family Stone, Bob Dylan, the Beatles, the Rolling Stones, Joni Mitchell, the Byrds, the Doors, Jefferson Airplane, Neil Young, The Grateful Dead, Jimi Hendrix, and so on.
In 1967, after two years of frantic experimentation with his legendary second great quintet, featuring Wayne Shorter, Herbie Hancock, Ron Carter and Tony Williams, the ever-restless Miles Davis was once again scanning around him to see what new developments he could incorporate and bend to his own music. Going into free jazz, the latest development in jazz of the era, was not an option for him, because it involved a break with the past.
One of the secrets of Miles' extended artistic and commercial success was that he was a revolutionary and traditionalist at the same time. Even as he continually forged ahead, he never lost touch with his roots. During his entire career he always built carefully on what he had done before, and he wasn't suddenly going to abandon a process that had worked for him for decades.
And so, in part spurred on by his then romantic partner Betty Mabry, Miles began looking at the music of the 1960s counterculture. Although he was often critical, he found things that he liked and he gradually added these to his music. Miles also concluded that the emphasis on rhythm and on cyclical, repetitive patterns in the music of the counterculture offered him an avenue to re-connect with his African American roots. It also made a political point. He noted in his autobiography: 'White people at this time were trying to suppress rhythm because of where it came from – Africa – and its racial overtones.'
From December 1967 to June 1970, in a period of wild and intense experimentation that culminated, in February-April, in the recording of A Tribute To Jack Johnson, Miles Davis used the recording studio as an experimental laboratory. There was an endless succession of recording dates, in an echo of Hendrix's working methods the tape recorders rolled almost perpetually, and ever changing combinations of mostly very young musicians were thrown into his cauldron.

Miles Davis and his band recorded live in August 1970, shortly after the Jack Johnson sessions
The musicians Miles invited on an ad hoc basis into the recording studio included now famous names such as saxophonist Wayne Shorter, keyboardists Herbie Hancock, Joe Zawinul, Chick Corea, and Keith Jarrett; guitarist John McLaughlin, bassists Dave Holland and Ron Carter; drummers Jack DeJohnette, Lenny White. Billy Cobham, and percussionist Airto Moreira.
The first of these experimental sessions was on 4 December 1967, when Miles asked electric guitarist Joe Beck to sit in with his quintet for the recording of 'Circle In The Round' (issued in 1979 on the double album of the same name). During the following 18 months Miles gradually added electric keyboards, electric bass, straight-ahead rock rhythms, R&B feel, soul-influenced chord schemes and Jimi Hendrix-inspired musical figures. Additionally, Miles abandoned traditional musical structures of beginning, middle and end in favour of working with much more cyclical structures and a greater emphasis on rhythm and bass. The musical material on which these sessions were based was gradually scaled down to an absolute minimum, and sometimes non-existent.
'Everything was experimentation,' recalls drummer Billy Cobham. 'There was not one moment that whatever was put on a piece of paper would not be changed.'
'A lot of times the way we did things was very fragmented,' adds Dave Holland.
'Often I didn't know whether we were recording or rehearsing. We would have these fragments, these sketches of ideas, and we'd play them for 10 minutes and then we might do one more take like that, and move on to the next thing. One of the things that created the sound of the studio recordings is that we were all trying to figure out what was going on. This created a certain space – it wasn't tentative; but it was searching and Miles had a policy of taping everything. When it was then finally put together, there was a lot of editing that went on.'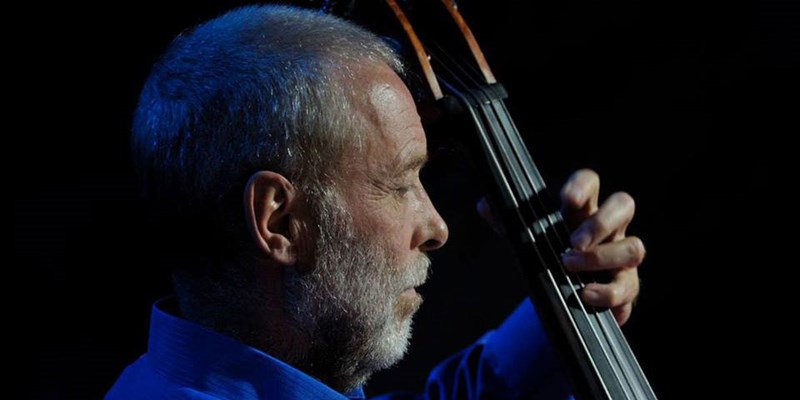 Dave Holland today
Indeed, Miles' long-standing producer Teo Macero would spend weeks in the studio making sense of the sometimes chaotic and shapeless results, selecting the best bits and using edits to create structure and studio effects to add colour and emotional depth. Macero looped some of the material on In A Silent Way, which turned out to be a brilliant exercise in ambient mood sculpting, and Bitches Brew, recorded 19-21 August 1969, contains one of the most famous and successful results. Macero's edits and the slap-echo on Miles' trumpet in the album's title track embellished the musicians' playing to such a degree that the result is one of the most dramatic and powerful pieces of music ever heard.
By November 1969, Miles' wandering spirit was already on to the next experiment. Following his discoveries of Brazilian percussionist Airto Moreira, sitarist Khalil Balakrishna, and tamboura/tabla player Bihari Sharma, he would make forays into what's now called world music. The majority of the results was meandering and sluggish; whether he recognised this, or was inspired by seeing Hendrix at Fillmore East on New Year's Day, in January 1970 Miles began looking for a new direction. Downsizing his studio ensembles led to immediate improvements. Zawinul's 'Double Image', recorded on 6 February and first released in 1971 on Live-Evil, was the best thing Miles had recorded since the original Bitches Brew sessions. Its funky stop-start rock rhythms and John McLaughlin's screaming and distorted electric guitar pointed the way towards the Jack Johnson sessions.
'Double Image' is the last track included on The Complete Bitches Brew Sessions. Following this there were several important new developments that set the tone for The Complete Jack Johnson Sessions. From a musical perspective most important was the departure of Wayne Shorter from Miles' regular band during February. (His last concert with Miles, at Fillmore East, 7 March 1970, was finally released in 2001 as It's About That Time).
This marked a radical shift in direction, as Miles and Shorter had worked and performed together intensely since September 1964. During their five-and-a-half years collaboration the saxophonist had supplied most of the compositions Miles had been working with.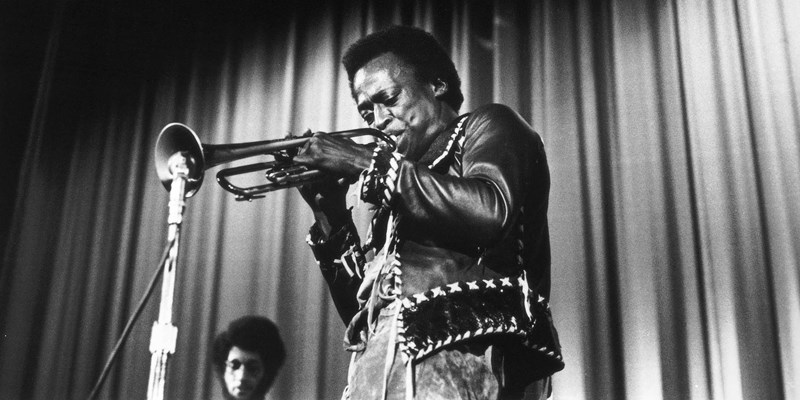 Miles Davis at the time of the Jack Johnson sessions (photo: Columbia / Tom Terrell)
During 1968-69, Miles had increasingly brought in his own rudimentary sketches, and also used much material written by Joe Zawinul. The latter's 'Double Image' was the last example of this: the 6 February session was to be the last time the keyboardist played with Miles in the studio and the last time Miles would record his material in the studio. With Zawinul no longer involved and Shorter only dropping by for the occasional studio date. Miles took sole responsibility for bringing in whatever material a session would be based on. In doing so he focused increasingly on rhythms and bass lines, less on melodies, and even less on chords. He remarked in December 1969: 'African music is directed to sound. That's the way we play. We don't play chords, we play sound.'
Another factor that focused Miles' mind at the beginning of 1970 were his live performances during which he supported famous rock acts. Miles had realised that with the release of Bitches Brew coming up in April, going on the road with rock bands was the only way for him to reach a new and larger audience. And so by March, Miles' sextet was supporting acts such as The Grateful Dead, Neil Young, and Laura Nyro. (Some of the results can be heard on three live albums, the above-mentioned It's About That Time, plus Black Beauty, recorded on 10 April, and Miles Davis At Fillmore, recorded during 17-20 June.)
There can be no doubt that Miles brought these live experiences in the rock arena back to the recording studio, even if it was only to confirm his opinion that 'most rock musicians didn't know anything about music,' and to strengthen his resolve to do better with 'the new shit.'
Enhanced by excellent sounding new mixes by Mark Wilder, The Complete Jack Johnson Sessions offers a unique look into Miles and Macero's early 1970 creative cauldron, with several different takes of known tracks; complete versions of known tracks with never-heard-before passages and hitherto completely unknown tracks. We can now assess for ourselves which bits are what Macero today called 'child's play' and which 'dynamite', and whether we agree with his judgments.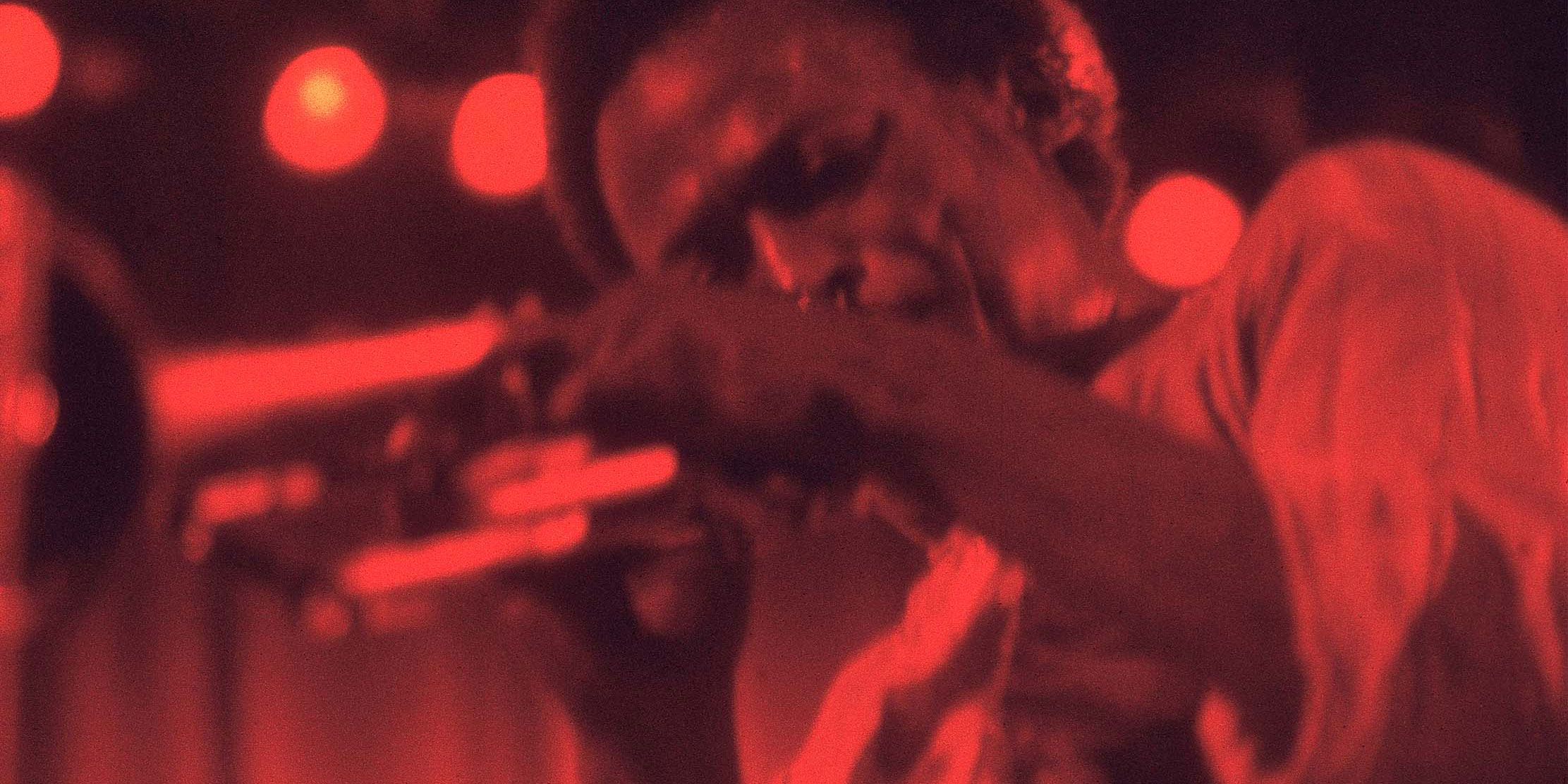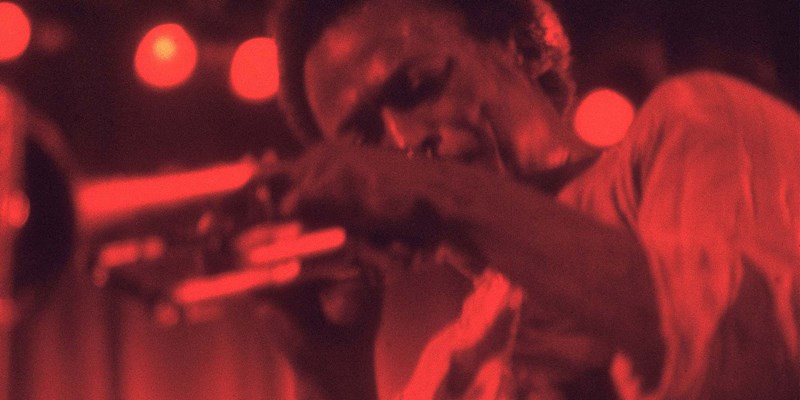 Miles Davis at the time of the Jack Johnson sessions (photo: Columbia / Tom Terrell)
The first session, on 18 February, is represented by four takes of 'Willie Nelson', featuring a dramatically simplified rhythm section. All the tracks on The Complete Bitches Brew Sessions have at least a drummer and a percussionist, but often two or more of each, and at least two keyboard players. 'Willie Nelson' features only one drummer (Jack DeJohnette), no percussionists, one keyboard player (Chick Corea), and for the first time ever in Miles' music there are two guitarists: Sonny Sharrock joined forces with McLaughlin. The search for the ultimate rock 'n' roll band was on.
The six takes of 'Willie Nelson' are improvisations around two themes played by Miles and bass clarinettist Bennie Maupin, and two bass riffs. Sharrock and Maupin's contributions are much more clearly audible in the new mix, and together with Corea's ring-modulator mayhem, Miles' dramatic and intense use of space, and McLaughlin's playing – beefed up with wah-wah effects – they raise the session above the level of a run-of-the-mill rock jam. McLaughlin's muscular playing, with Hendrix influences clearly audible on some of his phrasing, takes a star role. As on Bitches Brew, he finds an innovative way of soloing and comping at the same time, this time incorporating a R&B feel and a harsh, heavily distorted tone. His playing drives the entire Jack Johnson sessions.
The other main ingredient that made A Tribute To Jack Johnson such an outstanding album is Miles' extraordinary trumpet playing. Chick Corea recalled that during 1968-1970 Miles was: 'totally clean, working out in the gym, physically looking great, and living the life of a health freak. He had this thing about fish and told me how good fish was for you.' In short, Miles was in great physical and mental shape, and at the peak of his trumpet powers. He was able and inspired to play the stunning power trumpet that dominates almost every track on the five CD boxed set.
Miles Davis, never a man to do two takes where one would do, appears to have judged that the 18 February session hadn't quite realised the potential of the musical material. This was so because nine days later, he took the unusual step of recording 'Willie Nelson' again.
The ensemble was scaled down further. For the first time ever in Miles' music he was now working with the archetypal rock line-up of bass, guitar and drums, plus another young prodigy, the 19-year-old saxophonist Steve Grossman.
"

The musicians didn't know what the hell they were doing. They were just rambling on and on and on. It's child's play

Teo Macero
The two takes of 'Willie Nelson' recorded on 27 February are more organised. But the lack of structure, thematic material and textural interest fails to raise them above the level of a studio jam. Their inclusion leaves producer Bob Belden's decision to put six takes of the same material on the boxed set, delivering the listener 50 minutes of 'Willie Nelson', open for debate. Similarly, the three takes of 'Johnny Bratton' recorded on the same day illustrate what Teo Macero means when he said: 'The musicians didn't know what the hell they were doing. They were just rambling on and on and on. It's child's play.'
Miles must nevertheless have felt that he hadn't exhausted the ensemble's potential because four days later he took the same musicians – Grossman, McLaughlin. Holland, and DeJohnette – into the studio again. The boxed set documents a warm-up blues track called 'Archie Moore'. It got this name because Bob Belden and Miles' nephew Vince Wilburn titled the hitherto untitled jams after well-known boxers to remain in keeping with the boxing theme of the whole set. Macero might have judged this harshly too.
The five takes of 'Go Ahead John' that follow are a different matter. The heavy edits and wild effects used on the edited version that appeared in 1974 on Big Fun made it sound like a psychedelic period piece and obscured the power of some of the material that lay underneath.
It's pleasing to hear Miles playing the blues so deeply and enthrallingly on 'Go Ahead [Part One]'. Coming from the Mississippi town of St Louis, Miles' roots were in the blues, and he often returned to it for inspiration and renewal. Yet 'Go Ahead John' parts 2A and 2B have their longueurs, and anyone can easily imagine why Macero felt compelled to reach for electronic trickery to spice things up.
Miles now had direct experience of what working with a small ensemble, based around Hendrix's guitar/bass/drums line-up, was like. While this had yielded some interesting results – and a lot of dross – something clearly still wasn't quite right. Therefore, the bandleader continued to tinker with the rhythm section. On 17 March he replaced Jack DeJohnette with Billy Cobham; and Grossman with Maupin and Shorter. The sextet (again with Holland and McLaughlin), recorded 'Duran', named after the Panamanian boxing champion Roberto Duran.
The inclusion of Cobham, a drummer with a more straight-ahead, rock-influenced style, says something about the direction that Miles had in mind. Another clue is Holland's circular, rock-like electric bass riff, repeated throughout with only the occasional variation. Miles appears to have decided that his sessions might be more successful if he used elements more idiomatic to 'the new shit': the role of the rhythm section is now much more clearly defined in a manner common in rock. 'Duran' is probably the closest to commercial fusion Miles ever came, but it's not outstanding.
Miles may have felt as much as three days later, on 20 March, another switch was made to the rhythm section. He stayed true to the same small band line-up that he had been exploring, but now there was Lenny White on drums. White, Holland, McLaughlin, Grossman and Miles recorded a bizarre track now called 'Sugar Ray'. White had been a prominent player on the original Bitches Brew album, but now didn't add that secret ingredient Miles was still looking for. Miles' playing, as everywhere on the boxed set, is excellent, but the stop-start guitar, bass, and drums warrant some caustic comment by Macero.
The 'best rock 'n' roll band you ever heard' remained frustratingly out of reach. The logical conclusion of all this half-successful and failed experimentation was to try a completely different rhythm section consisting of musicians for whom playing rock 'n' roll was home territory. It's unknown at what point exactly Miles was asked by director William Cayton to supply the music for his motion picture about Jack Johnson, but according to Macero, the trumpeter did have this in his mind for the next session, on 7 April.
"

Is this music black enough, does it have black rhythm, can you make the rhythm of the train a black thing, would Jack Johnson dance to that?

Miles Davis
Miles apparently put quite a lot of thought into the preparations for this session. A keen and talented boxer himself, he stated in his autobiography that he imagined 'that shuffling movement boxers used', and that this reminded him of 'the sound of a train'. He also asked himself: 'is this music black enough, does it have black rhythm, can you make the rhythm of the train a black thing, would Jack Johnson dance to that?'
Miles' answer was to invite a rhythm section consisting of drummer Buddy Miles – Jimi Hendrix's drummer at the Band of Gypsies concerts – and bassist Michael Henderson, who played with Stevie Wonder at the time. But Buddy Miles didn't show, and was replaced by Billy Cobham. Miles opted again for the small rock band format, with Cobham, Henderson, and McLaughlin, and Grossman and himself as soloists.
The inclusion of Michael Henderson signalled a crucial shift in Miles' music. Henderson played with Miles until 1975, and during his tenure he became the pivot around which Miles' bands revolved. Miles hired Henderson because he had a remarkable talent for creating and holding down circular, repetitive grooves. The bassist recalls: Miles said to me that he wanted me to hold the band down. He wanted me to hold it together. He wanted me to be a rock. He enjoyed having a groove and solid bottom in his music.' Billy Cobham elaborates: Miles wanted Michael Henderson because he had a different feel, definitely. Going from Dave Holland to Michael Henderson was like jumping over the Swiss Alps – a whole different world.'
There was a rehearsal at Miles' house the night before the 7 April session. Sitting behind the piano, the trumpeter showed Henderson and McLaughlin the two riffs he wanted to use for the session. The first was a bass riff taken from James Brown's song 'Say it Loud, I'm Black and I'm Proud', the second a guitar and bass riff adapted from Sly Stone's 'Sing a Simple Song', the B-side to the 1969 number one US hit 'Everyday People'. 'Miles' version of Sly's riff is slightly different,' explains Henderson, 'but that difference is important. After Miles showed us his variation of the riff, John and I worked it out together.'
The legendary story of the 7 April session is that during setting up, an impatient and petulant McLaughlin started playing the famous shuffle groove that opens 'Right Off', the first track on A Tribute To Jack Johnson. Henderson and Cobham joined in, and a couple of minutes later an excited Miles came out of the control room to blow arguably the best solo of his career.
The Complete Jack Johnson Sessions contains two details that throw some doubt on this story. First of all, the music that opens 'Right Off' comes from take 10, so there must have been nine takes before this. Secondly, Miles can be heard instructing John McLaughlin: 'Alright John: play, play it up and then drop down. Bang-bang-bang-bang'. This suggests that previous attempts at getting the shuffle groove right had taken place, and that Miles was at the beginning of take 10 in the recording area, directing the groove, creating musical structure, and setting the scene for his own solo entry.
Macero's recollections were vague. He only stated that: 'The earlier stuff they did [on April 7] was very poor. But when we did it, we did it right'.
Most likely, McLaughlin began his spontaneous shuffle groove much earlier in the session: Miles liked it, and over nine takes it was developed to what is there on take 10. From the sonic evidence it seems likely that Miles' instruction to McLaughlin to 'drop down' meant dropping down in volume and/or modulating from E to B flat. This led to one of the most exhilarating moments in music, because Henderson misses the modulation, and keeps playing in E.
In the middle of this clash of tonalities Miles decides to make his entrance. 'He blew the shit out of it,' remembered Henderson. It was all done off the cuff. And then Miles blasted my ass, he kept repeating a B flat, and only an idiot would not have gone to B flat. Miles directed me over to B flat using his trumpet. Imagine someone blowing you over to B flat!'
Indeed. Miles directing Henderson to B flat can be heard in take 10 at 2:30-33 and 2:39. Unperturbed, Miles carries on giving one of the most commanding solo performances of his career, with fast runs reaching into the higher register, and a loud, full, powerful tone. Equally remarkable was the fact that Macero and Miles decided to make a feature of the trumpeter's entry. Most would have regarded the point where Henderson and McLaughlin were clashing with two incompatible keys and Miles is audibly nudging the bassist to fall into line as an embarrassing mistake, and would have instructed the producer to remove the section during editing. Very few would have considered, or had the courage, to come in at such a moment. And even fewer would have been able to turn it into a resounding success.'
Another moment of serendipity occurred when Herbie Hancock walked by, on his way to an adjacent studio. 'He looked through the window,' says Cobham. 'And Miles said: "Come in." Herbie came in with a bag of groceries, and Miles pointed him towards a Farfisa organ that was inoperative at the time. While we played, Stan Tonkel, the engineer, went over and plugged the organ in. Herbie dropped his grocery bag, and tried to play a  solo on the organ. He couldn't get a sound, so he put his forearm across the keys, and suddenly the thing goes... wwraammm! And I'm watching all this from my drum set, as I play!'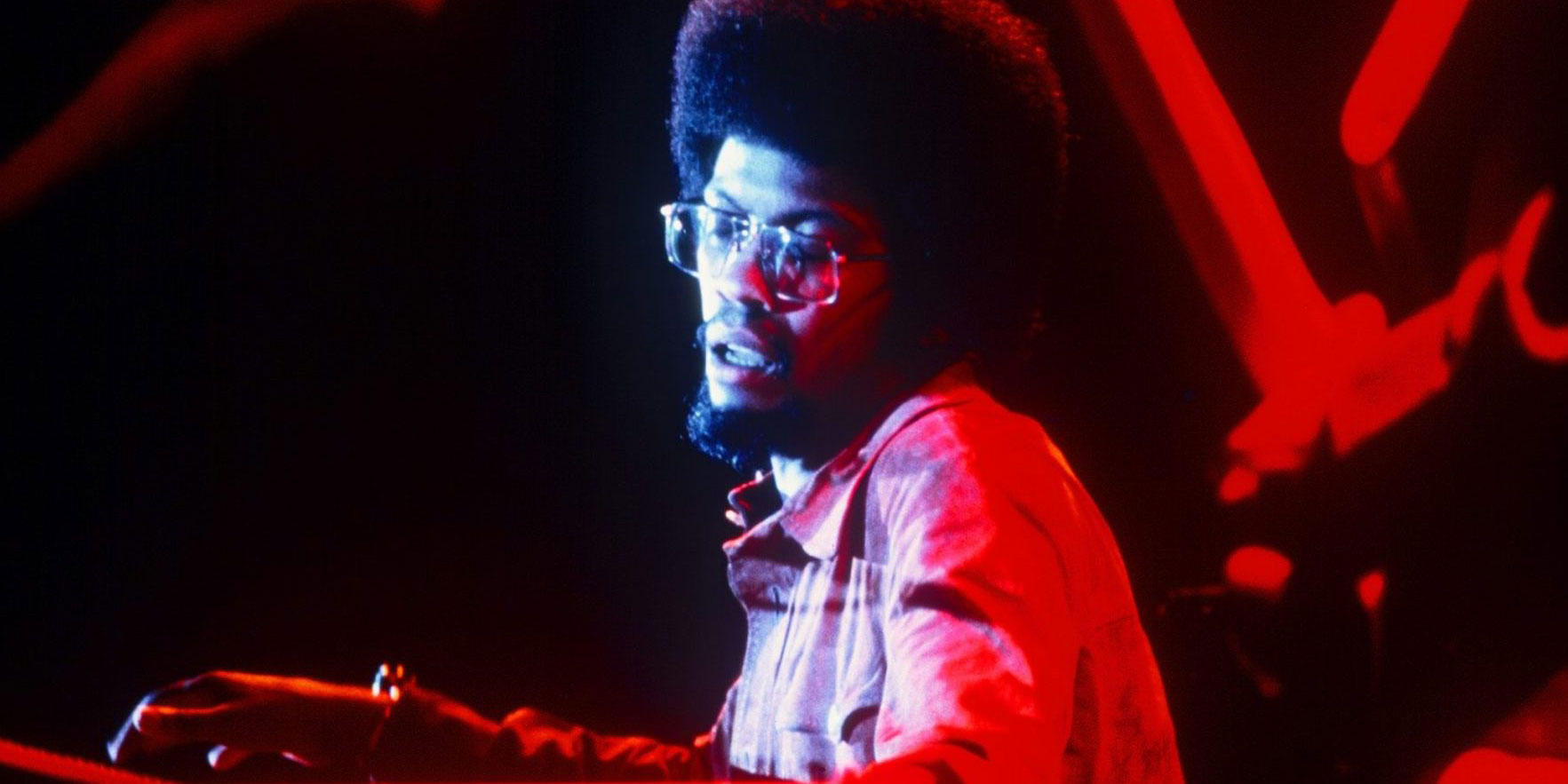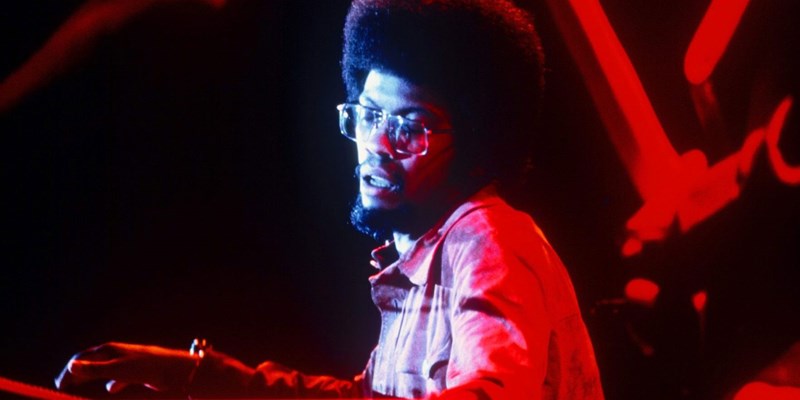 Herbie Hancock in 1973 (courtesy of Sony Music Archives)
The Complete Jack Johnson Sessions contains the four glorious takes from which Macero culled the final version of 'Right Off', including take 12 which contains the adapted Sly Stone riff. There are also two takes of 'Yesternow', featuring the James Brown bass line. Both have a still, meditative, almost ambient quality, and are worthwhile additions. The great strength of the music is its eminent use of space. For a long stretch of time, the music is static, without harmonic development, the drums only playing accents. Miles and McLaughlin exploit this space masterfully, creating and increasing tension.
Teo Macero spliced the album version of 'Yesternow' together from the second take of 'Yesternow', plus three takes of 'Willie Nelson' recorded on 18 February, a fragment from In A Silent Way, an unaccompanied trumpet solo Miles played in November 1969, arco bass, and an unknown orchestral piece. Taken as a whole this combination works beautifully, adding variety, colour and structure to sometimes amorphous studio material.
However, despite some awkward edits, the knock out punch on A Tribute To Jack Johnson was supplied by 'Right Off'. Together, McLaughlin, Henderson and Cobham managed to achieve the hypnotic, train-like repetitiveness that Miles had in mind for the session. What's more, the power, drive and inventiveness of this trio was such that they managed to give many rock 'n' roll bands a run for their money. Add Miles' commanding performance, strong solos by Grossman and Hancock, and McLaughlin's heavy-metal like guitar – a first in black music – and Miles could finally lay a creditable claim to having put together 'the best rock n' roll band you ever heard.'
To all ends and purposes the story of Jack Johnson ends here. But since Columbia/Legacy's strategy is to collect disparate material from a specific time segment in chronological order and then, presumably for commercial reasons, call it after the most well known album recorded therein, another one-and-a-half hours of material there remains to discuss.
Miles returned again to the recording studio six weeks after that fertile 7 April date, on 19 May. It marks a return to the large ensembles he used throughout 1969. Perhaps he wanted to integrate his experience with rock 'n' roll in a more familiar context. Cobham, Henderson, Hancock, McLaughlin, and Grossman were held over from the 7 April session, and complemented by Keith Jarrett and Airto Moreira. The last two were part of Miles' live band at this point.
The track they recorded was the excellent 'Honky Tonk', an edited version of which found its way to Get Up With It (1974). Two takes of 'Honky Tonk' are included on the boxed set, and the additional take doesn't add much to what was already known. The only detail worth noting here is that 'Honky Tonk' was based on a bass line written by Miles.
Following this, Henderson was for some reason replaced by bassist Gene Perla, and two takes of 'Ali' are documented, which are perhaps another attempt by Miles at creating something commercial, as it's based on the catchy bass line of Jimi Hendrix's 'Who Knows'. It bubbles along nicely enough, but... oh, well, let's not bring in Teo Macero here. The main thing that's immediately observable is how the bass, like on all the tracks on the Jack Johnson boxed set that don't feature Michael Henderson, doesn't drive the music.
Next was the track 'Konda', which was originally released in an edited version on Directions. Recorded on 21 May with Jarrett, McLaughlin, DeJohnette, and Moreira, the piece is a dreary attempt at ambient atmosphere. It was most likely purely a vehicle for Miles to explore his octave divider, which added a tone an octave below his normal trumpet sound. At least this would explain the absence of a bass guitarist. The best thing about the newly issued version is Keith Jarrett's two-minute electric piano introduction.
Things didn't get much better. Six days later Miles returned to the studio and again he reverted to a previous working method. He did this using basic material written by someone else; in this case the renowned Brazilian multi-instrumentalist Hermeto Pascoal, who was introduced to him by Airto Moreira. He says that Pascoal improvised his melodies at Miles' house and that an enthusiastic Miles went into the studio on 27 May to record 'Nem Um Talvez'.
'Miles would play the melody,' Moreira says, and the other musicians tried to play with him, kind of following. He would nod each note.'
Miles must have been dissatisfied, because a week later, on 3 June, he tried recording the same tune again. 'There was a melody written out and we phrased it and I just tried to follow Miles, a few milli-seconds behind, like he had done with Wayne Shorter,' remembers Steve Grossman. The clearer new mix adds clarity and depth, and the newly released takes without Pascoal's out-of-tune singing are enjoyable enough.
On the same day there was a recording of something that sounds as if it's a similar attempt to find a catchy hook as 'Duran' and 'Ali'. Called 'Little High People', it is compared by Bill Milkowksi in his boxed set liner notes to Three Dog Night's 'Joy To The World'. 'Little High People' is nothing more than a pleasant jam best left back at the time it was done, in 1970. The only point of note is that it marks Miles' first performance with a wah-wah pedal. 'He got it from Jimi,' remarked Moreira. 'We used to hang out at Jimi's Electric Lady studio and I saw Miles asking him questions about the wah-wah pedal.'
The next day, 4 June, was the last day Miles would be in the recording studio for nearly two years. Present were his live septet at the time, Grossman, Corea, Jarrett, Holland, DeJohnette, and Moreira, plus Hancock and McLaughlin. Miles' live band is most likely responsible for the two takes of 'The Mask' that are featured on the Jack Johnson boxed set.
The track also features on Miles Davis at Fillmore, and is as close to free jazz as Miles was comfortable with. On the live stage, particularly Holland and Corea were keen to drift into 'free' mode. Corea explains: 'Miles used to listen intently from the side of the stage when we were going "out", but his role was always to bring back the focal point of melody in a group. Perhaps there was just not enough "form" for him and it wasn't what he wanted to hear. So he went on to create something more in the direction that he wanted.'
This see-saw is strikingly illustrated on the Jack Johnson boxed set, with the first Miles-less version of 'The Mask' being an archetypal, directionless free-jazz jam. The trumpeter brings focus and structure to part two, which ends up being one of the highlights of the previously unreleased material on the set.
Finally, the 4 June session also saw only Miles, Hancock, Holland, and Pascoal recording two takes of the latter's tune 'Little Church'. Some of the Pascoal recordings were released in 1971 on Live-Evil, and credited to Miles, leading to a protracted legal argument between him and Moreira, which the latter won. But afterwards things were never quite the same between them.
The creative whirlwind that emanated from Miles trying to incorporate 'the new shit' into his music had begun in December 1967. It reached peaks during 1969 with the recordings of In A Silent Way and Bitches Brew, and finally climaxed noisily on 7 April 1970. Almost immediately afterwards it ran out of steam. Miles probably had a sense of mission accomplished, and appeared unsure as to where to take the sessions of May and June 1970.
After this he didn't organise another recording date until 1 June 1972, when parts of On The Corner were laid down. Apparently his priority became to translate his studio experiences from that fateful session of 7 April 1970, to the live stage. During 1970-75 he was busy creating the best rock 'n' funk 'n' jazz 'n' roll band in the world, something in which he succeeded with the Agharta band that was together from 1973-75. But that's another story ■
We were there...
Herbie Hancock
'Miles did not care about whether you sounded good or not, he just cared that you were working on something, striving for something – reaching for something. That was his main focus of attention and the primary thing that he tried to encourage all the musicians that worked with him to do. It is a form of risk taking. Miles demonstrated that with his playing. His musical capacity and his taste came out through his horn, and he was always taking risks and trying new things. There was always a great beauty coming out of his horn, no matter what he played. It was extraordinary.'
Dave Holland
'When I joined Miles' band [in August 1968], there had been no mention of me playing bass guitar. As far as Miles knew, I only played acoustic bass. But at some point after the Bitches Brew sessions I volunteered to play electric bass in some of the pieces, because I felt that it was needed to do the job. In 1970 Miles was looking for music that was more focused on groove, and on the last tour I went out with [August 1970, including the Isle of Wight gig] I just played bass guitar and didn't even take the acoustic bass with me.
'One of the things I learned from Miles is not to have a fixed vision when you come into the studio. In classical music a composer writes a finished piece down, and it's up to the musicians to interpret it. But improvised music is not like that. Part of the palette is working with the musicians. So when you do music, if you do it with one group, it will come out one way, and if you do it with another group it will come out another way. So if you ask me: "did Miles have a vision?" I'd say: "yes". But if you ask me: "did he know what the music would end up sounding like?" I'd say: "no". He'd be working with the musical approach of each musician. To me this is the great art of putting together improvised music. Duke Ellington could do this too. Miles was within that tradition.'
Steve Grossman
'I was used to playing straight-ahead jazz and to suddenly go into this environment where everyone had a lot more experience, I would say I was a little inhibited. And when I first joined him, Miles was playing so great... his life was going good. He seemed genuinely cooled down in relation to all the drugs. Around 1969-70 he really was in great shape and it was very inspiring to hear him play! He influenced me with his concept of just going out of a chord melodically, and not having a harmonic concept to come back to. It's more of an instinctual melodic way of playing. The way he used everything – he played the shit out of it.'
Chick Corea
'When I first joined the live band [in August 1968] we were still playing the music that came out of the second great quintet and even from before that. While I was in the band there was a musical metamorphosis that came from the changing members. And when we'd go into the studio there would always be some other element there that Miles was trying out. Joe Zawinul was there sometimes, and Herbie Hancock, and Lenny White, and so on. And Miles himself playing very powerfully on his horn.
'For me it was always the live performances that I felt great about. The studio recordings were a whole other level of learning, and they are only now – 20-30 years later – beginning to have some kind of effect on me. When I listen to them today I can hear Miles' musical approach much more clearly than I did at the time.
'It's so powerful, so continually adventurous and there's an artistic integrity that inspires, because it is necessary for an artist to venture into new territories. You can't wait for someone else to agree with what you're doing. And at the time, every time a jazz musician played an electric instrument, it didn't matter what he did on it, he was being criticised for "not being honest" or something like that.'
Michael Henderson
'I was playing the Copacabana with Stevie [Wonder] and Miles was there. After the concert he walked up to Stevie in the dressing room, and said: "I'm taking your bass player.'' I didn't think anything of it, because I didn't know who Miles Davis was at the time. I had no idea greatness had walked in there. Miles later phoned me and said: "Here's a plane ticket to New York. I'll pay you good". When I told a friend that Miles Davis had called, he said, "You fool, you better run!"
'I didn't know any of his older stuff, and he didn't want me to learn it. Sometimes the other musicians would say: "you think Michael would want to learn any of that shit?" But Miles would say: "If you learn that old shit, you're fired!" Miles wanted the bass to be in charge. Apart from on the tracks written by the albino guy [Hermeto Pascoal], where the bass is not the foundation of the song, any other music you hear [on the boxed set] where the bass isn't leading, it ain't me. Miles told me: "I want you to do this and stay there, and don't follow these motherfuckers". So I had to figure out 19 million, trillion different ways of playing the rifts he wanted me to play!'
Lenny White
'I think Miles had an idea of what he wanted, and he relied on the musicians that were involved to take it to another level. Miles said to Herbie and the other guys in his band, "I pay you to rehearse on stage," and that's the essence of what I call African American classical music. It always has this creative edge and experimentation going on. Miles was a master and he told us: "you play there", or "try this", or "do something a little different with this rhythm". Miles was the consummate artist. He did what he wanted to do and he had a vision of how he saw life, and those that were fortunate enough to be in his presence were affected by this.'
Billy Cobham
'Miles would sometimes sit down at my drums and bash something out and would go: "OK, try to do that; make that work inside of what's going on." Miles knew what to do, and when to do it and for me it was very much about Miles' innate ability to use space. Not playing became more important than playing. But that had to be at the right time; it was unbelievable, uncanny. He would play one note and that note would carry through for eight bars of changes. That note would be the note.
'The things that happened during the sessions were just... I felt like a little elf in the corner, checking out what the big guys were doing. It was so easily done, so matter-of-fact, and the musicians suddenly were not the people you knew, but took on personalities, like characters out of a book. John McLaughlin played much simpler than he normally does – one of the few times that John did! He played much less notes, and I think that's very hard for him to do. Genius that he is he has a lot to say. To get himself to play with such restraint was an art unto itself. And nobody talks about Michael Henderson enough. Michael had "that thing," as Miles put it. He was ripe and he was right for the time. Miles wanted a different feel, definitely, and Michael was able to provide this.'
Jack DeJohnette
'Miles would just have some sketches and people often didn't know what to play, so they had to really listen and create new things. If it didn't work, he'd just say: "this is not working, that's not it. Let's try something else". There was always a lot of magic when you were working with him. You had to be on your toes and be alert. You always had to be prepared for the unexpected. You never knew what would happen and that made it exciting, challenging and fun. Miles was hearing the collective: he was thinking of the whole piece, and he always knew that [in] what everyone was playing, the sound of his horn would galvanise everything. There was a lot of wild stuff, but when Miles played his horn, everything fell into place. He had that power, that magic, a special gift to focus your attention on him and the music.'
Teo Macero
'If Miles were alive today, I think he'd kill them [the people who put out the Jack Johnson boxed set]. The musicians didn't know what the hell they were doing. They were just rambling on and on and on. It's child's play. It's the poorest collection of music I have ever seen put out by an artist. I think it's embarrassing to the artist, to the company, and to the musicians. To have to sit and listen to this stuff for four and a half hours made me absolutely ill. It's like taking some drivel, like Miles' first sketches as a painter, and putting it out as a work of art. You can't do that.
'The musicians were playing with no concept of what they were going to do, and you can hear it on the record. They were improvising and trying to find a place to put various things. Most times it didn't work. But when we were doing it [the session on 7April], it was dynamite. It was a jam: are you kidding? But it swings! None of the other stuff does that.'
John McLaughlin
'On my second day in New York, Tony [Williams] had to go to Miles' house to pick up some money. So I went along. Miles had a record date the day after. Miles knew Tony was about to leave to form Lifetime, but Miles didn't want him to leave. Miles said to me: "Why don't you bring your guitar along?" Tony wasn't terribly happy about that, because suddenly there's a bit of competition. Anyway, afterwards Miles asked me to join his group. Unbelievable! But it was more important to me to go with Tony, I had promised Tony, so I had to turn him down.
'When I arrived in the United States I was still playing an acoustic guitar with a pickup and it became clear especially playing with Tony, and Larry Young in Lifetime. Tony was a very powerful player – skinny little guy, small, but what a tone off the drums! How he hit those drums! The instrument I was using didn't go with that way of playing and so within a short space of time I was back to cranking it up and it was great, I felt very happy about it – the two years I spent with Tony were very important for me. I was playing with Miles, with Wayne, with Tony on a regular basis, it was great so I had a chance to really develop the music and work on the sound.
'Miles was so great and the conception of using players who play in a certain way, Bitches Brew was a perfect example of that, where he had a great kind of rhythm section with more percussion and much more even eight feel. Miles was such a genius, he had the most phenomenal technique, whatever you may think. The way he plays on Jack Johnson, for example, listen to him on that. He always said to me that Jack Johnson was his favourite album [of the electric period]; he always told me that. But that ["Right Off"] came out of nowhere. I was just jamming with Herbie Hancock and Michael and Jack in the studio. All of a sudden there was Miles. I was very lucky – very lucky – to have played with him. Miles was into Jimi, that sound, that's what he liked.
'There is this little anecdote about me and Miles and Jimi because I was at Miles' house one day and I started to talk to him about Jimi. He had never seen Jimi play. There was a copy of The Village Voice in his apartment, and I looked through the back pages at the movie houses and there was Live In Monterey playing down in one of these cinemas in the Village. I said: "Miles, let's go to the movies. I'm going to show you something".
'So I took him downtown and we went to the movies and there was a Monterey film and Jimi came on – you know the part – and Miles was just like riveted to him. "Damn, Jimi, damn". He thought it was great! And when Jimi burned his guitar at the end, Miles just like flipped out, he thought it was just like amazing, because it was – he was a proto radical, Jimi. He didn't care; he just went for whatever, you know? And while the guitar is burning of course, it's feeding back and playing wild sounds coming out of it. That was Miles' introduction to Jimi, and he loved Jimi because he had heard him on the radio. But to see that movie was quite an experience for him.'
This article originally appeared in the November 2003 issue of Jazzwise. Never miss an issue – subscribe today!