Jazz Albums of the Year: 1997-2020
Friday, October 29, 2021
Every year our writers vote for the recording that they think most deserves the accolade 'Album of the Year'. Here are all of the Albums of the Year from 1997 to today. If you're looking discover a great new jazz album – this is the perfect place to start...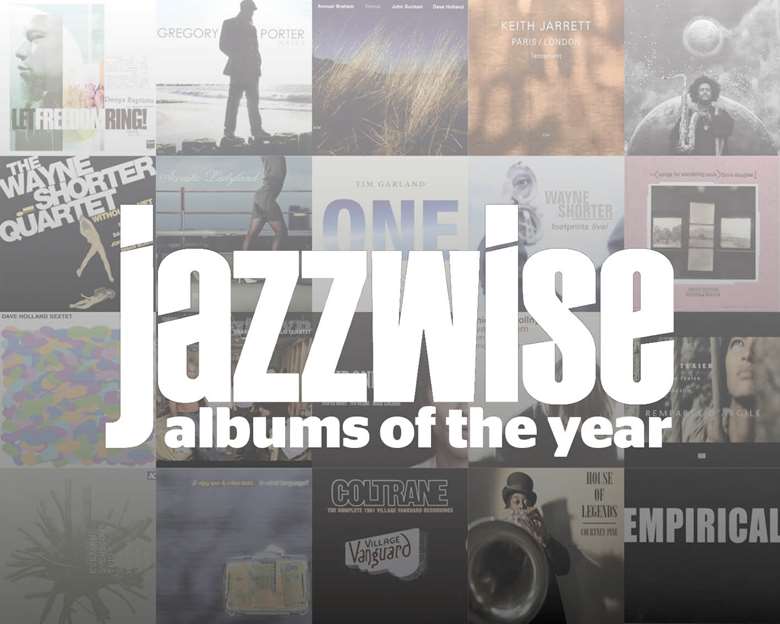 1997
John Coltrane 
The Complete 1961 Village Vanguard Recordings
Impulse!
What comes across to an overwhelming degree is what a powerhouse group this was, working its determined way through its new-minted repertoire. Coltrane's own tenor style was balanced nicely between the swashbuckling approach of the later Atlantic studio dates and the more intense, ferocious storms of notes and contrastingly tender ballad essays of the years ahead. He drives the rhythm hard, pacing Elvin Jones every inch of the way and essaying singular odysseys into the new improvisatory trails he is discovering for himself. Dolphy, by contrast, seems often to be watching from a distance, approaching the band from oblique, almost playful angles. He rarely solos for any length of time but seems to scatter a whole range of ideas and suggestions to Coltrane, who responds with renewed vigour in his pursuit of his own personal demons and goals. None of this would have been possible without the staggering input of Jones and the two bassists, Garrison and Workman (Workman eventually left the band, exhausted by the physical demands of playing so long and so hard). Tyner is the least central figure here, his role yet to develop from a purely supportive one, often dropping out entirely when Coltrane or Dolphy are at their most vocalised and charged.
Yet the band is a wholly focused one, whatever variations in personnel Coltrane wrought from night to night, tune to tune, version to version. Of all the music made available here, only the raggedly executed "Brasilia" could never have been seriously considered for initial release, such is the consistency of the band's performances.
One final point: in an edition which is supposed to be definitive in every respect, I'm surprised to find that author/Coltrane analyst David Wild in his tracing of the history of the tune "Impressions", while noting the "So What" parallel, makes no mention of the source for the Coltrane melody itself - Debussy's "L'isle Joyeuse". Perhaps that's why the tune was initially called "Excerpt" by Coltrane, for that's precisely what it was. The later title hardly attempts to obscure the issue, either, considering Debussy's usual musical pigeon-hole. Be that as it may, live jazz recordings just don't come any better or more engrossing than this. Keith Shadwick
---
1998
Anouar Brahem 
Thimar
ECM
Tunisian classical oud player Anouar Brahem was introduced to Dave Holland's playing through Angel Song, and the Wolverhampton-born bassist performs a function here - his lithe propulsiveness is the rhythmic heart of the band - almost identical to the one on the earlier ECM recording. Woven around his rock-steady centre are Brahem's mellow oud improvisations and John Surman's plaintive skirling (at times almost miraculously Middle Eastern-sounding) on soprano, plus his deliciously woody bass clarinet. Overall, a typically meditative, tranquil and beautiful ECM album with enough improvisational power to please jazz fans, and an album that also continues a recent run of fascinating collisions between jazz and the music of the Maghreb. Chris Parker 
---
1999
Dave Douglas 
Songs for Wandering Souls
Winter and Winter
Trumpeter Dave Douglas is one of the most consistently intriguing musicians working in contemporary jazz, and has an invaluable capacity for turning up something strikingly different with almost every project.
---
2000
EST 
Good Morning Susie Soho
ACT
Fantastic, they're back! EST - pianist Esbjörn Svensson together with Dan Berglund on bass and Magnus Ostrom on drums, the most inventive piano trio to arrive on the scene in years - deliver the follow up to last year's outstanding From Gagarin's Point Of View. EST are redefining the art of the piano trio. Impossible, I hear you cry; well, listening to their new album makes me realise that the impossible has been achieved. This is an awesome work of immense power, beauty and futuristic musical vision. This is an unbelievably essential album - from the beautifully reflective opener 'Somewhere Else Before' to the mind-blowing nine-plus minutes epic 'The Wraith' you know you are listening to important music (and how often can you say that these days?). The Esbjörn Svensson Trio was formed in 1993, a constant lineup for this forward-thinking trio has aided the development and success they strive for and so richly deserve. With this latest instalment of their musical vision, EST have definitely established themselves as the forward thinking contemporary piano trio. Mike Chadwick
---
2001
Henri Texier 
Remparts D'Argile
Label Bleu
This album is drawn from music composed and improvised for Jean-Luis Bertuccelli's film of the same name. The film was originally released in 1970 and focuses on the lives and struggles of the people of the Algerian-Tunisian Sahara. In 1999, Bertuccelli decided to incorporate a live performance of Texier's trio and weave this into and around the film's minimal soundtrack. My guess is that the combined impact of the visual image with this music must be very powerful indeed. However, without even seeing the film , it is still clear that this record derives from a truly inspirational source. To his credit, Texier has avoided the obvious and cliched choices that could have damned this project. He uses themes and forms that reflect the music of North Africa, but without trying to invade that culture or pillage its music styles. Compositions aim to suggest and compliment the visual image not appropriate it through some fake, stylistic contrivances. So, at various times, the music can be allowed to swing in those ways we associate with African-American music or explode in an Aylerish outburst of rage or instead hint at more evidently North African modes. There's a good example of this in the way Tony Rabeson's drums are used in the music. They are certainly central to the sound and placed far up in the mix. Drums are important in the music of the region but there is intention to imitate. Rabeson's approach is quite different. Often he suggests something that is not immediately influenced by either jazz or Arabic music but which is nevertheless touched by both. In a similar way, altoist/clarinettist Sebastien Texier will weave serpentine, snake-charmer lines over a more obviously jazz-based performance from the rhythm section. Post-modern perhaps but far more than bricolage.
Texier's playing is astonishing. It must help that he is so clear about Bertuccelli's vision for this project but he actually has such a profound sense of purpose here that it is positively transcendental. He thunders, drums and pounds out the pulse behind this music like a man with a mission. On this form, he must be quite inspirational to play alongside. By all accounts, Bertuccelli produced a film that reflected the sadness and joy of its subjects. Their suffering is not to be patronised or treated to the voyeurism of some kind of cultural tourism. We should only be left with the impression of their dignity and integrity. I suspect this is what Texier has sought to achieve here and he may just have surpassed his best hopes for the project. Duncan Heining
---
2002
Wayne Shorter 
Footprints Live
Verve
An intriguing prospect on paper. The legendary 67 year old saxophonist surrounded by a young, stellar acoustic band (drummer Brian Blade, bassist John Patitucci, pianist Danilo Perez) revisiting the classic mid-60s material that assured Wayne Shorter a place in jazz history. The cynics would say that it's a sign of his creative stasis; the return to an acoustic format is a soft option for an artist whose recent electric albums never quite hit home. Or that his prolific writing has finally dried up. Wrong on both counts. Footprints Live, has anything but comfort zones or complacencies; it is a bold, impassioned on-the-edge work that shows that Shorter's original recorded versions of 'Footprints', 'Juju' and 'Go' were far from closed chapters and that if anything the spirit more than the structural bones of these pieces has endured; the tunes themselves have become clues to new puzzles, points of departure for new explorations. As engineer Rob Griffin pointed out, this new band is almost like "an advanced string quartet" and the muscular intricacy of the music requires absolute concentration from the listener. The centre of gravity is constantly changing and just when the band appear to be settling into a recognisable framework, they puckishly shift metre or harmonic sphere, stretching to the avant-garde or coming back in to more accessible post-bop. Perez's impassioned latin phrases and Brian Blade's inventive percussive fills stand out but it's Shorter's tender and turbulent playing that holds it all together. There is nothing remotely nostalgic about this record; it is more a testimony to Wayne Shorter's ability to blur perceptions of the known and unknown, past and present, old and young. Surely that is a mark of greatness. Kevin Le Gendre 
---
2003
Denys Baptiste 
Let Freedom Ring!
Dune
It was a serene afternoon turning into evening. Dark times were ahead the day Martin Luther King was assassinated. Since then he has been hailed as a universal inspiration for anyone in the world who believes in civil rights and peace and justice for all. Saxophonist Denys Baptiste has worked out what the man means in this suite originally commissioned by the Cheltenham International Jazz Festival and the Jerwood Foundation.
He is joined by a 12-piece group that allows the ebb and flow of jazz to coalesce with the foaming swell of Ben Okri's voice reading from his epic poem 'Mental Fight'. Highlights? Well, Okri's calm yet compelling voice speaks volumes; Robin Banerjee's chattering guitar is a vital presence but above all the community at work is what makes the wounds that cut so deep for so many, heal. Stephen Graham
---
2004
Vijay Iyer/Mike Ladd 
In What Language?
Pi
'The airport is not a neutral place.' This is the clef de voute of the short, incisive and thought-provoking sleeve notes that accompany this fascinating album. Indeed anyone who's been the object of customs officers' ire for possessing sedi­tious skin tone, dangerous hair or a beard of mass destruction, will relate. Airports are places where power is exerted and Iranian film maker Jafar Panahi, travelling from a festival in Hong Kong, found him­self on the wrong side of the gate when he was detained by INS officials at JFK. He was shackled to a bench for several hours and then sent back to Hong Kong. This was before 9/11. In What Language is Iyer and Ladd's musical response to this infamous incident; it is a treatise on the airport as a place of 'conflict and quarantine, reception, departure and detention.' Iyer is one of the most interesting young American improvisers that you probably haven't heard of, a gifted pianist who's played with Steve Coleman and Greg Tate's Burnt Sugar project. Mike Ladd is the maverick MC and spoken wordsmith who you should have heard of. Flagship artist of the important alt-hop Ozone label, he is idiosyncratic, bombastic, complex, surreal and cerebral - everything that mainstream hip-hop isn't.
Iyer and Ladd's collaboration slides almost directly into the lineage of Thirsty Ear's important bridge building between the worlds of the avant-garde and electronica. It's sonically exciting, idiomatically blurring. Most of all In What Language is a political lour de force; a vivid, cogent, at times arresting 17 piece song cycle that becomes a powerful evocation of the immigrant experience at zero hour, where predatory paranoia poisons race relations to the core. Iyer and Ladd, who wrote all the lyrics even though he didn't voice the entirety (Ajay Naidu brilliantly plays a range of immigrant characters), come across as two hemispheres of the same brain. The pianist has written in an agitated and agitating fashion, using semi-classical motifs and spooky spirals of chords as the flickering lights that illuminate the runway of Ladd's texts. At times Iyer's compositions float as statically and oppressively as those customs queues that never move, at times they shuttle into intense, intrepid propulsion, like the blue touch paper arguments that break out over 'ID'. In each piece there is light, shade, ebb and flow in the music that sketches out drum & M-base or haunted Asian-inflected laments where Iyer's harmonic subtleties come to the fore. Imagine this inconjunction with penetrating Ladd lines such as 'We are the vegetation that will subdue the lobby in the airport' and you have a profound, potent work whose range of characters and scenarios makes a stage adaptation a logical next step. I for one hope that this important, moving meditation on the destructive static of discrimination takes off in theatres around the world for this is an artistically accomplished protest piece from two brave, uncompromising players. With excellent production from Medeski, Martin & Wood/Wu Tang's main man Scotty Hard and fine input from up and coming guitar slinger Liberty Ellman and Steve Coleman's fly young trumpeter Ambrose Akinmusire, the electricity crackles without respite. The airport is not a neutral place. And this is not a neutral album. Kevin Le Gendre
---
2005
Acoustic Ladyland 
Last Chance Disco
Babel 
While last year's Camouflage documented their early re-imaginings of Jimi Hendrix, Last Chance Disco shows a working band that has blossomed into an angry teenager. On this, their second album, Acoustic Ladyland ditch Hendrix to storm through 11 beautifully outrageous, X-rated jazz-rock creations. How refreshing their lack of respect for convention and tradition is and how unusual it is to hear a jazz group, especially a British one, that sounds so utterly original.
While most of its members are in their late twenties or early thirties, Acoustic Ladyland have the energy of hormonal high school rockers on this album. A tenor sax jazz quartet in appearance only, equally, if not more, a product of The Ramones, The Sex Pistols, The Yeah, Yeah, Yeahs and Franz Ferdinand than any jazz tradition.
Musically, Last Chance Disco veers from sweet to sour: the hardcore, new-wave jamming of 'High Heel Blues' and the whirlwind, ska-drenched 'Deck Chair', that morphs into free form grindcore rock by the end, versus the tender 'Nico', a tribute to The Velvet Underground. Wareham screeches as if he's Albert Ayler reborn, mimicking vocal lines and guitar riffs rather than sax solos. Underneath it all is the relentless, quick-witted rock drumming of Sebastian Rochford (outrageous on 'Of You'); the rip-roaring keys of Tom Cawley and Tom Herbert's masterful electric basslines.
If rock critics fail to pick up on Last Chance Disco, then they're missing out. Sonically adventurous and damn loud, this is music to give Wynton a heart attack. But the album isn't aimed at jazz audiences anyway. As Wareham defiantly sings on the album's only vocal number ('Perfect Bitch'): "now I'm leaving you/thank you all the way/l'll tear up all the rules/not going to play." He could be saying "adios" to the jazz scene - but ironically, he has also created one of its most irresistible albums in years. Tom Barlow
---
2006
Branford Marsalis 
Braggtown
Marsalis Music
From the opening track 'Jack Baker' which pins your ears back with a level of intensity that is magnificently sustained from the first bar to the last, it is clear that Marsalis has made the transition from eternal wunderkind to artistic maturity with playing here that demonstrates the gravitas and profundity few musicians of his generation or the current generation in any style of jazz possess. Unmistakably in the tradition of the tenor giants of jazz - Coltrane, Rollins, Johnny Griffin at their peak - Marsalis remains deliciously apart from his legion of contemporaries through the sheer force of his musical personality. He can be powerful and compelling ('Black Elk Speaks', 'Blackzilla'), hauntingly beautiful ('Hope', 'Fate'and '0, Solitude') and mysterious ('Sir Roderick Aloof'). This broad expressive range is matched by a desire to be heard, after all he is surrounded by like minded musicians who have coalesced into one of the finest ensembles in jazz. Stuart Nicholson 
---
2007
Empirical 
Empirical
Destin-e
Empirical could turn out to be one of the most important bands in UK jazz history. Their debut album is outstanding. It's not just another jazz quintet, but a proper band, encompassing jazz's past, present and future. You can feel the strong influence of Ornette throughout the entire project, but the freedom is structured. There's a constant African undercurrent, especially on 'The Deep' and the Ali Farka Toure composition, 'Tulumba'. There's even a section of Forbes' haunting 'Kite', which wouldn't sound out of place on an ECM record. Phelps' 'Clapton Willow', on the other hand, has an almost Ellingtonian dignity. Facey's passionate playing, with occasional hints of both Colemans and (on 'Blessings') even Cannonball, still has its own sound. Phelps, too, has a sound of his own. It's peppery in places, very variedly rhythmic with glimpses of Booker Little, perhaps and Don Cherry. Charles and Forbes have their own things going and adapt so quickly to whatever direction the soloists and/or arranged passages take, often where you least expect them. One of the many highlights is the lengthy, multimood 'A Tyrant's Tale' by Phelps, with tender then Cherry-like trumpet over sombre chords from Downes, whose playing is so fresh on every track. British Album of the Year!
---
2008
Dave Holland Sextet 
Pass it on
Dare2
Well, this has to be my CD of the year. It is surely one of Dave Holland's best albums in a long and distinguished career as a musician and as a composer. The best are always immediately recognisable – Ellington, Mingus, Brubeck, Ornette, Coltrane.
And Dave Holland is definitely another for that pantheon. Everything combines perfectly here, there's nothing wasted or out of place. Performances, arrangements and compositions all make perfect sense. I've never been a fan of Mulgrew Miller but in this setting he's a revelation. His introduction to 'Equality' is simply gorgeous. Eric Harland on drums is already one of the greats and the three horn frontline combine beautifully, especially in that interlocking, New Orleans derived counterpoint of which Holland is so fond. Listen closely and there are so many delightful touches here – like the way the trombone doubles the piano or bass line or the way woodwind or trumpet background figures comment upon or tell a different tale from the main theme. 'Rivers Run' – the most abstract piece here – heads off into dark and uncharted waters, while the title track closes the record in fine, funky style. This is the most honest record, emotionally and artistically, you will hear in a long time. It's all in the groove. Duncan Heining
---
2009
Keith Jarrett 
Testament Paris / London
ECM
Keith Jarrett is one of a handful of artists in jazz who gives evidence of almost continuous artistic growth, refining and improving not only his approach to the piano in terms of touch but to his melodic and harmonic conception as well. Throughout he has striven to exile cliché and gratuitous gesture so that his solo discography from Facing You in 1972 to this, quite possibly the finest representation of his solo art to date, is one of a style, conception and approach continually evolving. For example, he is critical of his touch on Köln Concert, well aware that through his exacting process of self examination and self improvement it is now something that is admired and even envied by the piano playing fraternity in jazz.
What Radiance (2002) and The Carnegie Hall Concert (2006) made plain was that he was past the long, uninterrupted solo improvisation seeking instead spontaneously conceived episodes that were sufficient in themselves, shorter blocks of material that said everything Jarrett wished to say in the moment. If this rigorous self-editing resulted in episodes of five or 15 minutes, so be it. With Testament – a three CD set of his concerts at Salle Pleyel in Paris and the Royal Festival Hall in London at the end of last year – the creation of these episodes has become more refined, and also more expansive with Jarrett inclined to draw on a wide range of musical inspiration rather than the more focused creation of a single mood. This approach is best illustrated by the London concert, where over 12 musical episodes Jarrett moves from an introspective, requiem-like opening to moods that rock with such exuberance it delighted his audience. It is a fascinating document of what those who were present on 1 December last year say was an occasion charged with electricity, with Jarrett delivering at the very top of his form. Stuart Nicholson  
---
2010
Phronesis 
Alive
Edition
To a larger extent than many of their contemporaries, Danish-born double bassist Jasper Høiby's Phronesis make music not only for the mind and heart but also for the body. This is their third album to date but the first for Cardiff-based label Edition who have recorded the piano trio in their natural habitat: in front of a live audience.
It's a selection of material culled from two consecutive nights at the Forge in Camden Town. Live recordings are usually unmanageable but this one has been put together with a lot of TLC, meaning attention to detail in every area. It has paid healthy dividends, with a live sonic that reflects the band's ability to join together intimacy and energy, the tender and animalistic. It's all in spite of regular member, the Copenhagen-based swedish drummer Anton Eger, having to be replaced in a lastminute.com-type line-up change. Høiby couldn't have got a better replacement if they'd had all year to find one. New York-based drummer Mark Guiliana is a real scoop. Best known for his tenure with bassist Avishai Cohen, who's the main role model for Høiby's virile, percussive bass style, Guiliana also works with excellent New York pianist Jason Lindner and vocalist Gretchen Parlato. Here, the drummer's explosive polyrhythmic palette is always tempered by a great pair of ears. There have been comparisons with EST, and although Phronesis shares with them a pulsating sense of groove there is less of an emphasis on any contemplative Nordic roots as such. Rather Høiby's wonderfully sensuous, memorable Mediterranean and eastern folk-flavoured themes tend to resonate more with Avishai Cohen's. At the same time there's a classic piano trio jazz heritage that's mainly down to the ever-improving pianist Ivo Neame. Though he sometimes recalls Chick Corea's Spanish-tinged percussive fluidity, Jarret's rhapsodising, McCoy Tyner's trancey Trane period and even Mehldau's pastoral folk-pop piano in places, Neame has his own way of doing things. Alive is about as exciting as it can get without actually seeing this band live and in the flesh. Selwyn Harris
---
2011
Gregory Porter 
Water
Motéma
New African-American male jazz vocalists are thin on the ground to say the least, so the arrival of New York based Californian Porter is definitely something worth raising a hallelujah for. Gospel and soul are indeed also part of the deep well of black music from which he draws and there is as much Donny Hathaway as Lou Rawls or Bill Henderson in both the impassioned fire and technical finesse of Porter's performance. While he has the pipes to really make a song, especially those of the soul jazz or swing persuasion, come to life, Porter is also capable of tremendous subtlety elsewhere, no more so than a crystalline reading of 'Skylark', in which he holds languorous, long tones to perfectly capture the wistful nature of the piece. Powerful social commentary such as '1960 What?' lend further substance to the programme, but intelligent lyrics aside, it is the quite startling voice and well marshalled charisma of Gregory Porter that mark him out as a substantial addition to the canon of jazz singing. Kevin Le Gendre
---
2012
Courtney Pine 
House Of Legends
Destin-E
Unquestionably one of the most joyous albums Pine has ever made, this is music to be listened to on several levels. On the surface, it's just brilliantly effective dance music, and it is to be hoped that when the band tours in the spring, they'll clear the chairs and leave space for everyone to take to the floor. But underneath the carefree surface is both a living and a thoughtful exploration of the Caribbean heritage, with nods to South Africa, and towards London.
One track above all typifies the record, and that is 'Liamuiga: Cook Up'. The title is both the Kalinago Carib Indian word for 'fertile land' and an indication of the heady mixture of sources (or musical sauces) that have gone into the piece. The title was given to the tune as the result of a competition organised for listeners to Winn FM 96.9 on St Kitts and Nevis. The most effective element of the record is the accomplished rhythm playing that absorbs a series of different rhythms and pulses from the islands, but never loses touch with a jazz sensibility. This gives Courtney the ideal backdrop for his personal exploration of the possibilities of the soprano saxophone, wistful and melodic on the Zouk Love pieces and aggressively involved on 'The Tale of Stephen Lawrence'. Additionally, a real delight for fans of ska or soca is the way that guests such as Rico Rodriguez or Bammi Rose have been drawn into the album's heady mix. Rico's laidback behind-the-beat phrasing adds swagger and style to 'Kingstonian Swing' while Rose's gently passionate flute brings sophistication and intricacy to 'Song of the Maroons'. Plenty of review records command fine words and then get consigned to the shelves never to be played again. I can guarantee this one will be providing the backdrop to energetic extrovert dancing for years to come. Alyn Shipton
---
2013
Wayne Shorter Quartet 
Without A Net
Blue Note
It was 44 years ago that Wayne Shorter made his debut on the Blue Note label, as a precocious 26-year-old tenor saxophonist in Art Blakey's Jazz Messengers in 1959. Now in his 80th year, he has re-signed with the label that was scene of some of his great triumphs of the 1960s, when label founder Alfred Lion invited him to record as a leader in his own right in 1964 that resulted in classics such as Night Dreamer, Juju, Speak No Evil, Adam's Apple and Super Nova. It's been a long journey since then, worldwide acclaim as a member of the Miles Davis Quintet and with Weather Report, and in more recent times with his own quartet, which made its debut on record in 2002. But Without a Net is something special, comprising eight tracks recorded during the quartet's 2011 European tour and the ninth track, the 23-minute 'Pegasus', recorded at the Walt Disney Concert Hall in Los Angeles with the Imani Winds. The result is Blue Note's finest recording since its reincarnation in the 1980s under EMI and quite possibly the finest album of Shorter's career. The starting point of this group is the abstracted improvisational forms explored by Miles Davis in the 1960s that culminated in one of the great classics of recorded jazz, Live at the Plugged Nickel from 1965, its precepts carried forward through subsequent Miles groups, such as the lost sessions of 1969, through into his abstract jams of Bitches Brew and beyond. This is the key that unlocks the door to this remarkable album, where Shorter's maxim of "rehearsing the unknown," with everyone responding to the impulses of the moment, results in some inspired music making that represents jazz at its finest, not just in the here and now, but of the past and the future as well. Stuart Nicholson
---
2014
Michael Wollny Trio 
Weltentraum
ACT
With regular bassist Eva Kruse taking a sabbatical following the birth of her second child, the critically acclaimed piano trio [em] is reconfigured with addition of the American bassist Tim Lefebvre and emerges as the Michael Wollny Trio. Weltentraum – rough translation, 'we search the dreamworlds' – is an album of standards, but not your usual standards, these are pieces by the likes of Alban Berg, Gustav Mahler, Paul Hindemith, Edgard Varese, Wolfgang Rihm, Friedrich Nietzsche and Guillaume de Mauchaut which are morphed into intense, personal statements by Wollny that are revealing of his artistic growth, musical curiosity and growing stature as an artist. The themes are linked by Wollny's initial idea of creating an album of 'night' songs – music with a mysterious aura of darkness and intrigue. This 'dark' theme enabled songs such as 'Little Person' by Jon Brion and Charlie Kaufman from the film Synecdoche, New York and 'In Heaven' by Peter Ivers and David Lynch from the film Eraserhead to be included in a remarkable, yet subtle, tour-de-force where less is more and the resources of melodic invention are craftily exploited. The odd-tuneout comes at the end – a version Pink's 'God is a DJ' with a vocal by Theo Bleckmann recorded live at the Philharmonie, Cologne in March 2013. Its message of optimism is a fitting epilogue to an album that already is a serious contender for the Critic's Picks of 2014. Stuart Nicholson
---
2015
Kamasi Washington 
The Epic
Brainfeeder
The title is not to be taken lightly. In numbers it translates as: 3CDs; 17 songs; 32-piece orchestra; 20-piece choir; 10-piece band. With scale being such a defining feature of this music it is also worth noting that there are 172 minutes to contend with, and it is to Washington's credit that the output is justified, first and foremost because the artistic ambition matches the sweeping production.
Known for his work with producer Flying Lotus and a member of the Los Angeles aggregation The West Coast Get Down, Washington is a player and composer with a penchant for long-form pieces in which melodic lines are ornate anthems wrapped in finely shaded orchestral threads. Although music industry marketeers will inevitably tag this as 'spiritual jazz' the dominant aesthetic thankfully avoids any of the sub-genre's clichés, such is Washington's desire to draw together references that are refreshingly disparate. In real terms that means that the all-important choral basis of the music – mostly sleek soprano lines that soar around the themes like a volley of flutes and piccolos – blends Horace Silver and Pharoah Sanders from the 1980s rather than 70s (think the former's The Continuity Of Spirit and the latter's Heart Is A Melody), while some of the rhythmic and harmonic content has the authoritative, dark-tolight stance of the great Horace Tapscott's Pan Afrikan People's Arkestra. Washington's own playing, with his dry, stark tone and concise, clenched phrasing is impressive, but the greatest achievement of this work is the newness that springs from a deep historical root.
Moving from hard swing to funk to some of the digital age sensibilities scoped out by Thundercat, this is an album of progressive present day thinking that willfully acknowledges its debt to the past, as befits the ongoing relationship between the two. So if there is a sample of a Malcolm X speech it is relevant to the current political debate: There's nothing wrong with being a Muslim. There is something very right about the premise and execution of this work. Kevin Le Gendre 
---
2016
Tim Garland 
One
Edition
 A new group and a new beginning for Tim Garland in what is the finest album by a British jazz musician for quite some while. First, a word about Garland's virtuoso playing on tenor and soprano saxes, which has reached a level of excellence and maturity that is truly world class. On soprano he offers an evenness of tonal density throughout the registers of the instrument; nothing sounds pinched or forced, and while his articulation is precise and accurate, each note rings through with remarkable clarity even in legato passages. Expressing himself in melodic, rather than pattern-based, improvisation, his playing is virtually cliché free, often using 'compositional' devices such as the use of the rising line to create a feeling of tension. This feeling is also reinforced by the occasional use of side-slipping.
On 'Bright New Year' he plays with such freedom within form it represents a striking example of exemplary contemporary jazz improvisation. Equally, on 'Colours of Night' he exhibits a degree of both technique and taste (the two rarely go hand in hand) that few in jazz can equal. On tenor saxophone he retains this melodic lucidity, evenness of tonal density (from bell tones to false-fingered high notes at the extreme of the saxophone's range) and on 'The Eternal Greeting' he gives a virtual master class in manipulating the rising line to potent and dramatic effect.
Garland has developed the story-telling privilege that is the province of the great jazz improvisers – a Garland solo is not a breakneck bunch of notes thrown at listeners for them to try and make sense of, but solos of architectonic construction that have a beginning, a middle and an end and take the listener on an absorbing journey. But even mastery of your chosen instrument at the level Garland has achieved (and which few in jazz can match) is not enough in jazz today. The challenge is to create an effective context to give expression to the improvisers art. Here again Garland scores, with an ensemble that has done away with the traditional piano-bass-drums role of the jazz rhythm section and placed the rhythmic role in the hands of keyboards, Ant Law's eight-string guitar which covers the bass notes and Asaf Sirkis' innovative drums/ percussion. This fresh approach – a development of the rhythmic approach adopted by his previous group Lighthouse – is integral to Garland's compositional ingenuity with pieces written in a way that shows this unusual approach to rhythm to best advantage. Here, Asaf Sirkis emerges as an unsung hero with a performance that is surely world class. Rebello and Law are exemplary too, offering maturity and flair in both ensemble and solo that contribute significantly in making this album special. Stuart Nicholson 
---

2017
Cécile McLorin Salvant
Dreams and Daggers
Mack Avenue
As she showed on her auspicious 2010 release WomanChild, the singer is really not one to shirk a challenge. In what is the defining moment of this impressive live performance spread over two discs she looks up at two of the towers of the Great American Songbook – Gershwin's 'My Man's Gone Now' and Berlin's 'Let's Face The Music And Dance' – and scales the heights set by some of her predecessors with a poise and self-possession beyond her 27 summers. Indeed, the impression of a wizened old soul in a young body is greatly reinforced by the wide range of emotional nuance, from desolation to resignation via irony and devil-may-care abandon, that Salvant conveys in her modulations of phrase, some of which are sober and some bold, like an arched eyebrow by way of her voice. That the recording took place at no less historic a venue than the Village Vanguard lends a certain gravitas to the occasion, and the inclusion of a string section on several complementary studio tracks simply dignifies proceedings further. Retaining the able acoustic trio led by pianist Aaron Diehl that graced her previous releases, Salvant negotiates a largely standards-based repertoire with none of the trying-too-hard emphasis that can blight young pretenders. She sometimes, slightly à la Billie, skims the slow pace of introspective spoken word, as if she understands the homoerotic sub-text of Noel Coward's 'Mad About The Boy' and its tragedy in an era of criminalised homosexuality, just as much as she sees the relevance of 'Si J'etais Blanche' ('If I Were White'), a song made famous in France by Josephine Baker in the 1930s, to a modern America bitterly divided along racial fault-lines. Salvant's ability to find such strong echoes of the present in the music of the past and invest each lyric with immense strength of character mark her out as an artist who has a grip on cultural history to match a talent rooted in the now. Kevin Le Gendre
---

2018
Charles Lloyd and The Marvels + Lucinda Williams
Vanished Gardens
Blue Note
This is an album that is probably closer to Americana since it draws on, and is informed by, a host of vernacular American musical genres – jazz, blues, gospel, country, folk, and rock – without pledging sole allegiance to any. What emerges is a glorious musical hybrid that owes its authenticity and integrity to Lloyd's saxophone improvisations. The introduction of vocalist Lucinda Williams only adds to the stylistic ambiguity – a poet, she has sung in jazz, blues, country, folk and rock settings – and lends a tough, keening edge to this music, which includes versions of her own 'Dust', 'Ventura', and 'Unsuffer Me'. In addition, there are five instrumentals that include three new Lloyd originals plus 'Monk's Mood', and Fran Landesman's 'Ballad of the Sad Young Men'. This is music that creates its own space, is in no hurry to make its point and is what it is – music of great integrity. Frisell and Leisz are central to its meaning, neither seeking to impose a stylistic point of view, but content to be a part of an overall whole that is gently shaped and given direction by Lloyd's saxophone. Stuart Nicholson
---

2019
Branford Marsalis Quartet
The Secret Between The Shadow And The Soul
Okeh/Marsalis Music
If this isn't a candidate for record of the year from many reviewers, I'll be very surprised. It's an object lesson in how an established group can dig deeper into musical and emotional resources than many a short-lived ensemble, however starry the personnel. It's grounded, harks back to the tradition, looks forward to new ideas, yet has a confident perfection that is extremely rare. The heart of the album is in the ballad playing. 'Conversation Among The Ruins' (written by Calderazzo) has not only a dazzling piano solo but some delicately poised playing from Marsalis on soprano that isn't afraid to explore beauty and melodic richness. 'Cianna', also by Calderazzo, is slowish, but has one of those themes you feel you've heard before, it so insidiously becomes an earworm, with Branford on tenor this time. The best ballad playing on the album is in Revis's composition 'Nilaste' which seems to evoke heartbreak and beauty at the same time. Not all the meters or rhythms are straightforward, but so assured is the playing that even the most complex settings sound entirely natural. And just a few bars of the quartet's version of Keith Jarrett's 'The Windup' is enough to put a smile on one's face and relive the visceral experience of this band playing live. And within its catchy, funky setting, this track manages to combine moments of improvisational freedom, perfectly demonstrating why this is one of the most compelling live bands on the planet. Alyn Shipton
---
2020
Maria Schneider
Data Lords
ArtistShare
While Maria Schneider's last album, the critically acclaimed The Thompson Fields, came in pastel shades, reflective moods and a wistful evocation of an idealised 'Heimat'; Data Lords, in contrast, releases what Schneider calls her "inner beast".
It contains her most powerful writing yet – the ominous rising tension of the title track, the dark, brooding 'A World Lost' or the powerful 'Don't Be Evil'. It's an album raised in protest at the steadily accumulating power of the seemingly unaccountable data lords – Google, YouTube, the social media giants and the music streaming services who believe music should be 'free' and so barely reward what they call the 'content producers', i.e., the musicians. This is Schneider's first vinyl release, a double LP package and on the second album she celebrates switching off her devices, letting her brain recover from the constant bombardment of the information age to celebrate the simple things in life – space, silence, the earth and the sky. Quite simply, this is a classic, music that will be played, studied and enjoyed for decades to come. Stuart Nicholson
---
Never miss an issue of Jazzwise magazine – subscribe today